Tyler Lockett, Ken Walker III, Al Woods active for Seahawks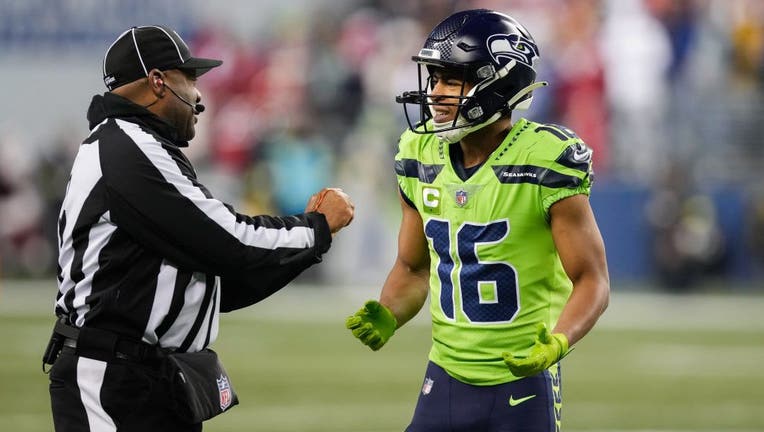 article
SEATTLE - Wide receiver Tyler Lockett, running back Ken Walker III and nose tackle Al Woods are all active and will play for the Seattle Seahawks against the New York Jets this afternoon.
However, safety Ryan Neal (knee), right tackle Abe Lucas (knee) and running back Travis Homer (ankle) won't play.
Lockett is in the lineup just under two weeks removed from surgery to fix a broken bone in his left hand. Woods returns to action after a two-game absence for an Achilles injury, and Walker is suiting up despite an ankle injury that's kept him limited in practice. 
Lockett said Friday that he was planning on playing against the Jets.
"We're only guaranteed two games until you get something else. I could sit at home in the offseason and get my hand right," Lockett said after practice on Friday," Lockett said.
Lockett was injured three plays from the end of the team's loss to the San Francisco 49ers on Dec. 15. After a pass from Geno Smith went through his hands, he was hit and driven into the ground by cornerback Jimmie Ward. Lockett said he couldn't move his hand afterward as he was stuck in the shape of "C." The injury is to a bone in his hand at the base of his left index finger that kept him from straightening his hand.
Lockett said he had a plate and 10 screws put in his hand to stabilize the fracture. He said it hasn't been a problem catching passes this week.
"I've practiced here and there, but just with catching the ball, I mean, I feel the same. If I'm out there and I'm playing, I mean, I'm not about to use this as no excuse," Lockett said.
Woods was injured early in the team's loss to the Carolina Panthers on Dec. 11. He was then unable to play against either the 49ers or the Kansas City Chiefs.
Walker injured his ankle in the team's win over the Los Angeles Rams on Dec. 4. It forced him to miss the game against the Panthers before returning to action against the 49ers. He's remained on the injury report since then, but he managed to rush for 107 yards on 26 carries last week against the Chiefs.
Neal was on the field prior to the game with a large brace on his left knee. It's the second straight game he's been forced out of the lineup. Teez Tabor and Johnathan Abram will handle safety duties for Seattle n Neal's place.
Homer is out with a high-ankle sprain. Walker, DeeJay Dallas (also dealing with a high-ankle sprain recovery) and Godwin Igwebuike will serve as the running backs against the Jets.
Meanwhile, Stone Forsythe will make his first start at right tackle for Seattle in place of Lucas, who is dealing with a patella tendon irritation. Forsythe took over for Lucas during last week's loss to the Chiefs.
Wide receiver Penny Hart, linebacker Vi Jones, cornerback Artie Burns and recently added defensive tackle Isaiah Mack are the healthy scratches for Seattle.
Tight end Tyler Mabry and wide receiver Cade Johnson were both called up from the practice squad to play on Sunday. Mabry adds depth at tight end with Will Dissly being placed on injured reserve with a knee injury earlier this week. Johnson does the same at receivers after Marquise Goodwin was placed on injured reserve with shoulder and wrist injuries.