Tyler Lockett expected to play against Rams, Damien Lewis questionable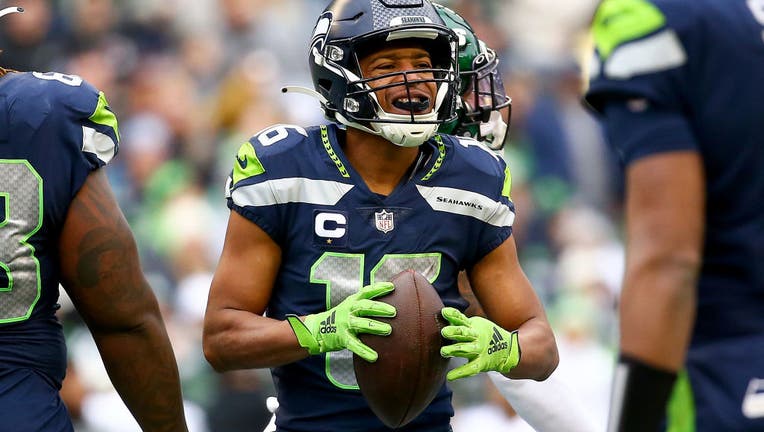 article
RENTON, Wash. - Seattle Seahawks wide receiver Tyler Lockett said he expects to play against the Los Angeles Rams after bruising his surgically-repaired right leg in last week's win over the New York Jets.
Lockett said he was hit directly on the site of the plate that was placed in his leg after it was broken in Week 16 of the 2016 NFL season. It left him with a contusion that forced him into the locker room from the middle of the second quarter through halftime and into the third quarter. Lockett had X-rays performed to ensure no additional damage was done to his leg from the blow.
"Anytime you get hit on a plate it hurts, but when you get a contusion on the plate it's even worse," Lockett said. "I should be good to go. I'm not worried about it. If I step on the field, I'm going to make sure I'm ready to go."
Lockett had missed the team's Week 16 contest against the Kansas City Chiefs due to a broken bone in his left hand that required surgery and a plate to be installed as well. He returned to action just 12 days after the surgery and caught two passes for 15 yards against the Jets before the leg contusion sidelined him again. Lockett did return to the field for limited snaps before being pulled the rest of the way.
"Luckily, we was winning pretty good to where I didn't have to like overly do it," Lockett said. "And then when we knew we kind of had the game won, coach Carroll just kind of held me out so I didn't do anything stupid."
He added the hand wasn't any issues against the Jets. He said he'd played football and basketball in high school with a broken wrist on his right hand and this wasn't as tough as that.
"If I could play through that and that was my dominant (right) hand. I could play with something that's not my dominant hand. … The surgery was easy," Lockett said.
Lockett is officially listed as questionable to play against the Rams on Sunday. Head coach Pete Carroll said he had a good day of work in practice on Friday and he also expected Lockett to play.
Safety Ryan Neal (knee), left guard Damien Lewis (ankle), right guard Phil Haynes (high-ankle sprain), and defensive end Quinton Jefferson (illness) were the other five players listed as questionable.
Carroll said he expected Jefferson to play while Neal is the most unlikely of the group to be able to go.
"He's making progress. It'd be a big change on game day," Carroll said of Neal.
Johnathan Abram and Teez Tabor have split duties at strong safety with Neal out. Abram played the majority of snaps last week against the Jets.
Lewis turned his ankle in practice this week but "he thinks he's playing," Carroll said.
Hayes will be a game-time decision for Seattle. He was injured last Sunday in the fourth quarter of the Jets win.
"Anybody that has a high-ankle thing, you don't know the degree of it until you kind of just really start to push it," Carroll said. "… We'll see what happens. We'll keep our fingers crossed."
Running back Travis Homer is doubtful to play due to a high-ankle sprain of his own.
The Seahawks need to win Sunday and then hope the Green Bay Packers don't win (either a loss or tie) against the Detroit Lions at Lambeau Field later that night in order to make the postseason.
"It's hard to stress about it. It's like if we belong, we'll get there, if we don't, we'll wait until the next season," Lockett said. "It's hard to just sit and watch a game and stress about it because in the NFL you can be down 21 and come back and win. ... But first, we got to take care of business because Sunday night won't matter if we lose."
Injury Report: