The Kraken lead the Pacific Division in 2nd season. How did they get here?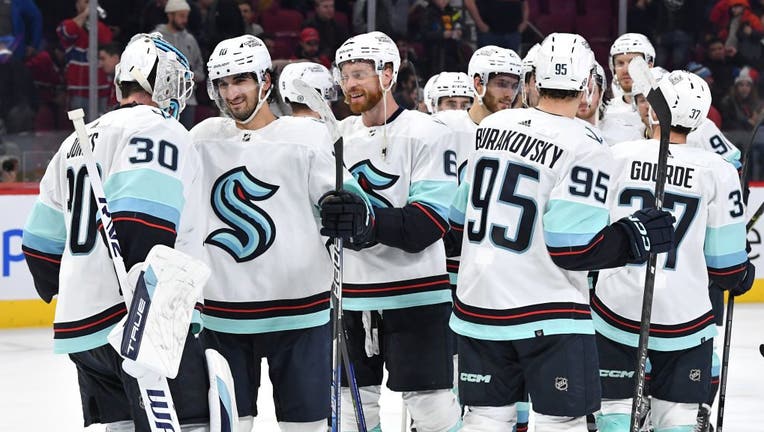 article
The incredible success of the Seattle Kraken through the first half of their sophomore campaign has been one of the biggest surprises in the NHL this season.
The Kraken are coming off a torrid January that saw them post an 11-3-1 month despite a daunting seven-game road trip to the East Coast and 15 total games in 28 days. Instead of faltering, the Kraken became the first team in NHL history to sweep a seven-game road trip and became the first team this season to beat the Boston Bruins at home in regulation.
"This has been a hell of a month," head coach Dave Hakstol said. "When you look at the number of miles we've traveled, the competitive games that we've been in, the group's done a good job finding success, but you know we need a little break."
Seattle enters the All-Star break with a 29-15-5 record, which gives them a one-point lead at 63 points over the Vegas Golden Knights and Los Angeles Kings for the top spot in the Pacific Division. The Kraken have reached 63 points despite playing two fewer games than Vegas and three fewer than the Kings. 
Seattle surpassed its inaugural season win total of 27 and points of 60 with their 6-1 victory over the Vancouver Canucks on Wednesday night.
"That's pretty much why we're putting in all the work, all the hard effort behind it, to be on top," center Alex Wennberg said. "And right now we're doing a lot of great things. We're scoring goals. We're working on the special teams to be better, goaltending has been unreal. And I mean obviously right now we've been playing really well. A lot of hockey left and we just gotta keep coming back from the break and just playing the same way."
But how have the Kraken done this? How have they made such a significant jump in their second season to go from the third-worst record in the league to a top ten unit that could win the Pacific Division and is percentage points behind the Dallas Stars for best record in the Western Conference?
Goaltending is no longer a disaster:
No one will include Martin Jones or Philipp Grubauer in discussions for the Vezina Trophy this year. However, the Kraken's goalie tandem has given Seattle one of the biggest things it was lacking the most in their debut season; competent net-minding.
Last season, the duo of Grubauer and Chris Driedger really struggled with Grubauer in particular having an abysmal season. Despite allowing the fourth-fewest shots in the league, the Kraken allowed the ninth most goals. Out of 53 goaltenders across the NHL with at least 25 games played, Grubauer ranked dead last in save percentage at 88.9 percent. Driedger was 41st at 89.9 percent.
Via MoneyPuck.com, Grubauer's 33.7 goals saved below expected was the worst in the NHL. In data going back to the 2008-09 season, only one other goaltender had allowed more than 30 goals over expected in a season. Steve Mason of the Columbus Blue Jackets did it twice, allowing 40.9 goals over expected in 2011-12 and 35.2 goals over expected in 2009-10.
This year, Jones and Grubauer are both on the positive side of the ledger in goals saved above expected. In 35 games, Jones has saved 3.0 goals more than expected with Grubauer at 2.9 in 17 games played. Factoring in all goalies with at least 10 games played, Seattle ranks 17th in the NHL in goals saved above expected.
While that's not going to set any records, it has given Seattle a chance to win just about every game they've played this season.
"Our goaltending has been good all year," Hakstol said. "I mean, you look at where our goaltending is sitting at, look at the underlying numbers … We've had a couple of nights where we've given up too many opportunities and put our goaltenders in tough spots. So, you know, they've made the saves for us when we need them. We need that to continue."
Jones and Grubauer both have save percentages that sit at sub-.900. Grubauer is at .897 with Jones a tick behind at .896. That puts the pair at 41st and 43rd among qualified goaltenders in the league. There is still room for improvement. Some of which could come from a better second half performance on the penalty kill where Seattle ranks second-worst in the NHL.
But while goaltending can't be considering a massive strength for the Kraken, it's no longer a significant weakness either. Like a quality start in baseball, Jones and Grubauer are doing enough to give them team a chance to win almost every night they step between the pipes.
The Kraken have incredible scoring depth across all four forward lines:
The Kraken don't have a single superstar forward. They don't have a Connor McDavid, Jason Robertson, Auston Matthews or David Pastrnak gracing the top of NHL scoring leader boards.
But what they don't have in star power, they make up for with scoring depth. 
Seattle has 14 players with at least 20 points this season and 12 players with at least eight goals. The offensive output of the Kraken's bottom three lines is what has helped fuel the team to being the NHL's best scoring team in 5-on-5 play with 131 goals scored this season.
Via MoneyPuck.com, the Kraken have three different lines that are among the top 15 pairings this season in goals per 60 minutes among lines with at least 100 minutes played together.
The second line of Jared McCann, Matty Beniers and Jordan Eberle is fourth (5.57 goals per 60 minutes). Eeli Tolvanen, Yanni Gourde and Oliver Bjorkstrand is sixth (5.39), and Brandon Tanev, Morgan Geekie and Daniel Sprong is 15th (4.38).
Seattle's top line of André Burakovsky, Alex Wennberg and Jaden Schwartz are the only trio not among the league's best in scoring rate.
"I think our biggest strength would be our depth and that's just the scoring we have from all four lines," Eberle said. "… "We're able to out-match you. Maybe our first line is not going to match your first line, but our second or third or fourth line will. And I think that's our biggest strength."
McCann (7th) and Sprong (9th) are both in the top ten in the NHL in goals per 60 minutes. Sprong has already set a career-high with 15 goals in 42 games played despite only averaging 11:20 of ice time per game. McCann is well on-pace to break his career-high of 27 goals scored last season for Seattle. He has 23 goals in 46 games and could reach 40 goals on the year.
Tolvanen (28th) and Ryan Donato (34th) are also scoring goals at an impressive rate this season. Tolvanen has scored eight goals in 15 games since being claimed off waivers from the Nashville Predators in December.
"We have guys that are scoring in all different positions and moments of the game," defenseman Vince Dunn said. "We don't just rely on one guy to carry us through games and pull us wins. So I think everyone contributing, goaltenders included. We can rely on each other to play a team game and win us through tough games."
Even though Seattle's top line isn't filled with standouts, it's still contributing, too. 
Burakovsky leads the team with 39 points on 13 goals and 26 assists. Wennberg has 10 goals and 14 assists and has key roles on both the power play and penalty kill units, and Schwartz is tied for the team lead with Sprong with five goals on the power play.
The Kraken are shooting 12.05 percent on shots on net this year. There's been just three teams in the last 20 years to finish a season shooting at least 12 percent: the 2021-22 St. Louis Blues, the 2018-19 Tampa Bay Lightning, and the 2006-07 Buffalo Sabres.
"The team is playing well," Tolvanen said. "We have four lines that are playing really well every night and I think that's our strength. We have the four lines that can change the game and that's why. Every line is doing the right things."
Additions have been tremendous successes:
The Kraken's roster underwent a fairly sizable overhaul between last season's trade deadline and the end of the 2022 calendar year.
The remade Kraken roster includes seven players that either weren't with Seattle last season or only played for the team after the trade deadline.
André Burakovsky, Justin Schultz and Martin Jones were all free agent signings this offseason and Oliver Bjorkstrand was acquired in a trade with the Columbus Blue Jackets in August. Then add in the waiver claim of Eeli Tolvanen from the Nashville Predators in December and there are plenty of new faces with the team. 
Meanwhile, Matty Beniers played in just 10 games for the Kraken last year after completing his sophomore year at the University of Michigan, and Daniel Sprong played in 16 games after joining the team at the trade deadline in a trade from the Washington Capitals.
Jones has posted a 23-7-3 record in 32 starts this season in net with a 2.82 goals against average.
Schultz has paired with Jamie Oleksiak on Seattle's second defensive pairing and served as the point man on the second power play unit. Schultz has five goals and 19 assists from his blue line position.
Sprong is one of the best stories in the NHL this year as a whole. He came to training camp with the Kraken on a tryout after going unsigned in free agency following his stint with Seattle last year. He earned a contract in camp with his play as he's developed his two-way game. Sprong has become one of the league's top scorers in scoring rate with 15 goals and 14 assists despite a fourth line role. He's also been a regular on the team's power play units.
Burakovsky leads the team in points with 39 on 13 goals and 26 assists. Beniers leads all rookies in points (36) and goals (17).
Bjorkstrand had a bit of a slow start to the season compared to his standout 2021-22 season in Columbus, but he appears to have found a comfort zone with Eeli Tolvanen and Yanni Gourde. He's got nine goals and 17 assists in 49 games played, which includes five goals and five assists in the last month.
Tolvanen then had 22 teams decline to claim his off waivers before Seattle was able to add him to their roster. After a couple of weeks as a healthy scratch to get up to speed with the Kraken, Tolvanen has become an offensive force. His eight goals in January are tied for eight most in the NHL over that span.
Additionally, Jaden Schwartz and Brandon Tanev combined to miss 97 games last year due to injury and have been key pieces again this season when healthy. 
Pretty much all the Kraken's additions have paid off to make Seattle one of the league's top contenders at the All-Star break.
The Kraken are on track for their first postseason appearance. The trade deadline lies ahead on March 3 as another opportunity to tweak the roster for the stretch run. Seattle will still have 33 games left in the season when they return from the All-Star break.
It's been a great season so far for the Kraken, but the focus is still on what's yet to come.
"You don't want to get too high," Eberle said. "You look at standings, you like where you are, but you want to continue to push. I think for me at the start of the year the goal was playoffs. And now I think we've earned the right to try and say that we're going to be in the playoffs and we want to try and position ourselves to do well in the playoffs. And I think if we can change our mindset to that I think we're going to have a lot of success."