Takeaways from Seahawks 41-23 playoff loss to 49ers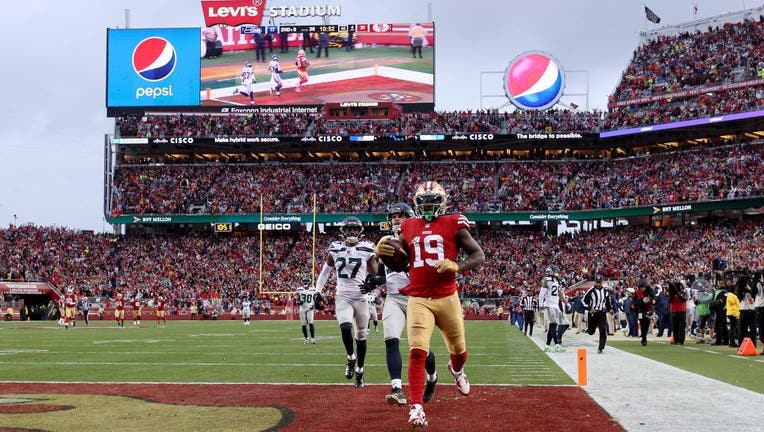 article
The first half of Saturday's 41-23 playoff loss to the San Francisco 49ers highlighted so much of what made the 2022 season a massive success for the Seattle Seahawks.
The second half highlighted just how far away they still remain from rejoining the NFL's elite class.
Seattle held a 17-16 lead at the intermission and had weathered early pressure from the 49ers while punching back off the ropes. No turnovers, no penalties. A resolve to dig out of a 10-point early deficit. A competent rushing attack and Geno Smith making some big plays when needed help carry the Seahawks to the first half lead. 
But after the break, all of their warts came to the surface. Poor tackling, soft second level defensive play, lack of pass rush, and an inability to blunt an opposing ground game all led to a 49ers onslaught. 
The Seahawks needed to play a nearly flawless game to beat a 49ers squad that entered the playoffs on a 10-game winning streak. A strong 30-minute effort wasn't enough as the 49ers separated and proved they're a title contender.
"I've been here four years and this team is my favorite team," safety Ryan Neal said told FOX 13's Ian Furness. "I'm proud of every man in this room. We have to pick up some pieces all across the board. Everybody stepped up. The young guys, I'm super proud of them, for sure. That draft class is special. To the vets, from (Diggs) all the way down, this team is my favorite hands down. Very proud of what this group has accomplished."
Seattle will have two picks in the top 20 of the NFL Draft and five of the first 83 selections, including the fifth overall pick. The Seahawks have needs to fill, but they have draft capital and cap space to make some big additions in hopes of narrowing that deficit next season.
"We've had so much growth and so much yet to occur here," head coach Pete Carroll said. "And the next turnaround as we get to come back for this next season, all of these young guys are going to see the world totally differently than they see it right now. They're going to be amazed how much they didn't know in their first season of playing NFL football. 
"And so I'm not dwelling on the negative part. I'm going to what's coming. That's how we talked in the locker room. That there's future and there's all kinds of promise and there's all kinds of cool things that are going to occur here as we bounce back around and get back on track for another season."
But there's plenty of time ahead for that. Here are the takeaways from the final game of the Seahawks' 2022 campaign:
– Defense collapses with poor tackles, numerous explosive plays allowed.
The Seahawks' defense was the element holding the team back for most of the season and their issues surfaced again in excruciating fashion against the 49ers.
The 49ers became the third team to post over 500 yards of offense against Seattle this season, joining the Detroit Lions and Las Vegas Raiders. San Francisco had 11 different plays gain at least 18 yards. They gave up gains of 31, 33, 68 and 74 yards as explosive plays just gashed the Seahawks' defense.
"Just frustrating," defensive end Quinton Jefferson told Furness. "We played a great half of football. But like they say, there's four quarters. We came out in the second half and just didn't capitalize. Make mistakes in a game like this and you get exposed. You let a lot of explosives happen, critical mistakes that can't happen, man. I just wish we could have this one back."
"You can't survive it at all. Explosives lead to points and yeah, it was just frustrating."
The run defense in particular has been problematic for Seattle all season. However, it wasn't just the run game that let the Seahawks down on Saturday. Brock Purdy threw for 332 yards and three touchdowns and was sacked only once in his first career playoff start. Of the 11 plays of at least 18 yards allowed by Seattle, nine of them came in the passing game.
Coverage busts, lost matchups, bad tackling. It all factored in to the 49ers romping through the Seattle defense.
"We were geared up to stop the running game today in hopes that we'd be able to do that," Carroll said. "We got caught up a little bit and it stayed with us. The preparation caught us a little bit cause we were really gunning to make sure that we were there and the play passes did get in behind us on some zone stuff."
A 74-yard catch-and-run touchdown from Deebo Samuel. A 68-yard run through a Grand Canyon-sized hole in the defense. A 33-yard Jauan Jennings catch. A 31-yard Brandon Aiyuk reception. The Seahawks just couldn't keep the 49ers down.
And the 49ers still rushed or 181 yards in the contest as well as Christian McCaffery had 119 yards on 15 carries to lead the way.
The Seahawks certainly missed the presence of Jordyn Brooks at linebacker. However, many of the same problems existed with Brooks in the lineup throughout the year as well. Fixing the defensive shortcomings will be the biggest priority for the Seahawks heading into next year, assuming Geno Smith remains the team's answer at quarterback.
And speaking of that subject…
– Geno Smith played plenty well enough, but lost fumble was beginning of the spiral.
Geno Smith's numbers at halftime won't blow anyone away. He was 9-of-10 for 104 yards with a touchdown pass at the break.
However, Smith was doing a lot of the things needed to keep Seattle in the game. He made a pair of pivotal throws on third down with the Seahawks trailing 10-0 to lead their first scoring drive.  
A 50-yard bomb to DK Metcalf against a blitz was a perfect read and throw to give the Seahawks the lead. A scramble late in the half led to a 49ers unnecessary roughness penalty that allowed for a last second Jason Myers 56-yard field goal to take the lead at half.
He even made the correct decisions on a couple more plays that didn't ultimately succeed even though the processing was correct.
"Geno seemed in control, seemed like he had really good accuracy going. … I thought he was on it," head coach Pete Carroll said. "He was using the all of the stuff. We almost called everything we had on the card today in terms of the throws and the different, challenging types of things that we threw. He was fine."
As it did across the roster, the game got away from Smith and the Seahawks in the second half. Smith was sacked by Charles Omenihu and lost a fumble inside the 49ers red zone after an opening touchdown drive gave the 49ers a 23-17 lead. 
"I saw him. He made a great play," Smith said. "I had two hands on the ball. It's exactly how we drill it. Two hands on the ball, tight to my chest. It's the NFL, man. The 49ers have got a great D-line. And the mistakes in games like this become that much more critical and that's the things that I'm focusing on is to eliminate those things to make sure that we give ourselves the best possible chance to win these type of games."
San Francisco would score on each of their next two drives to build a 38-17 lead. Smith was then intercepted by Deommodore Lenoir trying to force the issue with 11 minutes left to play.
Five penalties and two turnovers in the second half were enough to fuel the 49ers surge.
"Out of all the great things that we did, all the accolades, all the great stats, there's still so much room for improvement. ... the new season for me starts today," Smith said.
"I'm not at all satisfied. You know, I don't feel good about what happened today. I feel like we could have kept going and so for me, man, I just got to be better. I'm going to take this personal."
Smith will be an unrestricted free agent in March. He's been a top 10 quarterback in the NFL this season and should be rewarded for that performance. Smith made it clear that he wants to continue with the Seahawks next season. Reports from Ian Rapoport of the NFL Network and Jay Glazer of FOX on Saturday indicated the team wants to keep Smith next year as well.
"He's for real. He's the real deal. He can do all of the things that a terrific quarterback does," Carroll said of Smith, adding that he hopes Smith is back with the team next year.
Smith was more steadfast in wanting to be back with the Seahawks moving forward.
"I want to finish my career in Seattle. I want to be here," Smith said. "The town, the city, the team. Coach Carroll, the organization, they all embraced me. You know, I was a guy who probably could have been out of the league. They embrace me and I want to repay them for that.
"That means a lot to me. I've got a lot of loyalty in me. And, you know, I want to repay those guys for doing that."
– DK Metcalf was outstanding in the playoffs again.
DK Metcalf takes his game to another level in the playoffs.
Metcalf had 10 catches for 136 yards and two touchdowns against the 49ers. In four career playoff games, Metcalf has 26 receptions for 451 yards and five touchdowns.
"DK had a great game," Carroll said. "I don't know how you could do a whole lot better. He was great today and of course for that to happen, they got to work together. And so Geno was on it."
With his 50-yard touchdown in the first half, Metcalf now has three career postseason touchdowns of 50-plus yards, which ties Randy Moss for second-most in NFL history. Only John Stallworth of the Pittsburgh Steelers has more with four, Metcalf also had a 53-yard touchdown against the Philadelphia Eagles in 2019 and a 51-yard touchdown against the Los Angeles Rams in 2020.
"I mean, that's DK," Smith said. "Clutch player, one of the best receivers in the game. One-on-one, you know, your DB is gonna have a tough time. We needed him today. He stepped up. He played a great game. You know, he's my brother, man. I appreciate that guy. And he did a hell of a job today."