Takeaways from Seahawks 23-6 win over Jets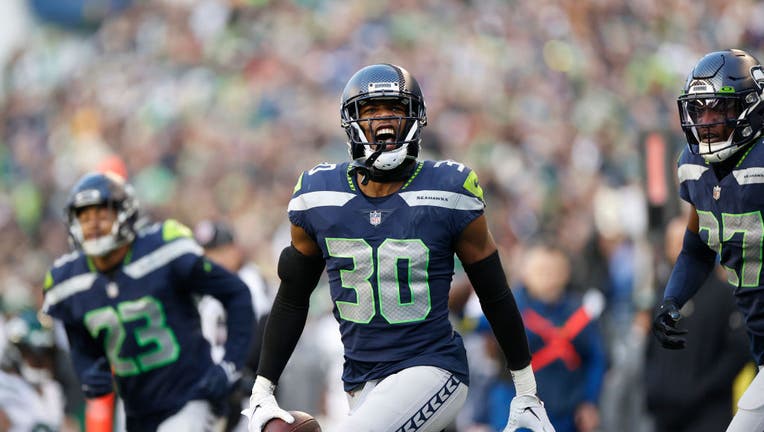 article
SEATTLE - The Seattle Seahawks played their best football game in two months and kept their playoff hopes alive heading to the final week of the NFL regular season.
Seattle's defense forced Mike White into three turnovers and kept the Jets offense out of the end zone entirely in a 23-6 victory. White was intercepted by Quandre Diggs and Mike Jackson, and lost a fumble on a strip-sack from Darrell Taylor as New York struggled to solve the Seahawks' defense.
Ken Walker III and DeeJay Dallas combined to rush for 198 yards on the day with Walker leading the way with 133 yards on 23 carries. It helped make up for a passing game that couldn't do much on Sunday as DK Metcalf and Tyler Lockett were limited to just three catches and 18 yards by the Jets.
"A lot of cool things happened," head coach Pete Carroll said. "We ran the ball really well today. Ken had a great day running it and DeeJay had a really good day too in his complimentary stuff that he did."
The Seahawks need help to get into the playoffs. Seattle will need the Detroit Lions to beat (or tie) the Green Bay Packers next week at Lambeau Field along with the Seahawks getting their own victory over the Los Angeles Rams. The Lions did beat the Packers 15-9 in Detroit earlier this season. However, they've won just three games in Green Bay since 1992. 
The Seahawks themselves are 0-10 at Lambeau Field dating back to 1999. Their last win coming in Mike Holmgren's return to Green Bay in his first season as Seattle's head coach. It's a difficult place to win, especially late in the year.
Seattle is in need of help due to going 0-4 against a bad NFC South division this year and losing a home game to the Las Vegas Raiders in November. Those are five winnable games the Seahawks managed to bungle to leave the playoffs out of their control.
"We all want to end the season in Arizona," Dallas said. "We just need a chance. We just need an opportunity. That's all we ever ask for and I feel like we'll get that opportunity."
Here are the takeaways from the Seahawks' win over the Jets:
– Defense plays well outside of some continued tackling issues.
The offense of the New York Jets has been far less potent since losing rookie running back Breece Hall to injury midseason. However, such problems haven't kept prior opponents from having big days against Seattle's struggling defensive unit.
But the Jets weren't capable of punishing Seattle's defense on Sunday. Instead, it was the Seahawks' defense that carried the day.
The Jets were held to 75 rushing yards on the day, converted just 4-of-13 third down opportunities and were 0-for-2 on fourth downs. The three takeaways is a season-high for Seattle. It's also the first game this season the Seahawks' offense didn't turn the ball over at least once.
"We had a really good football day," Carroll said. "Across the board, everybody played like we were hoping. We were able to play like the complimentary football where we made the turnovers, we had field position. We could have done better in red zone, but we did a lot of really positive things all day long. Offensive did not turn the football over. Plus three for the day is a huge, huge day for us in that regard."
Darrell Taylor easily had his best game of the season for the Seahawks. He had 2.5 sacks of White on the day with a strip-sack of White on the final play of the first half that was recovered by Uchenna Nwosu. Taylor was a frequent presence in the Jets' backfield and gave former Seahawks tackles Duane Brown and George Fant problems.
"He's finding himself. He's still learning," Carroll said of Taylor. "He's still young at this position and he's got such a great burst. He runs the edge so well. That's what he needs to always feature in his approach in that first and you better hang with him. And then there's a lot of counter stuff that happens from there but he's really getting on the edge really well and doing a great job."
Quinton Jefferson ended up with 1.5 sacks as well as part of 10 total quarterback hits on Mike White throughout the contest.
"He got hit a lot today," Carroll said. The pass rush was good. We got 10 hits on him and four sacks. It was a tough day in that regard. He's a tough kid. Kept coming back. He's been playing with a big time injury and he's shown how tough he is. … We also had our hands on some balls today. We could have had four or five today. We were close. So I thought we made it hard on them and guys did a good job."
In addition to the interceptions by Diggs and Jackson, safety Johnathan Abram dropped a would-be interception of White as well and Tariq Woolen had a chance at another that was fought off by Garrett Wilson on the final drive of the game.
The Jets did have some early success on the ground with a few missed tackles being the main culprit. Ty Johnson had a 22-yard run and Zonovan Knight had a 19-yard carry, but the duo managed just 32 yards on their remaining 14 carries of the day.
"Terrific for the defense to get through a day and no touchdowns," Carroll said. "That's hard to do that in this league. Great to see those guys do that. Looks like we're making a little move. Played definitely better in some areas last week and came back and did it again this week. We got a big finish coming up. It was a real good day."
The Jets have played four games in Seattle since Lumen Field opened in 2002. They have yet to score an offensive touchdown in any of those four contests. Muhammad Wilkerson returned a fumble for a touchdown in the 2012 meeting, which remains the only touchdown scored in that span. The Jets have scored 3, 7, 3 and 6 points in their four games in Seattle.
– Running game shows life again.
Ken Walker III sprung free for 60 yards on the first carry of the game for Seattle on a play that would help kickstart the afternoon for the Seahawks.
Walker's 133 yards marked his second-straight 100-yard game and the fourth time this season he's gone over the century mark. He's over 1,000 yards from scrimmage on the year and just 64 yards away from reaching 1,000 yards rushing for his rookie campaign.
"The whole team, we were all together executing," Walker said. "The wide receivers were blocking their man and everybody did their job and it made it easier for me just to hit the hole."
Additionally, Dallas had 43 yards on seven carries and led the team in receiving with three catches for 55 yards.
"I thought he played a great game," Carroll said of Dallas. "He was all over both aspects of it: The pass game, run game, pass pro too. He had a couple good blocks. I thought he had one of his better games and ran hard, ran tough. Really nice one-two punch the way that was hitting. Felt good."
This is the type of football the Seahawks know they need to play in order to win games. During Seattle's late season swoon, they had five straight games where they failed to rush for more than 90 yards in game. The 90-yard effort against the Los Angeles Rams was their only win over that 1-4 stretch and they rushed for 70 yards or less in all four losses.
"That's Seahawks football right there. Like all three phases, clicking on all cylinders and just, you know, kicking ass," Dallas said.
Dallas said he's glad that they still have their playoff hopes alive.
"We all want to end the season in Arizona. We just need a chance," Dallas said. "We just need an opportunity. That's all we ever ask for and I feel like we'll get that opportunity."
– Jordyn Brooks knee injury seems serious, Tyler Lockett worth monitoring.
Linebacker Jordyn Brooks was headed to get an MRI on Sunday knee after leaving Sunday's game in the second quarter due to a knee injury.
Brooks was injured while tackling tight end C.J. Uzomah along the Seattle sideline. He spun on the back of Uzomah as he tried to pull him to the ground and he immediately reached for his right knee after his leg planted hard. He was evaluated in the sideline medical tent before being carted off the field.
"We don't know specifics right now," Carroll said.
Brooks was down on the sideline for several minutes before being helped to the tent. He wasn't able to put much weight on his injured right leg.
Tanner Muse replaced Brooks at the spot for the rest of the game with Cody Barton taking over the play-calling duties for the defense.
"It was great to see Tanner have that much play time. Hate the reason why, but Cody went right to Mike and took it over, and Tanner jumped up and away we went. It was a really nice answer," Carroll said.
Brooks is over 150 tackles for the second straight season after setting a franchise record with 189 tackles last year.
Meanwhile, Lockett went into the locker room in the second quarter and was not seen again until midway through the third. The Seahawks announced that Lockett was questionable to return with a leg injury and he eventually did re-enter the game, but played limited snaps.
"Tyler got banged on his right lower leg in the game and it just bothered him," Carroll said. "He tried to get warm, loose, and stayed in to do that, and then came back and got out there and got on the field again. At the very end we held him out knowing next week is coming up and all that. Have to wait and see."
Lockett was in the lineup less than two weeks removed from surgery that put a plate in his left hand to stabilize a fractured bone. Lockett caught two passes for 15 yards before initially exiting the game. Carroll said that Lockett's hand wasn't an issue.
It doesn't seem as though Lockett's issue will be too concerning. However, Brooks injury would see far more likely to end his season, whether it's just through next week's regular season finale or longer.
Additionally, right guard Phil Haynes left the game with an ankle sprain in the fourth quarter.
"It's legitimately a sprained ankle, so we will have to wait and see," Carroll said.
Notes:
With the win over the Jets, Geno Smith beat all three of the teams he's previously played for his first year as Seattle's starter. The Seahawks beat the Los Angeles Chargers 37-23, the New York Giants 27-13 and the Jets 23-6.
"Honestly it doesn't mean anything outside of the fact we gave ourselves another chance to go to the playoffs," Smith said. "I'm actually grateful for being drafted into the NFL by the Jets and although things weren't perfect there, there were some good times."
– Tight end Tyler Mabry caught a 7-yard touchdown pass from Smith in the second quarter for Seattle. It was his first career catch in the NFL in his ninth ever game with the Seahawks. He had played just 10 offensive snaps for Seattle previously while spending much of the last two years on the team's practice squad.