Storm fall in overtime 110-98 to Aces in Game 3 of WNBA semifinals
SEATTLE - A buzzer-beating layup from Jackie Young forced overtime and the Las Vegas Aces pulled away in the extra frame as the Seattle Storm lost Game 3 of the WNBA semifinals 110-98 on Sunday afternoon.
Sue Bird drilled a 3-pointer from the left corner with 0.8 left to put the Storm on the brink of a critical win in the series. Instead, Young found space cutting to the basket off an inbounds pass against Ezi Magbegor to get a layup at the buzzer to force overtime at 92-92.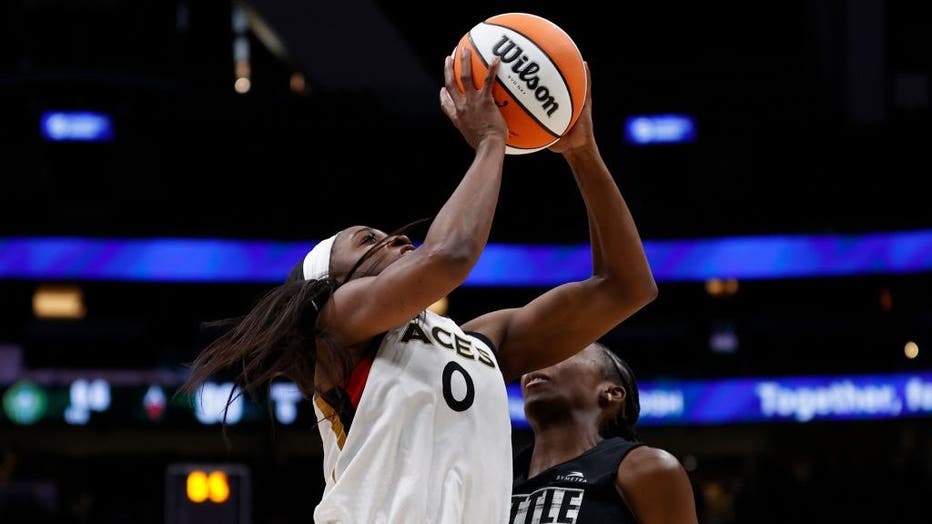 SEATTLE, WASHINGTON - SEPTEMBER 04: Jackie Young #0 of the Las Vegas Aces scores the game-tying basket against the Seattle Storm during the fourth quarter of Game Three of the 2022 WNBA Playoffs semifinals at Climate Pledge Arena on September 04, 202
Kelsey Plum and Chelsea Gray combined for 13 points in overtime as the Aces pulled away for the victory to take a 2-1 lead in the best-of-five series. 
"We were up four with not a lot of time left and that's really, to me, where we lost the game." Bird said. "That to me is where we really let this one go. I understand the last plays are gonna stick out because they're dramatic and exciting, and I'm sure it was great TV. But we were up four."
Gray finished with 29 points with 12 assists for Las Vegas to complement a game-high 34 points and 11 rebounds from Aces star forward A'Ja Wilson. The 34 points is one point shy of Wilson's season-high. She also had 33 points in the Aces Game 2 win over Seattle.
"That was a hell of a game," Aces head coach Becky Hammon said. "I don't know if I've ever been a part of something like that, the back and forth and the battle. … Just big shot after big shot from both sides really. Just executing down the stretch, being locked in to what we needed to do and really just sticking together in a really, really tough environment with no give up."
Missed free throws late will haunt the Storm. Holding an 89-88 lead with 7.2 remaining, Tina Charles missed a pair of free throws that would have extended the advantage in the closing seconds. Then in overtime, Breanna Stewart had two chances for three-point plays while the game was still in the balance. Stewart missed both free throws as the Aces held a 97-96 advantage with 2:51 left. Las Vegas then went on a 13-2 run to close out the game.
"It was really frustrating," Stewart said. "I think that we had the game and we gave it to them and that's really it."
Stewart led Seattle with 20 points and 15 rebounds.
A slow start for Seattle and a 20-point half from Wilson helped the Aces jump out to an early lead. A 9-0 run put Las Vegas up 18-7 as the Storm struggled to get out of the starting blocks. Magbegor came off the bench to add eight points to help keep the Storm afloat and cut the deficit to eight at the end of the first quarter. A 3-pointer from Gray and six points from Wilson pushed the lead to a game-high 15 at 42-27.
The Aces kept Seattle's stars in check for most of the first half. Jewell Loyd was held scoreless until midway through the second quarter and Stewart had just four points before halftime. Charles stepped up with a scoring surge to end the half as Seattle trimmed the lead back to eight, 48-40, at the break.
Stewart finally got rolling after halftime as Seattle managed to jump on top. The Storm scored on nine straight possessions as Charles and Gabby Williams pushed Seattle to a 58-55 lead. Las Vegas managed to blunt the Storm run and stabilize. A pair of 3-pointers from Riquna Williams and another from Young gave the Aces a 68-64 lead at the end of the third quarter.
Stephanie Talbot scored all 12 of her points in the fourth quarter behind a trio of 3-pointers as Storm led 81-78 with 2:49 left to play. Both teams then relentlessly traded baskets over the closing minutes. Williams ties it. Stewart puts Seattle back ahead. Wilson answers. Stewart again. Gray hits. Stewart yet again as the Storm lead crept to 89-85 with 11.3 left after a pair of free throws from Loyd.
Williams' 3-pointer cut the deficit back to just one with 8.9 left before Charles missed her two free throws. Wilson put Las Vegas back on top, 90-89, with a layup with 2.7 left to play. Bird's heroics from the corner put Seattle on the precipice of a massive win before Young's conversion sent the game to the extra session.
Bird and Loyd each finished with 17 points with Charles adding 16 points. Bird also had eight assists for Seattle.
The Storm will now have to face an elimination game back at Climate Pledge Arena on Tuesday night in an attempt to force the series back to Las Vegas for a decisive Game 5.