Some of Russell Wilson's best and worst college memories came against Redskins' Cousins
RENTON, Wash. – Watch out – a game of hacky sack might just break out on the quad after the Seattle Seahawks play the Washington Redskins on Sunday.

Russell Wilson reminisced at length last week about playing against quarterback Kirk Cousins during their college days. Having played in two wildly intense games against Cousins in 2011, then training with him at the IMG Academy before entering the NFL, Wilson said he knows as well as anybody the challenge Cousins poses.

"Every time the Redskins play, I love watching those guys play because they've got so many great guys," Wilson said.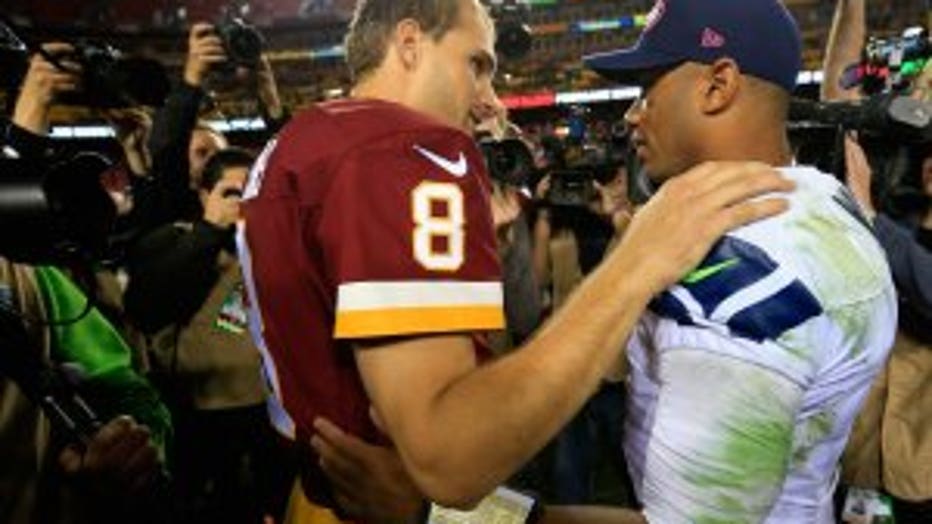 Kirk Cousins of the Washington Redskins and Russell Wilson of the Seattle Seahawks meet at midfield after the Seahawks defeated the Redskins 27-17 at FedExField on Oct. 6, 2014. (Photo by Rob Carr/Getty Images)


One of Wilson's worst college memories came at the hands of Cousins in 2011 – and vice versa.

During the regular season that year, Cousins' No. 16 Michigan State Spartans dealt a brutal blow to Wilson's No. 6 Wisconsin Badgers. With the game tied at 31 and :04 left on the clock, Cousins connected with Keith Nichol on a 44-yard Hail Mary to give the Spartans a 37-31 win.

"I still don't know if it's in the end zone," Wilson grinned. "But that one hurt. We had a chance to go to the national championship that year, until that happened."




About six weeks later, Wilson had his revenge. With the Badgers trailing in the fourth quarter, he engineered the game-winning drive, setting up the decisive touchdown with an incredible 36-yard pass to Jeff Duckworth. Wisconsin earned a Rose Bowl berth with the win.

"It was back and forth, back and forth," Wilson said. "I remember Duckworth making that crazy play for us on 4th down, I think 4th-and-7 (editor's note: it was actually 4th-and-8). I rolled left, hit him on the right-hand side of the field.

"But, I just remember the atmosphere. I remember some of the best college football players in that season being on that field at one time. So, it was a battle, and fortunately the Wisconsin Badgers won that night."




Wilson's NFL career has been decidedly more successful than Cousins', though that's more due to Wilson's prodigious success than any flaw of Cousins'. Cousins has now started every game since the start of the 2015 season, and made his first Pro Bowl after last season.

"I have a lot of respect for him – he plays the game as good as it gets," Wilson said. "He's a phenomenal football player. He's got a great mind, great attitude. He's everything in one."

So far this season, Cousins has completed 161 of 2237 passes for 1,900 yards, with 13 touchdowns and four interceptions.

Seahawks coach Pete Carroll also remembers Cousins well from his college days.

"When we were first being introduced to Russell, Kirk was there the same night that we interviewed him back at the hotel," Carroll said. "And both those guys were just so impressive. After that night, we were talking about just how impressed we all were with the way they came across, and their strength and their smarts and their background and all that stuff.

"So, it's not a surprise that he's a really good football player."