Shelby Harris reveling in first playoff trip with Seahawks in ninth NFL season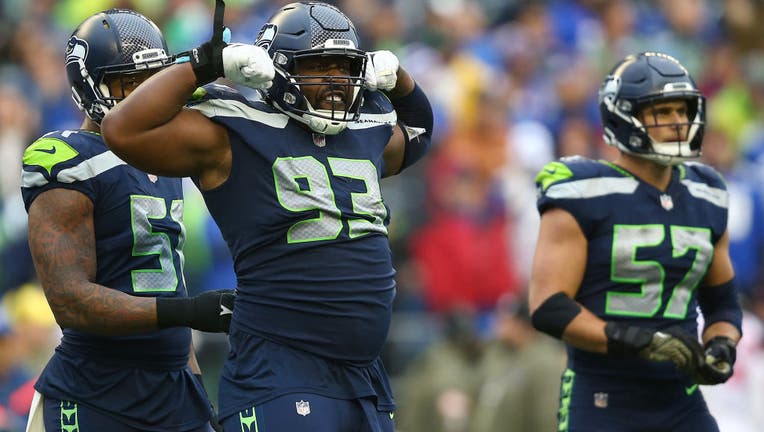 article
RENTON, Wash. - After nine seasons in the NFL, defensive end Shelby Harris finally gets to experience the playoffs in his first year with the Seattle Seahawks.
"It's something I've always wanted in my career, and something I've never been able to get to," Harris said. "It's not an individual thing, it's a team thing, and I wouldn't want to do it with another group of guys."
Prior to this year, Harris hadn't even been particularly close to being on a playoff team. The 2019 Denver Broncos were the only team he's been a part of to even finish second in their division. And that Broncos team still finished 7-9 and two spots out of the playoffs.
"There was no chance at the playoffs," Harris said. "So it's been a whole completely different year. It's amazing, it's been a great ride. It's still surreal. My emotions about that moment are still being processed. I'm ready to go play this game, but I've never been in a situation like that—last week of the season, even a chance, none of that. It was all cool to even be in that situation."
After the Seahawks' win over the Rams on Sunday afternoon kept the team alive, Harris retreated home to watch the Lions-Packers game with his family to see if his season would continue.
"I was with my family," Harris said. "Just to experience that together for the first time. It's something that I'll cherish, but obviously we want more," Harris said.
Harris was one of three players traded to Seattle as part of the Russell Wilson deal in March. Harris, tight end Noah Fant, and quarterback Drew Lock were all dealt to the Seahawks so Wilson could take over the Broncos and turn them into a Super Bowl contender.
That was the conventional wisdom at least. Denver was a contender. Seattle was in a rebuild. Instead, the Seahawks are in the postseason and the Broncos knew they'd be watching the playoffs, again, before the calendar turned to December.
"Just how crazy the expectations were flipped," Harris said. "Like in Denver, it was 'Super Bowl bound.' And here, it was 'oh, they've got Geno (Smith). They're not gonna do anything.' And it's just like, one, how disrespectful it was. Because at the end of the day, we're all pros here. We all get paid. I mean we wouldn't be here if we weren't good players. And so just a blatant disrespect going into the season that Seattle was getting, that we all were getting."
Harris started 15 games this season for Seattle in his first year with the team. He missed one game due to a gluteus injury in September and a second in December due to illness. Harris has 44 tackles with two sacks on the season for Seattle with six quarterback hits. Unlike pass rushing ends, Harris' role starts with run defending first and controlling the line of scrimmage.
"He's a smart player," head coach Pete Carroll said. "The experiences that he's had, he has grown from. He can talk about the style of play and the style of other teams and the settings when you go to another place that he's been a couple times—Kansas City, he had a good feel for how that was going to go. And he's been willing, like Bruce (Irvin) has been willing to share and be open about it, and it has been helpful for us."
Like Harris, it took fullback/linebacker Nick Bellore nine seasons in the NFL with non-playoffs teams before finally getting to experience the postseason with Seattle. Bellore had four years with the New York Jets, two with the San Francisco 49ers and two with the Detroit Lions before joining the Seahawks in 2019.
"It's kind of crazy, you get almost used to it," Bellore said. "Nine years for me, it was January you're home and watching it. It's one of those things – I know he feels this way – just so privileged to be able to play, continue to be playing. Especially with the season kind of been all over the place for us and I think finally to have it all come together the way we needed it to, and I just think we feel very honored to be able to get in and like I said, it all starts over and we are all blank slates, so I think it's fun."
For Harris, he's always had fun and enjoyed playing even when the teams he was a part of weren't winning. It's been since his junior season at Illinois State in 2012 that he's played for a team that finished with a winning record (9-4).
But playing for a winning team in the NFL hits a little bit different.
"I would describe it as fun," Harris said. "I've had a great time. I like Seattle, I love the people I play with, the people I work with, and I feel like I've just had a lot of fun out there, I'm a lucky guy, I get to play football for a living, so I enjoy every moment of it.
"I've always had fun, but it's different because this is truly the first season I've ever won. You always have fun, but to have fun and be winning is a whole different animal."
Dee Eskridge returns to practice for Seahawks:
Wide receiver Dee Eskridge returned to practice for the first time since mid-November.
Eskridge sustained a broken hand in the team's loss to the Tampa Bay Buccaneers in Munich, Germany in Week 10. He was placed on injured reserve and missed the final seven games of the regular season for Seattle.
"He is officially going to be able to (practice)," Carroll said. "He was out there in the walkthrough today and it's great to see him back."
Eskridge can practice with the team for up to 21 days before needing to be added back to the active roster. It's uncertain whether he'd be activated in time for this Saturday's game against the 49ers.
"He's an explosive player," Carroll said. "He's got a lot of firepower, as he's always had. He's been out for quite a while. So it would be a lot maybe to get him back this week. But first I've got to see him at practice. I haven't seen him in months."
Cornerback Isaiah Dunn is in his second week of practice after being designated to return from injured reserve last week as well.
Injury Report: