Seattle's Felix Hernandez bumped from starting rotation and into bullpen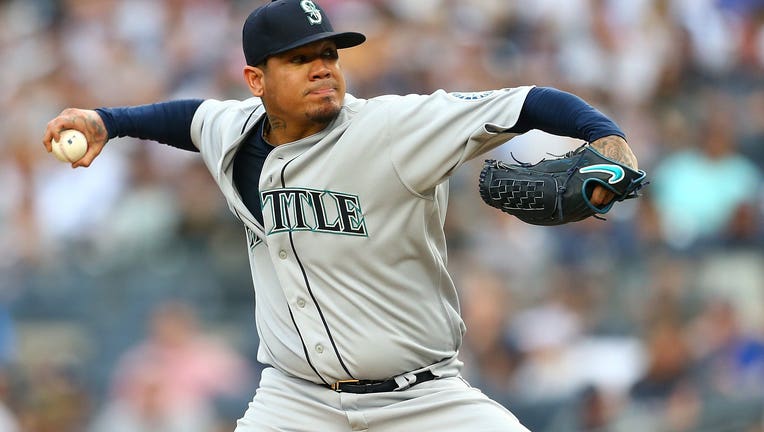 article


HOUSTON (AP) — Seattle's Felix Hernandez has lost his spot in the rotation in the wake of his latest terrible start in a season filled with struggles.

The right-hander, who threw a perfect game in 2012, will pitch out of the bullpen for the first time in his career. He's having the worst season of 14-year career as the Mariners chase their first playoff berth since 2001. Hernandez has a career-high 5.73 ERA this season and is 0-4 in his last five starts capped by a clunker against the Rangers on Tuesday where he allowed a career-most 11 runs — seven earned — on eight hits in six innings.

The six-time All-Star and 2010 American League Cy Young award winner who earned the nickname King Felix for his majestic presence on the mound trotted from the dugout to the bullpen after the third inning on Thursday night against Houston but did not pitch before manager Scott Servais announced the decision postgame.

Servais said he spoke with Hernandez before the game and informed him of the decision. Hernandez has spent his entire career with the Mariners, where all his 398 appearances have been as a starter.

"He's done an unbelievable job as a Mariner," Servais said. "And I certainly don't take any of this lightly, but I just think trying to make the best decision for the ballclub and really the best decision for Felix at this point is just take a breath. Step back, gather yourself."

Servais said the conversation was a difficult one.

"Certainly, respect him and everything he's done here throughout his career, but these things happen and ultimately it's about the team," he said. "It's never easy but again hopefully he takes it the right way. He'll get a chance to pitch at some point down there and maybe he can work his way back in the rotation. We'll see. He'll let us know on that."

Hernandez declined to speak to reporters when approached after the game.

The 32-year-old right-hander is 168-124 with a 3.32 ERA in his career. But after posting an AL-leading and career-best 2.14 ERA in 2014, Hernandez has become increasingly less dominant each year before bottoming out this year where he's gone 8-10 in 23 starts.

Hernandez got two wins to end the month of June before a terrible July where he went 0-3 and with the lowlight coming when he allowed six hits and seven runs in just 2 2/3 innings of an 11-5 loss to the Angels.

Servais said they haven't decided who will take his spot in the rotation on Sunday in the finale of this four-game series.