Seattle goalie Miller leads LAFC list in MLS expansion draft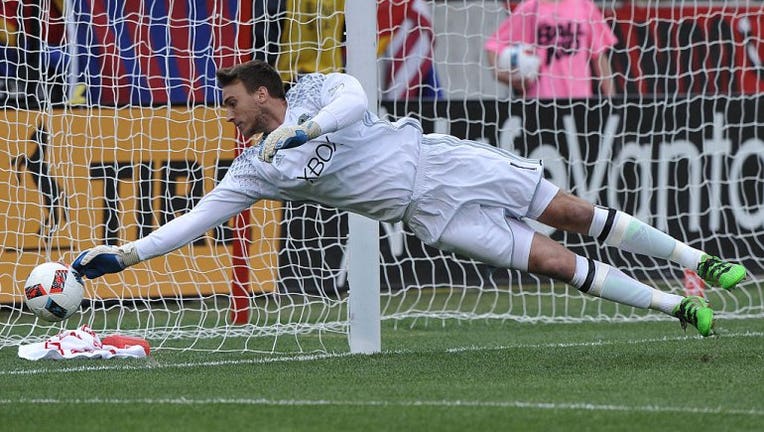 LOS ANGELES -- Seattle goalkeeper Tyler Miller was the Los Angeles Football Club's first pick in the Major League Soccer expansion draft on Tuesday.

LAFC also chose Sporting Kansas City forward Latif Blessing, San Jose forward Marco Urena, Columbus left back Jukka Raitala and Toronto defender Raheem Edwards.

LAFC general manager John Thorrington is uncertain how many of the five players will be with the club when it begins play as MLS' 23rd franchise in March. Some of Thorrington's selections could be moved again soon in trades.

But coach Bob Bradley's club finally has some assets to begin shaping the roster around the three prominent players that it has already acquired: Mexican forward Carlos Vela, Egyptian defender Omar Gaber and American defender Walker Zimmerman, who joined last weekend in a trade with FC Dallas.

"As we build a team, we start with nothing," Bradley said. "So we need to start to get some names. We need to have some players that you feel can step on the field and play the kind of football that we want, but also players that have some value so that as you continue to have discussions with clubs, you've got different ways to put your team together."

Only four of the 10 combined players chosen by Atlanta and Minnesota in last year's expansion draft actually stayed with their clubs, and only three appeared in a game. Those clubs' general managers traded six of the 10 players selected for additional assets.

Bradley and Thorrington have been traveling for most of the past few months, scouting on several continents and assembling plans for the makeup of their squad. LAFC seems likely to be a thoroughly international club, as evidenced by the expansion draft featuring five players from five different countries.

Miller could be a keeper in net. The 24-year-old New Jersey native and Northwestern product spent the past two years stuck behind Stefan Frei with the two-time Western Conference champion Sounders.

Blessing and Urena, who is likely headed to the World Cup with Costa Rica next year, fit LAFC's desire for exciting attacking players. Bradley hopes to acquire enough talent to play an exciting style in the new Banc of California Stadium just south of downtown Los Angeles.

"It's our responsibility to get off to a good start from the beginning in LA," Bradley said. "We've got a lot of momentum, and it's up to us to see that our fans are rewarded right away on the field. I think we've got a bunch of guys so far that are talented, attacking players that people are going to enjoy watching."