Seahawks rank 11th among NFL teams in Players' survey of facilities, treatment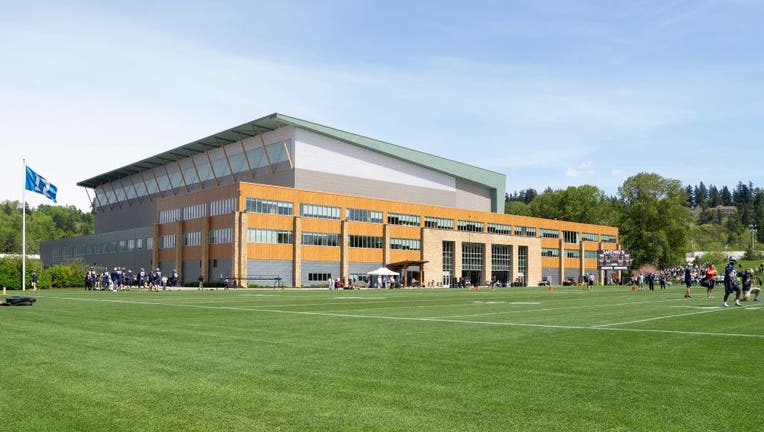 article
The Seattle Seahawks ranked 11th in the NFL in a survey conducted by the NFL Players' Association seeking to assess team facilities and working conditions across the league.
The survey polled 1,300 current players across the NFL seeking grades for each club on eight separate categories: treatment of families, nutrition, weight room, strength staff, training room, training staff, locker room, and travel.
The Seahawks received grades of at least a "B" in six out of the eight categories and ranked inside the top ten in half of the categories graded. 
| Category | Grade | Rank / 32 |
| --- | --- | --- |
| Treatment of Families | B+ | T-5th |
| Food Service / Nutrition | B+ | T-8th |
| Weight Room | A- | T-9th |
| Strength Coaches | A- | T-17th |
| Training Room | B- | T-12th |
| Training Staff | B+ | T-22nd |
| Locker Room | A- | T-8th |
| Team Travel | C | T-21st |
The two categories they lacked relatively to their competition were in training staff and team travel.
The training staff ranked tied for 22nd across the league, though they received a "B+" grade from respondents.
Team travel was the worst category for Seattle as they received a "C" grade, which ranked 21st in the NFL.
Some of that is out of the team's control as they typically are among the NFL's leaders is miles traveled due to the relative remoteness of Seattle compared to the rest of the league. Some of the complaints related to the Seahawks not offering the first class seats on their charter flights to players. They are one of only seven teams in the NFL not to do so. However, the players do get the first class seats following road victories.
The training room received a "B-" grade, which still tied for 12th in the league. Eighteen percent of respondents also said they felt the team didn't have enough athletic trainers, which ranked ninth worst in the NFL. Some also felt they could use more hot and cold tubs for recovery. 
Seattle ranked inside the top ten in family treatment, food service and nutrition, weight room and locker room.
Despite some of the criticisms, the Seahawks clearly graded out quite well is most categories. The NFLPA said they hoped such a survey would provide a resource for players in helping their decision-making processes in free agency.
The Minnesota Vikings, Miami Dolphins, Las Vegas Raiders, Dallas Cowboys and Houston Texans were the highest rated teams in the survey.
The Jacksonville Jaguars, Kansas City Chiefs, Los Angeles Chargers, Arizona Cardinals and Washington Commanders were the five worst teams.