Seahawks QB Geno Smith stays loose, focused ahead of playoff start at 49ers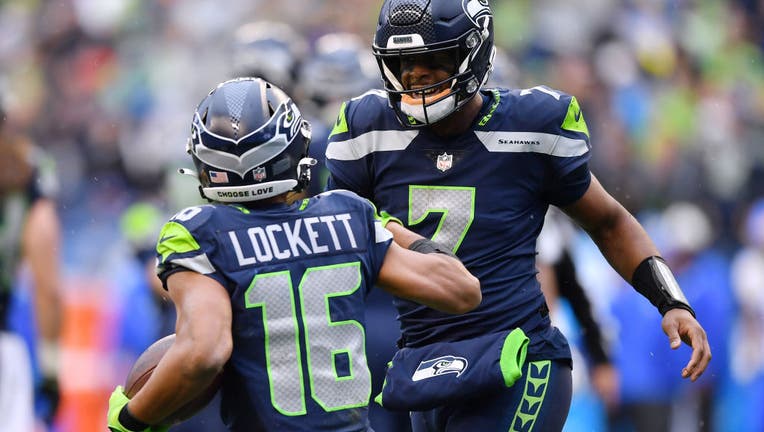 article
RENTON, Wash. - If Seattle Seahawks quarterback Geno Smith is nervous for the first playoff start of his career against the San Francisco 49ers this Saturday, he's doing a great job of hiding it.
Smith appeared loose on Wednesday as he spoke with reporters about the upcoming matchup with the 49ers. He cracked jokes – at his expense and others – and continued to downplay his accomplishments this season as being anything to dwell on while goals remain on the table.
"I would say it's not a fairy-tale. I think it's very much reality," Smith said. "And I think where we are as a team is that we've been working hard, we put a lot of good stuff on tape as a team. I think we've came a long way since the beginning of the season, since training camp and OTAs, and it's all just a result of the hard work and all the repetition that everyone's put in. So, you know, for us that's what it's about, sticking to the process, staying focused on that process and making sure that that's the main focus and then everything else will take care of itself."
Smith's success this year is one of the reasons why the Seahawks are still playing while 18 other teams are already headed home for the year. He finished as the NFL's leader in completion percentage at 69.8 percent, throwing for 4,282 yards with 30 touchdowns and 11 interceptions. He's just the third quarterback in franchise history to throw 30 touchdowns in a season joining Russell Wilson and Dave Krieg. Smith's 4,282 yards passed Wilson for the most in a single season in franchise history, though Smith did so in a 17-game regular season.
"I think it just says a lot about the way he plays the game," wide receiver Tyler Lockett said. "I think for him, it says a lot about how he trusts that he can throw the ball to whoever, whenever. It's not like he just throws it to certain people when the game is on the line, he's willing to throw the ball to anybody."
Smith hasn't had a chance to play in the playoffs himself, but he's been a part of two prior playoff teams. He was with the 2018 Los Angeles Chargers and backed up Wilson on the 2020 Seahawks.
"If you really love the game, you want to be in the playoffs," Smith said. "Those are the biggest stages. That's where the games seem to be the most fun because you know it's do or die. My remembrance from those times were just how much fun it was to be in the locker room with the guys and how we enjoyed each other and continuing to play, and then knowing that the game is on the line every single snap when you get out there."
While such circumstances could bring tension and anxiety, Smith wasn't showing either on Wednesday. When asked about Lockett's success at receiver,, Smith quipped "for a real estate agent, he's doing a great job of playing receiver."
(Lockett is a licensed realtor in Washington and Texas.)
Smith was also asked about his false state penalty last week against the Los Angeles Rams when he was split out at receiver with DeeJay Dallas set to take the snap in a wildcat formation.
"It's not funny because it cost us a penalty," Smith said chuckling. "But I kind of tried to fix my feet at the last second and was kind of talking trash and kind of lost my balance. So gotta get better there.
"It was the matchup we were looking for, me on Ramsey. It didn't work out that play. We'll come back to it. I was about to sauce him up. I can't let you guys know everything, but I was going to do a nice little route."
The Seahawks are going to need Smith to be at his best to pull an upset victory over the 49ers this weekend. San Francisco won the initial meeting in Santa Clara 27-7 in September with Seattle being held scoreless offensively. The only points came from a blocked field goal return from Tariq Woolen. Then in December, a late Noah Fant touchdown made a 21-13 final score appear closer than it really was.
"We had a bunch of third-and-longs, and as you can see, that's not where we want to be," Smith said. "When we're in third-and-manageable, we've done great, and we've been able to execute, move the chains. For us, it's staying efficient on first and second down, me in particular getting the ball out, being efficient getting the ball to the guys in the right timing and to the right reads, and then everything else kind of goes from there."
Smith himself hasn't been quite as sharp down the stretch as he was earlier this year. Over the final four weeks, he's completed just 64.6 percent of his passes for an average of 212.3 yards per game with just five touchdowns and three interceptions. Despite a season-long 100.9 passer rating, Smith's last four games netted just an 83.4 passer rating.
" I think I can play a lot better. I know I can play a lot better. It just comes down to execution, really just executing and staying focused," Smith said.
Injury Report: