Seahawks QB Geno Smith named NFL Comeback Player of the Year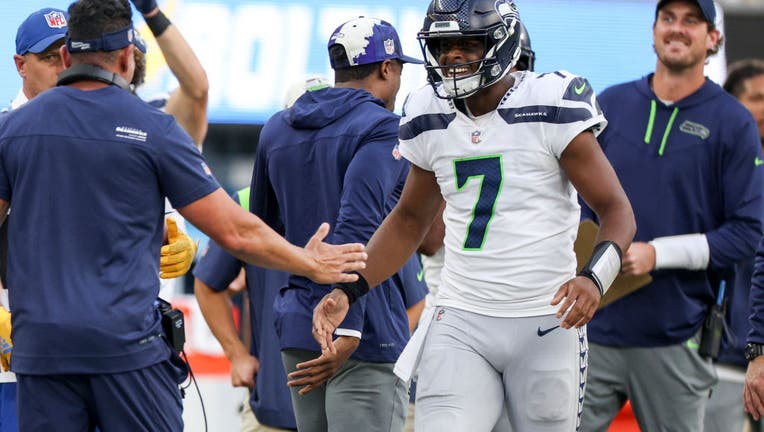 article
Seahawks quarterback Geno Smith was named NFL Comeback Player of the Year following his breakthrough season in Seattle after six years spent as a backup.
The award is voted on by a panel of 50 media members who cover the NFL regularly and are compiled by the Associated Press. Smith also previously took home Comeback Player of the Year honors from the Pro Football Writers' Association along with their Most Improved Player of the Year award.
Smith earned the nod over San Francisco 49ers running back Christian McCaffrey and New York Giants running back Saquon Barkley. Smith received 28 first place votes with McCaffrey in second place and Barkley third.
"I can't say it was tough, because I have been so blessed," Smith said in December. "Honestly, my tough times would be a dream to someone else. I never will look at it as something that was too hard for me or really tough because throughout that time, I was still enjoying my life and still in the NFL. For the most part, it was just feeling like there was a glass ceiling and you want to break that ceiling. It's like something hovering over you that you just want to break, so you can continue to grow further. For me, I just had to stay patient until I had the opportunity."
Smith was named to the Pro Bowl in his first season as a starting quarterback in Seattle. He had spent the previous six years mired as a backup with the New York Jets, New York Giants, Los Angeles Chargers and Seahawks. But after winning the starting job in training camp over Drew Lock, Smith led Seattle to a 9-7 season and a playoff berth despite wide expectations Seattle would struggle mightily after the trade of Russell Wilson to the Denver Broncos.
Smith took every offensive snap for the Seahawks this year and threw for 4,282 yards with 30 touchdowns and 11 interceptions.
McCaffrey had missed 22 of 33 games over the last two seasons due to shoulder, ankle and hamstring injuries with the Carolina Panthers. This year, McCaffrey played all 17 games split between the Panthers and 49ers and finished the year with 1,139 rushing yards and eight touchdowns on 244 carries and caught 85 passes for 741 yards and five touchdowns.
Barkley also returned to top form after multiple injury-plagued seasons with the Giants that included a torn ACL in 2020. Barkley had 1,312 rushing yards and 10 touchdowns this season in New York.
Seahawks running back Ken Walker III finished second in NFL Offensive Rookie of the Year voting while cornerback Tariq Woolen finished third in Defensive Rookie of the Year voting.
Walker took over for an injured Rashaad Penny as the start after Week 5 and rushed for 1,050 yards and nine touchdowns for the Seahawks. Woolen tied for the NFL lead in interceptions with six alongside Minkah Fitzpatrick of the Pittsburgh Steelers, Justin Simmons of the Denver Broncos, and C.J. Gardner-Johnson of the Philadelphia Eagles.
Walker finished second to New York Jets receiver Garrett Wilson, though he received more first place votes than Wilson. Woolen was third behind Jets cornerback Ahmad "Sauce" Gardner and Detroit Lions pass rusher Aiden Hutchinson.