Seahawks Notebook: Talks with Geno Smith continue, drafting a QB on the table too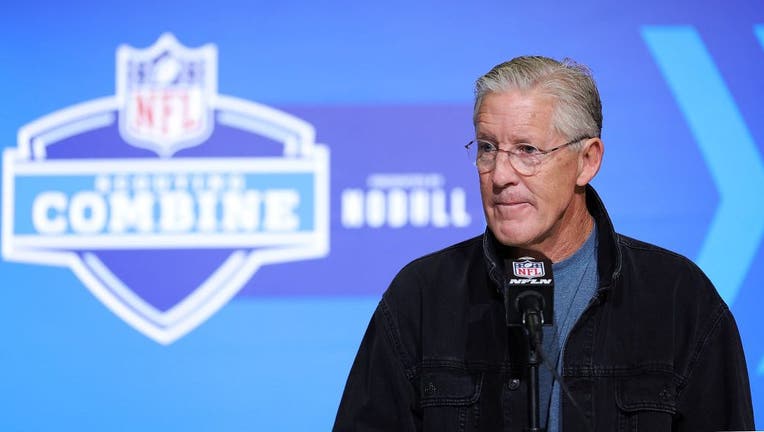 article
The Seattle Seahawks continue to work on a new deal for quarterback Geno Smith while remaining open to the possibility of adding a quarterback through the NFL Draft as well.
Smith is set to become an unrestricted free agent on March 15 after a breakout campaign in Seattle that saw him win NFL Comeback Player of the Year honors. 
"We're working it, the back and forth is all ongoing. How's it going? I think it's going to go the right direction. We've got to get it done," head coach Pete Carroll told reporters at the NFL Scouting Combine in Indianapolis on Tuesday.
The desire to bring Smith back in strong from the Seahawks. Smith led the NFL with a 69.8 completion percentage with 4,282 yards, 30 touchdowns and 11 interceptions. He was fifth in the league in passer rating at 100.9, one of just six quarterbacks to start at least 10 games to have a 100-plus rating.
"I think my favorite part of is though is how he handled it, that he was able to take this moment and capture it and he opened up to the club in terms of his leadership opportunities, and it was almost impeccably handled, orchestrated right out of the book—exactly how you'd like it to be. So it was really fascinating to see and thrilling to be a part of it and hopefully, we're working hard to keep it going," Carroll said.
Smith has also made clear his preference to return to the Seahawks as well.
"We've had talks and we're in the process of getting all that settled right now," Smith said at the Pro Bowl. "It's looking very good. We think we can get some things done, but obviously those things take time. This is the process that I hate about the NFL because I just want to play football, but it's a business as well, so we've got to take care of business and then we'll get back to the football."
Smith's play has earned him a sizable raise. A new deal for Smith will likely land somewhere nearing $30 million a year. The franchise tag for quarterbacks is $32.4 million while the transition tag is at $29.5 million.
The non-exclusive franchise tag would allow Smith to negotiate with other teams, but any team that would sign Smith would need to give Seattle two first round draft picks in return. That seems unlikely.
The transition tag would give the Seahawks the right to match any offer sheet that Smith would receive on the open market.
Of course, the Seahawks could skip either of those and sign Smith to a multi-year deal instead.
"All these negotiations, some go a little bit faster than others," general manager John Schneider said. "Usually when you're talking about larger numbers, they take a little bit more time."
Even if Smith is re-signed, the Seahawks aren't ruling out using a high draft pick on a quarterback as well. Seattle holds the No. 5 and No. 20 overall picks in the draft.   
"We are totally connected to the quarterbacks that are coming out," Carroll said. "This is a really huge opportunity for us. It's a rare opportunity. We've been drafting in the low 20s for such a long time you just don't get the chance at these guys. We are deeply involved with all that."
So why consider adding a quarterback early in the draft if Smith is back on a long-term deal?
"Because they don't grow on trees," Schneider said. "It's very hard. It's probably the hardest position to acquire a talent, a guy that everybody feels very confident in."
Quoteables:
– Carroll on re-signing guard Phil Haynes to a one-year extension: "It was important. All of those decisions take into account a lot of stuff. You know, it might not just be that guy at that spot, the potential in other aspects of building your offense and what you got to do in free agency and the draft and all that. That was a really important deal for us."
– Carroll on re-signing linebacker/fullback Nick Bellore: "We couldn't not do that. He's been so good. He continues to be such a factor and he's a captain, he effects other people so much, that he's just such a positive in the program and we've got to have him."
– Carroll on re-signing kicker Jason Myers: He's "had great seasons with us and it's hard to find a guy that you can rely on like that and count on so much. He hit 56 yards or something in the same game and it's like no big deal. You know, come on. We used to think that would be the kick of your life and he made two of them. So the confidence we have in him and the athlete that he is. He really takes care of himself beautifully and all that."
– Carroll on linebacker Jordyn Brooks' ACL recovery: "He's doing really well. The process is happening, you know, the whole rehab process. But it's going to be a while, you know. Healthy young kid. He's going to be able to bounce back as fast as you can come back. And he's a hard worker and he pushes himself and all of that. So we got to just hope for a smooth process along the way so there's no setbacks."
– Carroll on tight end Will Dissly: "He's doing really well and making progress. There was a time here thta we were looking to determine whether we would need to do surgery and whether he would be recovering without it. And it seems that he's making it through that. So that would be a real positive."
– Carroll on adding Greg Olson as QB coach: "I think that was a great, great get for us. Greg brings such experience. Really a quarterback guru guy. Everybody that I know that has ever coached with him loves the guy. I can see why. We've already been together working and doing stuff. Dave Canales (new Tampa Bay Buccaneers offensive coordinator) had been such a steady for us and been just kind of just part of our woodwork -- and I don't mean to make light of that -- he has been such a factor for me representing what we believe in and all that. So when you lose that you don't know what's going to happen, you know. Well shoot we hit it with Greg Olson. So we feel very, very fortunate. I think it's going to be great for Geno. He's a real disciplinarian. He's a real fundamental guy as well as he's creative. He's been a coordinator, he's called plays, all that kind of stuff. He gets a ton of our staff."
– Carroll on Jamal Adams recovery from a quadriceps tendon tear: "He's making his progress. He's doing his stuff. We'll see him in the next week or so in person. So we're anxious to get connected with him. But when he came out and visited with our guys and checked in everything's going the way it's supposed to go. It is a difficult return, recovery. We went through this with Jimmy [Graham] and so we've been through that before. Really intricate and they've got to do a really good job. It's always you've got to avoid the setbacks. You know, as long as we can do that he should be on schedule to get back."