Seahawks lose Jordyn Brooks to torn ACL; Rams game set for 1:25 p.m.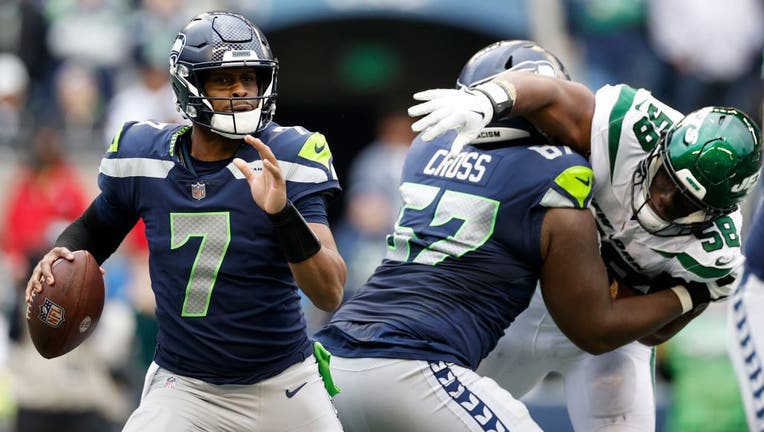 article
RENTON, Wash. - Seattle Seahawks linebacker Jordyn Brooks needs surgery to address a torn ACL in his right knee sustained in Sunday's 23-6 win over the New York Jets.
Brooks was injured in the second quarter and exited the field on the back of a cart. He had an MRI Sunday night that revealed the extent of the injury, which will end his season and bring his availability for the start of next year into question.
"Our heart is broken for Jordyn to miss," head coach Pete Carroll said on Monday. "He has been so much in the fabric of this organization since he showed up the first day. So hearts out to him because he wants to play football and he doesn't get to, so we have to do our part."
Brooks was injured while tackling tight end C.J. Uzomah along the Seattle sideline. He spun on the back of Uzomah as he tried to pull him to the ground and he immediately reached for his right knee after his leg planted hard. He was evaluated in the sideline medical tent before being carted off the field.
"It was an awkward step when he was kind of spinning around, twisting just hit wrong and landed wrong. And, (it's) unfortunate," Carroll said. "That was a great play. He was going for it to the very last instant. In the midst of the tackle he knew he had done it."
Brooks was down on the sideline for several minutes before being helped to the tent. He wasn't able to put much weight on his injured right leg.
Tanner Muse replaced Brooks at the spot for the rest of the game with Cody Barton taking over the play-calling duties for the defense.
"He did a really nice job," Carroll said of Barton. "He embraced the opportunity to be in charge, make the calls and all that kind of stuff. He's been working hard to be really on point when that comes. He's been working at it for a long time. So it wasn't a big deal. … He worked well with Tanner and Tanner did a nice job in his spots when he was in there.So just like we hope, you know, guys step to the opportunity and guys rally around them and it's seamless, hopefully. So we'll see what happens."
An ACL recovery is typically at least a nine-month process.
Carroll mentioned Jon Rhattigan and practice squad linebacker Alexander Johnson as options at linebacker they will have to bump up the rotation with Brooks out as well.
"Johnny Rhattigan's been looking for a chance, you know, Alexander's been looking for a shot. So we'll see what happens," Carroll said.
Wide receiver Tyler Lockett suffered a bruise on his lower right leg in the second quarter of Sunday's game and was limited the rest of the afternoon. He spent close to a full quarter in the locker room before returning to the sidelines and played a limited number of snaps in the fourth quarter.
"He's better today," Carroll said. "His leg feels a little better today. He got banged. It's not a serious injury, but it bothered him immediately afterwards. He recovered enough to get back in. And then I went up to him said, you know, 'we're going to win this game. Big game coming up. You're out for now.' But he was chomping to get back in."
Carroll said the injury was in a similar spot to when Lockett sustained a fractured leg at the end of the 2016 season.
Right guard Phil Haynes sustained a high-ankle sprain in the win over the Jets as well, which will likely keep him out for this week's game against the Los Angeles Rams at the very least.
Haynes has split reps with Gabe Jackson at the right guard spot throughout the season.
"Well, we haven't worn him out," Carroll said of Jackson. "So without Phil, he'll go into the game thinking he's playing the whole game. If we need to have a rotation, we have it orchestrated how to do that."
Jake Curhan would be the likely backup at the spot behind Jackson this week.
Running back Travis Homer (ankle), strong safety Ryan Neal (knee) and tackle Abe Lucas (knee) all have a chance to return to the lineup this week as well.
Schedule shuffle:
The NFL dealt the Seahawks an unfortunate hand for the final week of the regular season.
Seattle will play its final game against the Los Angeles Rams at 1:25 p.m. PT on Sunday afternoon on FOX.
In past seasons, the NFL had been really conscious about scheduling games with connected playoff implications at the same time. For the Seahawks, their game is directly tied to the meeting between the Detroit Lions and Green Bay Packers. The Seahawks have to beat the Rams and need the Packers to lose to Detroit to earn a playoff spot.
However, the NFL instead scheduled the Lions-Packers game at 5:20 p.m. PT for the Sunday Night Football game.
So now if Seattle beats the Rams, that result will eliminate the Lions from the playoff picture. Detroit can still earn a playoff berth by beating the Packers and having the Seahawks lose to the Rams. But if Seattle wins, they are eliminated from the postseason less than an hour before they kick off in Green Bay.
If the Lions effort to play the Packers is affected even 1 percent by knowing the Seahawks won, the split scheduling of the game is objectively unfair to Seattle.
"I know that there's been maybe some question about, you know, the order of the games being played on Sunday or whatever. That doesn't mean anything to me," Carroll said. "We don't care about that one bit. It's not going to change anything that we're doing. We're going for it. And then maybe they'd be pretty good party afterwards, you know, to watch the next game." 
The Lions will still have reasons to play hard. It's their only night game of the season and they have a chance to finish with a winning record for the first time since 2017. Additionally, they can play spoiler to the division-rival Packers regardless. So there will still be incentives for Detroit to play hard. Just maybe not every incentive if the Seahawks can beat the Rams to eliminate them from postseason contention.
"But the last thing I would ever worry about is coach [Dan] Campbell's team not getting ready to play, regardless of what's at stake and what's going on. He's going to get them fired up and jacked. That's all he's ever done. And that'll be a great match too. So we've got to take care of business and be focused on our stuff and have a great week."