Seahawks forge on with football after Bills safety Damar Hamlin's injuries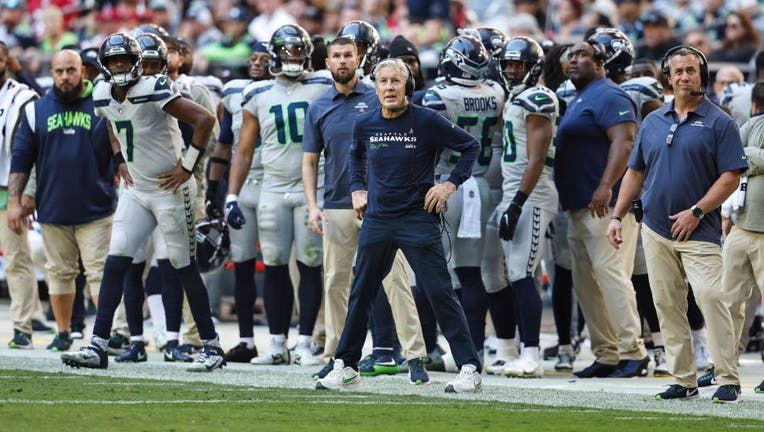 article
RENTON, Wash. - Two days removed from watching a peer be critically injured in Cincinnati, the Seattle Seahawks returned to work to try to prepare for a football game of their own this Sunday against the Los Angeles Rams.
Like the rest of the NFL, the Seahawks are figuring out how to deal with the emotions of seeing Buffalo Bills safety Damar Hamlin collapse on the field and the need for lifesaving medical attention on national TV. Hamlin remains in a hospital in Cincinnati with limited – but guardedly optimistic – updates on his status being released in the days since the injury.
"That really sent a real shockwave through all of the football world and followers and fans and family and loved ones alike," head coach Pete Carroll said. Wo we're all trying to send as much support and love and whatever we can with the prayers and whatever we can with our considerations of how we can help out as an organization, as individuals and all that."
Hamlin suffered a cardiac arrest and needed to be resuscitated by on-field medical personnel. Hamlin took a blow to the chest from Bengals receiver Tee Higgins on a fairly routine looking play. Hamlin tried to stand after the play before collapsing.
The Seahawks had one of their team doctors, Dr. Jonathan Drezner, speak with the team in meetings Wednesday morning about the NFL's procedures for such injuries and to be available to players that had any questions about the medical response on hand for games.
"We've all bought in to playing this game. We've built our whole lives around it," Carroll said. "Whereas we always know that there's risks, we're not always faced with the reality that the risks are there, and this moment does remind us to do that again and to realize that this is a dangerous game that we play."
Drezner is the Director of the UW Medicine Center for Sports Cardiology and co-Chair of the UW Medicine Cardiovascular Wellness and Prevention Program. He is Editor-in-Chief of the British Journal of Sports Medicine and serves as a team physician for the Seahawks, OL Reign, and Washington Huskies.
"Every team in the league is required to have a written emergency action plan," Drezner told reporters. "Every team in the league is required to practice and rehearse their response to an on-field emergency, which includes different scenarios and includes players going down prone, going down supine, face-up, with different equipment, and potentially with different medical emergencies. 
"So we practice this here at this facility every year before the season starts. We practice at the stadium with all emergency personnel there. We have our paramedic team there. We have our emergency room physicians and our airway management physicians who are there to help us and assist in case of an emergency. So we're all practicing and communicating what might happen if we need to do this in real time."
Metcalf and Diggs are both well aware of the risks that come with playing football. Metcalf suffered a broken neck in college playing for Ole Miss in a game against Arkansas that brought his future ability to play football into question.
"I know what I signed up for, so I'm not thinking about that when I go play. I've broken my neck already, so I'm not scared of anything," Metcalf said. "
Meanwhile, Diggs broken his leg and dislocated an ankle in the last game of the season for the Seahawks last year.
"I got a wake-up call last year, so for me, I never take it for granted. My injury wasn't nearly as bad as his was, and that woke me up and made me understand," Diggs said. "… I left the house last year with two legs and came back with one. It just kind of changes things, so when you see stuff like that, it definitely makes you think about it differently. We just want to continue to pray for him and hopefully he has a full recovery and gets a clean slate of health because that's what it is all about."
Pressing on and playing despite injuries happening to teammates is just part of football reality. Injuries in practice can lead to teams moving to a separate field to continue their work while their teammate is down on the ground. In games, a player may be carted off or need to be taken to a hospital for evaluation. Yet, the game still plays on.
"We know what we signed up for every time we go out there and put on our helmet and step on the field. It's just a risk that we all live with," Metcalf said.
Diggs said he's regularly thought about his broken leg during games this season.
"I would be lying to you guys if I didn't go out there and that every time and every game at some moment, I think about how I broke my leg," he said. "… It's hard to tune that out. Guys that have had serious injuries have had to be carted off or things like that. You think about that stuff. You think about how my ankle and my leg will never be the same. I will always have 12 or 13 screws in my leg and a tightrope in my ankle. My ankle will never have the same flexibility, so you think about those type of things when you are out there and hope that they don't happen again."
While a sudden cardiac arrest on the field is a different circumstance, both Metcalf and Diggs said they know what they've signed up for by making football their career. 
"We knew the risks," Diggs said. "For me, I can only speak on myself, I can't speak about other guys, but for me, I dreamed of this moment since I was a little kid, and I knew what I wanted to do. Football doesn't define me by any means, but it's something that I always wanted to do from watching my brother (Quentin Jammer) growing up. I wanted to follow in his footsteps. So for me, it's definitely worth it. You might pay the price for it, or you may not, but at the end of the day, you only get one life to live and this is the way I wanted to live my life."
The Hamlin injury is an extremely rare one in the NFL. Chuck Hughes, a wide receiver for the Lions, had a heart attack on the field and died in 1971 due to a blood clot that had traveled to his heart. He is the only player to die on the field during an NFL game.
"I just think that we have to try to go out there and do our job to the best of our abilities, control what we can control, and hopefully, in the next day or so, we get some really, really good news on Damar," Diggs said. :I think that will put guys at ease a little bit more if we can get some updates. We are not begging for updates because his health is more important to his family, the people around him, and himself than it is to us. As a brotherhood, we just want to be there for our brother. I think that will put guys a little more at ease, if we know he's okay and everything is going better."
The Seahawks have an incredibly important game to play on Sunday. They're still alive for a spot in the playoffs if they can win and get some help from the Detroit Lions against the Green Bay Packers. Seeing what happened to Hamlin on Monday night brings with it a huge swell of empathy from his peers around the NFL. However, those same peers still have a resolve to continue playing the game moving forward despite the risks.
"For me, it's worth it," Diggs said. "Everything has its consequences. You can say that if I wasn't playing football, I could have broken my leg in a car wreck or whatever it is. For me, it's definitely worth it and I love this game, but this game doesn't define who I am as a person."
Injury Updates:
Wide receiver Tyler Lockett did not practice with the Seahawks on Wednesday as he is still sore from a bruise sustained in Sunday's game against the New York Jets. The injury sent Lockett to the locker room for nearly a full quarter of action, plus halftime, and limited his snaps in the game.
"He's still sore. We're going to hold him out today. He won't be able to go today. It'll be a day-to-day thing for him as far as practice, but I know he's determined to play," Carroll said.
Safety Ryan Neal (knee) and running back Travis Homer (high-ankle sprain) are both making progress, but were also held out of Wednesday's practice.
"I was with Ryan this morning," Carroll said. "He's not ready today, but he's making improvements. Same with Travis Homer, making improvements, but it's going to be a race against the clock here to see if they can make it, and we won't know till the end of the week most likely."
Right tackle Abe Lucas went through the team's walkthrough and was limited in the practice Wednesday afternoon. Lucas missed the Jets game due to a patella tendon irritation that has bothered him previously.
Wide receiver Dee Eskridge will not rejoin the team for practice this week. He's been on injured reserve since mid-November due to a broken hand. Carroll had said Monday that Eskridge was "pretty much cleared" last week.
Roster Moves:
The Seahawks placed linebacker Jordyn Brooks on injured reserve after sustaining a torn ACL in Sunday's win over the Jets. Tight end Tyler Mabry was signed to the active roster from the practice squad after catching his first career touchdown in the victory on Sunday. Wide receiver Connor Wedington and cornerback Chris Steele were signed to the practice squad after working out for the team on Tuesday.
With Brooks out, the Seahawks could look to elevate linebacker Alexander Johnson for additional depth this weekend. Johnson is a former two-year starter for the Denver Broncos and had 124 tackles for the team in 2020.
In addition to Wedington and Steele, the Seahawks had quarterback Carson Strong, tight end Marcus Santon-Silva and defensive back Gavin Robertson in for tryouts on Tuesday.
Injury Report: