Seahawks filled with optimism for next year after playoff exit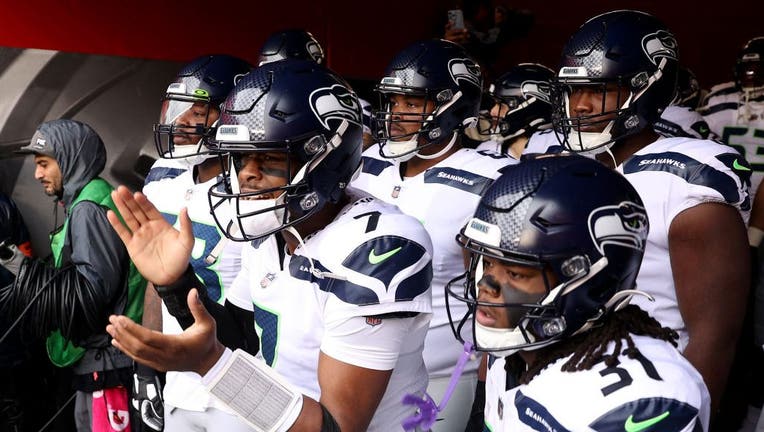 article
RENTON, Wash. - No one inside the Seattle Seahawks locker room was ready for the season to be over. The end is always abrupt in the playoffs and the Seahawks had to pick up the pieces after a dreadful second half led to a 41-23 loss to the San Francisco 49ers on Saturday.
But while this year is over, the success of the 2022 or campaign has the Seahawks extremely optimistic for what's next.
"Eager and hungry as hell," safety Ryan Neal said. "I mean, I went in the weight room just to check out and guess who's in there working out? Geno. So that just shows you what we thinking right now. Guys like, yeah, you know, we were ready to go on vacation or whatever but m---------ers are hungry. So that's all it is. Hungry and eager for more."
Neal is going to be a restricted free agent and Geno Smith is an unrestricted free agent. There's no guarantee that either player is back with the team next season. And yet, both players spoke excitedly about the future ahead for the Seahawks and their plans to be part of it.
"Out of all the great things that we did, all the accolades, all the great stats, there's still so much room for improvement. ... the new season for me starts today," Smith said Saturday night.
"I'm not at all satisfied. You know, I don't feel good about what happened today. I feel like we could have kept going and so for me, man, I just got to be better. I'm going to take this personal."
Smith said he expects to be back with Seattle and wants to be loyal to an organization that gave him the chance he'd sought for so long.
"I want to finish my career in Seattle. I want to be here," Smith said. "The town, the city, the team. Coach Carroll, the organization, they all embraced me. You know, I was a guy who probably could have been out of the league. They embrace me and I want to repay them for that.
"That means a lot to me. I've got a lot of loyalty in me. And, you know, I want to repay those guys for doing that."
The Seahawks exceeded expectations by posting a winning record and making the playoffs in their first season following the trade of Russell Wilson. Nationally, the Seahawks were expected to struggle heavily and be in the running for the league's worst record. The quarterback situation with Smith and Drew Lock was viewed as a punchline as Wilson escaped for greener pastures from an organization that held him back.
Instead, Smith shined. He led the NFL with a 69.8 completion percentage with 4,282 yards, 30 touchdowns and 11 interceptions. He was fifth in the league in passer rating at 100.9, one of just six quarterbacks to start at least 10 games to have a 100-plus rating.
"It set the pace. It set the tone," Neal said. "When your quarterback is doing it, when your leader is doing it, everybody follows suit. Everybody's on the same page. We were on the busses talking about it. 'I can't wait to get back to training. I already know what I'm doing.'
"Geno doing stuff like that and just showing us like 'nah, this is what's up.' We're still hungry. We're still eager. We're pissed that we're at home now but we just can't wait to get back."
Smith's success, combined with an outstanding year from the team's rookie draft class, is the biggest reason for optimism as Seattle hits their offseason.
"I think it was kind of just a taste of what it could really be, you know," right tackle Abe Lucas said. "I was talking to Coby [Bryant] a little bit yesterday just after the game and we were both kind of smiling and talking about winning the Super Bowl and how we were able to – with a team that has six rookies, I think it is that contributed and five out of those six have started, I think – and what we were able to help this team to do, you know, like the sky's the limit."
The Seahawks will have numerous tasks to accomplish this offseason. They'll need to get Smith back under contract – either with a longer-term deal or the franchise tag – if they want him to continue as the team's starting quarterback. Head coach Pete Carroll said Saturday night they hope to be able to do so.
They also have to improve in their defensive front seven as poor run defense and line of scrimmage control, combined with bad tackling fueled much of the team's defensive issues. Jordyn Brooks is likely questionable for the start of next season due to his ACL tear and Cody Barton is an unrestricted free agent as well, which leans the linebacker position extremely thin.
Pro Bowl kicker Jason Myers is also a free agent this offseason.
But the strength of the rookie class has provided such a rejuvenating boost to Seattle's future outlook.
"This year was just step one for this team and how special we can be," Barton said. "The way things went yesterday that's just a chip on our shoulder for everybody and s--- I'm damn excited to see what happens this next season."
Smith, Neal and Barton all don't have contracts for next year. And yet, all three expressed their desire to be a part of what happens next for the Seahawks. There is real optimism within the locker room and believe this is the first step of a larger success still yet to come.
"As long as we're consistent on our approach and what we do, you know, I think guys can really grow and guys can figure out what we have to do," free safety Quandre Diggs said. "I just think guys gotta understand you can't come back the same player you was this year. You've got to be better. You got to find a way to  find different techniques, find different ways to get the job done, because you can always get it done."
The Seahawks have 26 players that will be unrestricted free agent, which includes Smith, Barton, Myers, defensive tackle Poona Ford and center Austin Blythe. Neal is one of three restricted free agents that saw time this year. 
Notes:
– Neal said that he would need surgery to address bone spurs in his left ankle that bothered him for most of the season. His injured knee will be fine with some time to rest. Neal said that he wasn't worried about his contract situation heading into this offseason.
"We'll cross that bridge when we get there," he said.
Seattle could give Neal a second-round restricted free agent tender, which will be worth a bit more than $4 million for next season. It would entitle the Seahawks to a second-round draft pick in return should another team sign Neal to an offer sheet in free agency. 
Since Neal was an undrafted free agent out of college, they wouldn't get any compensation with an original round tender. A first-round tender, worth around $6 million, is also available if Seattle expected heavy interest in Neal.
– Tight end Will Dissly said he didn't expect to need surgery on his injured knee, which ended his season in December. Dissly spent some time on crutches but is able to go without now. He said he expected to be able to get back on the golf course by the end of next month.
Free Agents:
Unrestricted
QB Geno Smith
K Jason Myers
DT Poona Ford
LB Bruce Irvin
RB Rashaad Penny
QB Drew Lock
LB/FB Nick Bellore
LB Cody Barton
WR Marquise Goodwin
RB Travis Homer
G Phil Haynes
C Austin Blythe
DE L.J. Collier
S Josh Jones
C Kyle Fuller
S Teez Tabor
S Johnathan Abram
CB Justin Coleman
CB Artie Burns
CB Xavier Crawford
LS Tyler Ott
LS Carson Tinker
DE Darryl Johnson Jr.
LB Cullen Gillaspia
WR Laquon Treadwell
LB Ben Burr-Kirven
Restricted
S Ryan Neal
WR Penny Hart
LB Tanner Muse
** Several players are also exclusive rights free agents, which are players without contracts for next year that have fewer than three years of accrued service time. The Seahawks can tender them a minimum contract and maintain their rights for next year or decline to tender them and allow them to become unrestricted free agents.