Seahawks escape with a badly needed win over Cardinals, but Earl Thomas breaks his leg


GLENDALE, Ariz. – Somehow, someway, they escaped with their season intact.

The Seattle Seahawks beat the Arizona Cardinals 20-17 at State Farm Stadium on Sunday afternoon, getting out of Glendale with a win if not with their Pro Bowl free safety and starting tight end.

The Seahawks put together a last-minute drive capped by Sebastian Janikowski's 52-yard field goal as time ran out. Janikowski had missed two field goals early in the game, but looped in the one that really mattered.




It was a much-needed win, lifting Seattle to 2-2 on the season and 1-0 in the NFC West with a big matchup against the Los Angeles Rams coming up next weekend. They did it following an afternoon in which they watched Earl Thomas and Will Dissly carted off the field with injuries.

Carroll said after the game that Thomas fractured his lower leg, and that Thomas believes it's related to the broken leg that ended his 2016 season.

"The bittersweet is so obvious," coach Pete Carroll said after the game. "That's how we're feeling about it."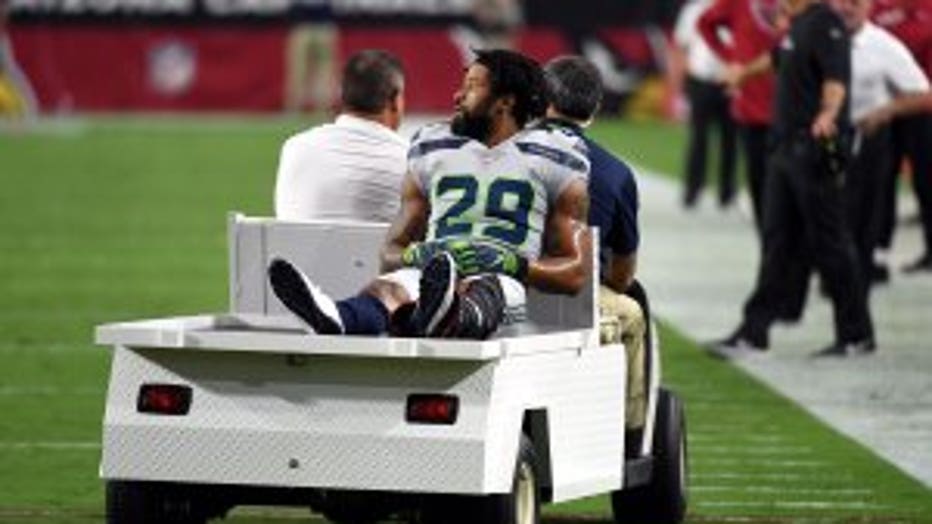 GLENDALE, AZ - SEPTEMBER 30: Defensive back Earl Thomas #29 of the Seattle Seahawks leaves the field on a cart after being injured during the fourth quarter against the Arizona Cardinals at State Farm Stadium on September 30, 2018 in Glendale, Arizon


For the second week in a row, the Seahawks did it thanks in large part to a 100-yard rusher. This week, it was Mike Davis doing the heavy lifting as Chris Carson was inactive with a hip injury. Davis carried the ball 21 times for 101 yards and two touchdowns, while Rashaad Penny had nine carries of his own for 49 yards.

"I always prepare like I'm gonna be the starter, so it was no big deal," Davis said.

The Seahawks didn't score a touchdown on their first drive – it's now been 33 games since they did that – but did get on the board quickly thanks to Davis. His 20-yard touchdown run – assisted by a block from Russell Wilson – put Seattle up 7-0 after a six-play, 62-yard drive with 6:09 to play in the first quarter.

The Seahawks weren't able to capitalize after Tre Flowers forced a fumble late in the first quarter. Their drive stalled almost immediately, and Janikowski missed a 38-yard field goal wide right that would've put them up 10-0.

Janikowski whiffed again, missing a 52-yarder – this one wide left – in the second quarter that would've made it 10-3 but instead gave the Cardinals the ball on their own 42-yard line.

The Seahawks struggled converting third downs, converting none of their 10 oportunities. They also committed eight penalties penalties for 57 yards.

The Seahawks lost rookie tight end Will Dissly early in the game to a patella injury after he was tackled by Arizona's Antoine Bethea. Dissly had to be carted off the field, and the Seahawks soon said he wouldn't return. The NFL Network's Ian Rapoport reported that Dissly would be out for the season.




"We lost our tight end, we lose the best safety in the game," Baldwin said. "It's a rough win for us. Nonetheless we did get the win, but I wish it wasn't at the cost of those guys."

David Moore's 30-yard reception and a Nick Vannett drawing an ensuing pass-interference call gave the Seahawks the ball on the Arizona 1-yard line and set up Davis' 1-yard touchdown run that put them up 17-10 with 1 minute left in the third quarter.

Wilson finished the game 19-for 26 passing for 172 yards, and was sacked twice. Tyler Lockett was the leading receiver, with five catches for 53 yards, while Doug Baldwin returned from injury with five catches for 41 yards.

Now, the Seahawks are left to ponder a future without Thomas. Rapoport reported that he "suffered a clean lower leg break but no ligament damage and no displacement." Thomas could be back in time for the Super Bowl.




"I love Earl," Carroll said. "I've always loved him, everything he's ever done for us, everything he's stood for. He's been a leader and just the guy out in front always with unbelievable heart and competitiveness and drive to be great. I've admired it the whole time. It wasn't always smooth, but it was always good."

Seattle will play host to the Rams next Sunday at 1:25 p.m. in a game that will be broadcast on the official home of the Seahawks, Q13 FOX.