Seahawks beat Washington 27-17; Wilson shines bright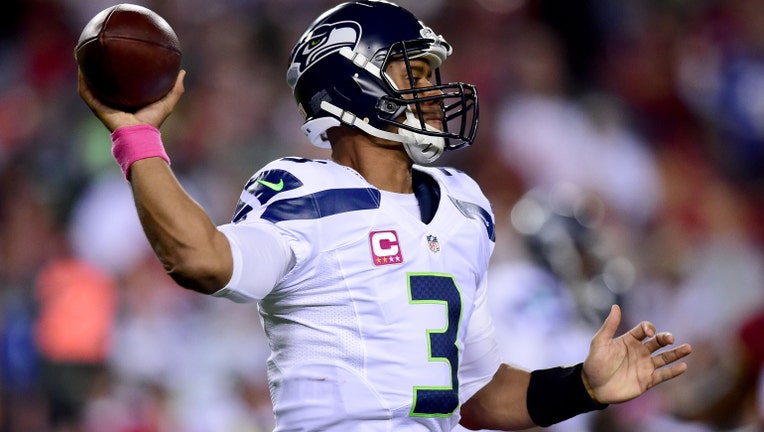 WASHINGTON D.C. – On the back of Russell Wilson, the Seattle Seahawks overcame costly penalties to secure a road win on Monday Night Football, beating the Washington team 27-17.

Wilson may have vaulted himself into the MVP conversation  with his performance, expertly outrunning defenders and always holding his head up despite a number of offensive penalties that pushed the Seahawks back throughout the game.

With the win, the Hawks go 3-1 on the season, as Washington falls to 1-4.

Wilson ended the game with 122 yards rushing -- a Monday Night Football record for a quarterback and a career best --  as well as going 18-for-24 through the air with two touchdowns.

But despite Wilson's herculean performance, a win was never a guaranteed thing.

The Seahawks went up 17-0 with 4:37 seconds left in the 2nd Quarter, seeming to stall a Washington team's offense that had struggled from the outset, only gaining 22 yards in the first quarter.

But costly offensive line penalties hampered the Hawks, killing likely touchdown drives and keeping the score within reason.

Review the game's Live BLOG>>>
Checkout Photos from the game>>> 

Sensing an opening, Washington QB Kirk Cousins went deep to DeSean Jackson late in the second half, setting up a touchdown with 2:32 seconds in the second quarter. A field goal early in the third quarter put the Redskins within reach at 17-10, as Cousins seemed to be turning around his much-critiqued play.

But then Russell Wilson came alive. Wilson kept multiple drives from ending, capping a 12-play, 53-yard drive with a 9-yard touchdown pass to Marshawn Lynch. After a quick Washington touchdown, a 43-yard field goal from Steven Hauschka put the game just out of reach at 27-17 with 21 seconds left to go.

Wilson's play can not be understated, as the third-year quarterback set a Monday Night Football record with 122 yards of rushing on 11 carries. He also went 18-for-for 24 yards and two touchdowns. Wilson spread the ball around throughout, hitting six different receivers; including Cooper Helfet -- an undrafted tight end in to replace injured Zach Miller -- for a 36 yard bomb.

Wilson said after the game that a championship mindset kept him motivated.

"The leaders we have in the locker room, we have so many different guys," Wilson said. "We believe in each other."

Wilson's heroics were nearly stymied by a string of offensive penalties, however.

All in all, the Hawks racked up 13 penalties for 90 yards, with three coming from offensive lineman Russell Okung. Three offensive line penalties also negated three Percy Harvin touchdowns, as the receiver managed  to finish with only four catches for 27 yards, despite having a great game.

The team is in good position following the win, with it's 3-1 record tying the Arizona Cardinals for the best record in the division.

The Hawks will take on the Dallas Cowboys next at CenturyLink Field. That game will be broadcast on Q13 FOX beginning at 1 p.m.