Ryan Neal set to play for Seahawks against 49ers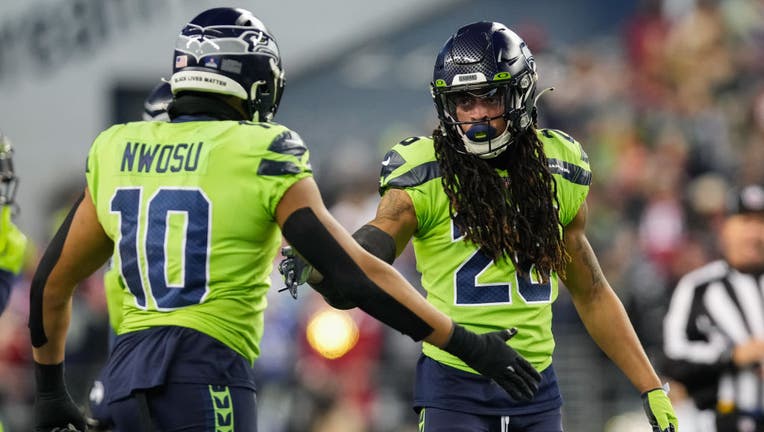 article
RENTON, Wash. - Seattle Seahawks safety Ryan Neal will return to action for this Saturday's Wild Card game against the San Francisco 49ers after a three-week absence due to a knee injury.
"I'm ready to rock and roll and give whatever I've got. We made it in so it's all hands on deck from here on out," Neal said on Thursday.
Neal tried to play through bursitis in his knee for a couple weeks before the last meeting with the 49ers in December. However, the short turnaround to a Thursday night game exacerbated his knee problems and forced him to miss time.
"It filled up with fluid twice over the weekend and then after that it was just locked up. I couldn't bend it no more," Neal said.
"Just trying to recover from that. going through it doing all type of stuff that I've never done before to get it to open and it finally opened up for me and we're starting to get to move around and so we're feeling good."
Neal has started 10 games at strong safety this season for the Seahawks. He took over in Week 4 as the starter after Jamal Adams was lost to injury in the opener and two games with Josh Jones in the lineup as Neal worked back from a high-ankle sprain in training camp. Neal has been a really strong piece for Seattle when he's been in the lineup. He's racked up 66 tackles with an interception and a forced fumble this season in 14 total games played.
"He's been a real active part of what we do and a great spirit in what we do and I'm really happy that he'll get back and we'll have a nice little rotation there," head coach Pete Carroll said.
Johnathan Abram and Teez Tabor have split duties at safety in Neal's absence. They'll continue to have roles this week as Neal worked back into action.
But the Seahawks have missed Neal's presence in the lineup and Neal is eager to get back into the mix.
"I am f--king exciting to get back on the field. I've been waiting forever," Neal said. "It has been f--king painful watching my boys go out there and have fun without me. I'm glad to be back here, man… S--t, I'm ready to rock and roll, man."
Injury Updates:
Defensive end Shelby Harris (knee) and running back DeeJay Dallas (ankle/quadriceps) were both limited in practice on Thursday and are officially questionable.
Carroll said that Harris looked good and he believed he'd be able to play against the 49ers. Dallas was "full-go," Carroll said, and seems likely to play as well. Carroll couched his thoughts with all four questionable players as needing to see that they bounce back from the practice workload to know for certain they'd be able to play.
Right guard Phil Haynes (high-ankle sprain) and cornerback Xavier Crawford (hamstring) did not practice at all this week and are far less likely to be able to play, though both are still considered questionable.
Tyler Lockett named Clare Farnsworth Good Guy Award Winner:
Wide receiver Tyler Lockett was named the recipient of the Clare Farnsworth Good Guy Award as voted on by the Seattle chapter of the Pro Football Writers' Association.
The award is given to a player for his qualities and professional style in helping pro football writers do their jobs effectively. Lockett is a thoughtful interview and is regularly available to the reporters who cover the Seahawks on a regular basis. His insight helps bring better stories and information to the fans that follow the team.
The local award is named after Clare Farnsworth, who covered the Seahawks for 36 years for the Seattle Post Intelligencer and Eastside Journal before eventually joining the team's website.
Russell Wilson (2014) and Richard Sherman (2015) have won the national Good Guy Award previously as voted on by the entire PFWA. The award has been given out by the PFWA since 2005.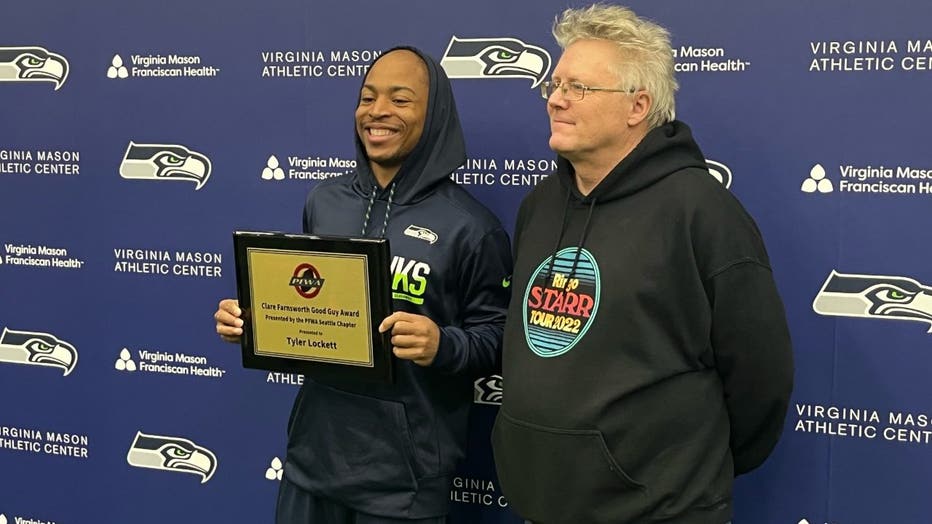 Seattle Seahawks wide receiver Tyler Lockett accepts the Clare Farnsworth Good Guy Award from Bob Condotta of The Seattle Times. The award is voted on by the Seattle chapter of the Pro Football Writers' Association for players whose qualities and pro (photo by Curtis Crabtree / FOX 13 Seattle)
Injury Report: