Reports: Seahawks to sign DL Dre'Mont Jones to three-year, $51.5 million deal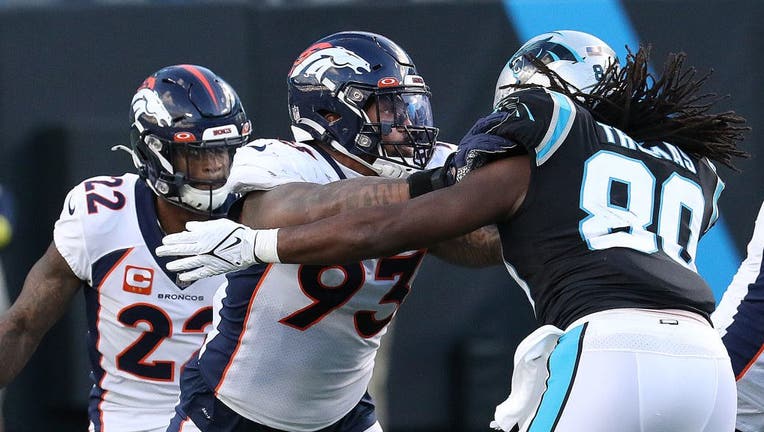 article
The Seattle Seahawks are set to sign former Denver Broncos defensive lineman Dre'Mont Jones to a three-year deal, according to multiple reports.
The deal and terms were first reported by Ian Rapoport and James Palmer of the NFL Network. The contract is worth up to $51.53 million with $23.5 million due in the first year of the deal.
"We needed to be better up front," general manager John Schneider told reporters at the NFL Combine. "I think it was pretty evident. We were on the field a lot. We didn't defend the run real well. We had some games in there, we did a really nice job and then we had several games that didn't go so well. We know what the issues are and we're ready to attack them and fix them."
The move is a sizable splash on the free agent market, which is an area the Seahawks have been averse from heavily partaking in through the years under Schneider and head coach Pete Carroll. However, the move is an obvious departure to address a massive roster shortcoming from last season.
Seattle finished last season ranked 26th in total defense and 25th in points allowed. Seattle's rush defense was the primary source of frustration this year as the unit allowed an average of 150.2 yards per game on the ground, which ranked 30th in the league.
"It's killing me," head coach Pete Carroll said of the defensive issues at the end of last year. "… The (San Francisco) 49ers game was a great example, the big run, we just messed it up and didn't fit it right. There were too many of those. So the inconsistencies, that's the part that I have to really be effective at helping. We have to clean things up, we have to get sharp, and we have to get back to where we can effectively play the running game."
Jones was a full-time starter for the first time last year for Denver. He's started 29 of 56 career games with the Broncos and started all 13 games he played in last season. Jones had 47 tackles and 6.5 sacks from the defensive interior, which were both career-highs.
Jones is a proficient pass rusher. According to Pro Football Focus, Jones had 45 quarterback pressures last season, which ranked tied for 11th in the NFL from interior defenders. His pass rush win rate of 14.6 percent ranked 13th in the category.
"I feel like they have the biggest belief in me. They have a really promising team, and I am looking forward to transitioning to that city," Jones told Josina Anderson of CBS Sports.
Jones is one of the largest free agent signings the Seahawks have made. Uchenna Nwosu signed a two-year deal worth up to $19 million last year in moving over from the Los Angeles Chargers. Former wide receiver Sidney Rice signed a five-year, $41 million deal with the team in 2011.
Nwosu's had been the highest in average value while Rice's was the most in total value.
The Seahawks have given much larger contracts to their own players (Russell Wilson, Earl Thomas, Richard Sherman, etc.) and players they've acquired via trade (Jamal Adams, Percy Harvin).
The contract can't be signed until free agency officially begins on Wednesday afternoon. Players are permitted to negotiate with teams as of 9 a.m. Monday.
Notes:
– Mike Garafolo of the NFL Network reported Monday morning that the Seahawks intend to release defensive end Shelby Harris. The release of Harris would save Seattle just under $9 million in salary cap space, per OverTheCap.com.
– Linebacker Cody Barton has reached an agreement on a one-year deal with the Washington Commanders his agent David Canter confirmed.