Pete Carroll wants Geno Smith back at QB for Seahawks: "We got our guy."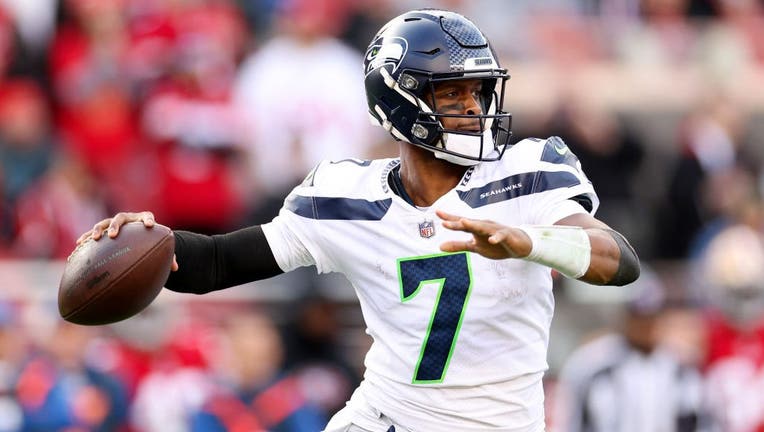 article
RENTON, Wash. - Both Geno Smith and head coach Pete Carroll want Smith to return next season as the quarterback of the Seattle Seahawks. Now the two sides just need to make it happen.
Smith expressed his desire to remain with the Seahawks following Saturday's loss to the San Francisco 49ers in the NFC Wild Card round. He will be an unrestricted free agent when the new NFL league year begins in March.
"I want to finish my career in Seattle. I want to be here," Smith said. "The town, the city, the team. Coach Carroll, the organization, they all embraced me. You know, I was a guy who probably could have been out of the league. They embraced me and I want to repay them for that.
"That means a lot to me. I've got a lot of loyalty in me. And, you know, I want to repay those guys for doing that."
Carroll similarly hopes Smith will continue on as the team's quarterback after a Pro Bowl season.
"We got our guy and we need to hopefully work things out so he's with us and all that," Carroll said. "There's business to be done there, of course, but there's no lid on what we can do. The sky's the limit. And that along with returning him with his leadership factor that he had, you know, He's a big deal to us and so just couldn't be more tickled by the way the whole thing turned out and how he handled it and really as we look to the future, he's a big part of why we're looking to the future so promisingly."
Smith led the NFL with a 69.8 completion percentage with 4,282 yards, 30 touchdowns and 11 interceptions. He was fifth in the league in passer rating at 100.9, one of just six quarterbacks to start at least 10 games to have a 100-plus rating.
"It's a great story what he did and when he accomplished," Carroll said. "He played terrific football. How about coming out against the (49ers) on the road, and he's 9-for-10 in the first half. He's on his stuff and he had an excellent game for us in that game. And even though the turnovers happened, they happen. He played really well. Just to show you again that he's on it."
Smith's ascendance helped the Seahawks accomplish many goals in 2022. They posted a winning record at 9-8, and made the playoffs despite a defense that was woefully inept at times, especially against the run. DK Metcalf and Tyler Lockett each had 1,000-yard receiving seasons and Seattle's offense finished the year ranked ninth in scoring offense.
Smith could reasonably ask for a contract worth as much as $35 million a year based on comparable deals across the NFL. Smith's comments about wanting to "repay" the Seahawks for their faith in him would suggest he's not going to batter them for every dollar possible, however.
The Seahawks could use the franchise tag on Smith to keep him tied to the team for next season if a contract cannot be reached before free agency. However, the tag will come with a price tag of around $32 million for next year with the entire amount counting against the team's salary cap. Seattle would prefer a longer-term deal that allows them to spread the cap hit out over multiple seasons. Opposing teams could still sign Smith even with the franchise tag, but Seattle would be entitled to two first-round picks in compensation if he signed elsewhere. That would be incredibly unlikely.
Smith could reasonably ask for a contract worth as much as $35 million a year based on comparable deals across the NFL. 
Seattle also owns the No. 5 overall pick in this year's NFL Draft, which could presumably be used on a quarterback as well. Alabama's Bryce Young, Ohio State's C.J. Stroud and Kentucky's Will Levis are the highest-regarded quarterback prospects in this year's class. If a deal can't be reached with Smith, the Seahawks could turn to a rookie instead.
"Well, yeah, if we didn't have a quarterback that functioned really well, we might be a little different," Carroll said. "But the quarterbacks in this draft are extraordinary players and you don't get opportunities like this and so we have to be – we are – really tuned in to all of those options."
Carroll also said that the team wants to bring Drew Lock back for next year. Lock is also an unrestricted free agent that may look for an opportunity to compete for a starting job elsewhere. However, Carroll was really happy with Lock's contributions behind Smith this year. Smjith was the only quarterback in the NFL to take every snap for his team this season.
"Drew was as positive as you could hope a guy would be that didn't get a chance to play," Carroll said. "He had a really good experience. He worked great with the coaches, we really appreciated his talent, his work ethic, and even more so, his mentality and support of Geno. He and Geno were buddies through the whole thing. They helped each other, and Sean Mannion was part of that as well. 
"He doesn't know what is coming up, so we have to wait and see, but we would love to have him back and keep growing with him."
There are no guarantees that Smith and the Seahawks are able to come to an agreement on a deal moving forward. As Carroll noted, that's where the business of the NFL comes into play. But if Smith returns, the Seahawks can focus on building up the rest of the surrounding roster to give him the support he needs to take the next step forward.