Pete Carroll remembers Paul Allen: 'He wanted to do special, unique, extraordinary things'


RENTON, Wash. –Pete Carroll reflected on Paul Allen's life on Tuesday, saying his former boss was "a good dude" who gave him "a life's experience" as coach of the Seattle Seahawks and "stood up for the place he loved" when the bought the team.

Carroll spoke at the VMAC as the team broke for the bye week, one day after Allen died of complications from non-Hodgkin's lymphoma.

"I'm going to miss the spirit of his vision," Carroll said. "Look what he's stood for. Look what he's done. Look at all the extraordinary, amazing places he's taken us to because he could and because it was there to be challenged. Whether it's in space or whether it's under the ocean, whether it's in the furthest reaches of the globe, chasing diseases and freeing animals and saving the elephants and all the amazing things that he stood for."

Allen bought the Seahawks in 1996, beginning the process of transforming a team that very nearly moved to the Los Angeles area into one that would play in three Super Bowls under his ownership. Carroll said Allen's unique vision was a key factor in his decision to leave the University of Southern California to come coach in Seattle.

"You couldn't ask for a better guy to support what we're trying to do here," Carroll said. "Paul had a great thought about, he wanted gave to put people in charge and give them what they needed and the resources you needed and then he wanted you to go for it. He didn't want you to pull back, he wanted you, at all times, pushing ahead. That's all we could ever hope for. He was not a hands-on owner, but his spirit was on everything we were doing. The message was clear about how he wanted us to go about our business. That's why (general manager John Schneider) and I were in such concert form the beginning. You couldn't ask for a better format and setup. That's why I ended up finding my way here."

Carroll said he knew Allen wasn't well, but that because of Allen's perpetually optimistic outlook, had hoped everything would be OK.

"He was very hopeful," Carroll said. "That's the way he was, and he said it directly to me: He was ready for the battle. ... But he had become ill. He had become unable to do some of the things he'd normally been able to do, and travel to the games and things like that because of his illness. There were some signs in that regard. He was weakened, but it still happened very suddenly."

A reporter asked Carroll about his favorite memories with Allen. Carroll, to the surprise of no one, went back to the aftermath of the Seahawks' victory over the Denver Broncos in Super Bowl XLVIII.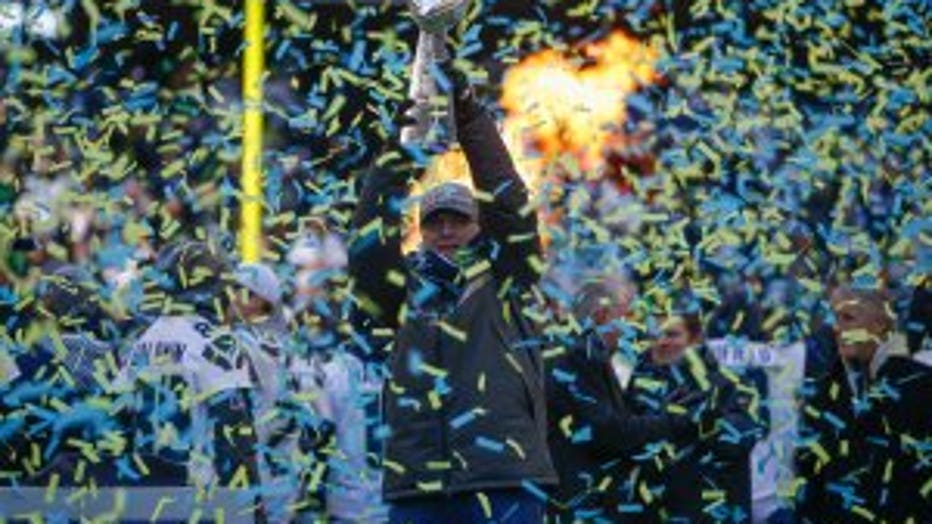 SEATTLE, WA - FEBRUARY 05: Team Owner Paul Allen of the Seattle Seahawks holds the Lombardi Trophy during ceremonies following the Super Bowl XLVIII Victory Parade at CenturyLink Field on February 5, 2014 in Seattle, Washington. (Photo by Otto Greule


"To have a chance to be together with the guy – it meant so much to him," Carroll said. "He's a winner now, he wanted to be a champion. And to be up on the stage, in the crowd, and the confetti's flying and all that, and to just be there with him – that's my favorite moment with Paul.

"Now, there was a great moment later on that night, and he was on stage (playing guitar) and he was hittin' it! He thought he was Eddie Vedder or something up there, he was going. I think that was the great moment that we got to share, that he got to have it. He could have all the money in the world but it's really hard to have that championship, and it meant everything to him. To be able to share that was amazing."

Carroll described Allen as a more or less hands-off owner, saying Allen would ask about the quarterback or next week's opponent or other "pretty basic, fundamental stuff that fans would want to know before the game if they could ask the head coach." He said he plans to honor Allen's legacy by "competing" this season, saying "I'm gonna give him everything I've got" as the Seahawks play out their final 10 games of the regular season and beyond.

Carroll said it was ultimately Allen's preference for doing things uniquely that trickled down into a winning culture for the Seahawks.

"We've been a little bit different around here," Carroll said. "I couldn't love the way he embraced that more – his liberal thinking, his openness, his zeal for the arts and fun and games and what was different. He didn't want to be the same as anybody else. He wanted to do special, unique, extraordinary things, and he appreciated whenever we were going through what we've been through, the phases, the stuff that we've encountered over the years together. He was always supportive. He was never embarrassed by something that a player would say or how they acted. He knew that there was a time and a place that we could deal with it properly. We all felt that there were ways we could work our way through things if we were really resourceful. He was always helpful when necessary.

"He was just a good dude and he was fun to do things with. For me, I knew I could free-wheel and figure out stuff and go for it and throw the ideas by him and almost always he would have suggestions, but always be in support of not trying to be like everybody else, but doing things in unique fashion."