Pete Carroll knows defensive woes must be fixed: "It's killing me."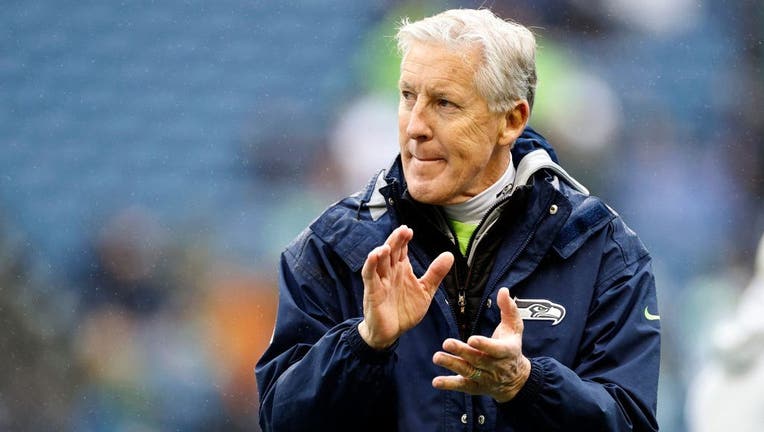 article
RENTON, Wash. - Seattle Seahawks head coach Pete Carroll knows their defensive performance in 2022 just flat wasn't good enough.
"It's killing me," Carroll said. "… The (San Francisco) 49ers game was a great example, the big run, we just messed it up and didn't fit it right. There were too many of those. So the inconsistencies, that's the part that I have to really be effective at helping. We have to clean things up, we have to get sharp, and we have to get back to where we can effectively play the running game."
And, truthfully, it's been several years since it's been close to good enough.
The Seahawks finished the season ranked 26th in total defense and 25th in points allowed. Seattle's rush defense was the primary source of frustration this year as the unit allowed an average of 150.2 yards per game on the ground, which ranked 30th in the league.
In the last four years, the Seahawks have ranked 26th, 22nd, 28th and 26th in yards allowed. In 2020, the team was on pace to allow the most passing yards in NFL history by over 1,000 yards before cleaning things up the second half of the year. In 2019, the team was 31st in sacks with just 28 for the season.
Far too often in recent seasons the Seahawks have been objectively awful in some area of their defensive play. 
The Seahawks allowed over 200 yards rushing in a game three times this season. The Las Vegas Raiders had an opponent record 283-yard outing in a 40-34 overtime loss in Week 12. Eight of Seattle's nine victories came when they were able to hold an opponent under 150 yards rushing in a game. They only won one game when their opponent rushed for more than 150 yards, a 27-23 win at the Los Angeles Rams in Week 13, who rushed for 171 yards.
"We didn't play well enough, we just didn't do well enough. There are too many things that we didn't get sharp at," Carroll said. "We kind of went in waves. We caught back up and then we kind of dipped back down, but then we caught back up again. The consistency wasn't there, and I totally have to own that. This is me not getting it right fast enough. We can fix some problems, we are good at that, but then we weren't complete in getting the issues solved."
Carroll said the scheme change from a 4-3 base unit to a 3-4 philosophy wasn't the reason for the defensive struggles. Carroll was happy with the plan to shift to a new scheme and praised his coaching staff for the work they did to make the shift.
"I loved what these coaches have done and getting together," Carroll said. "It's been more of a process than they wanted it. We transitioned in a way that is not as good as we needed to, but it wasn't because we weren't on it, coaching it, and the guys weren't trying. We need to get better at everything, and we need the time. We need a better offseason.
"We just needed to make more progress. We might've shot a little too high for what we were trying to do. I take responsibility for that because I let us go the way we went. We need to zero in and be better fundamentally up front to move forward."
Carroll said one of the biggest focuses of the schematic shift was to diversify what they can do in coverage against opposing passing attacks. He believes they were more dynamic against passing games this year due to that shift. However, the run game might have suffered at its expense.
"We worked on more coverage stuff this year," Carroll said. "We really expanded on what we were doing coverage wise, and it helped us. It allowed us to have a good pass rush this year over the course of the season because we covered guys really well. Those guys kept bringing it. The combination of that worked well. We just didn't tie it together to the run game like we needed to. That's where the focus will go.
"We'll commit a little bit differently than we did. We're going to commit a little bit differently than we did this year to make sure we solidify that. That's as far as I will go."
Carroll did state clearly that he knows the team has to improve in their front seven. The unit was far too leaky as a group this year as opposing running backs sliced through their defense. They didn't get enough out of their pass rush until Darrell Taylor began to become more effective late in the year. And then the group managed only one sack of Brock Purdy in the loss to the 49ers this weekend.
With two first round draft picks (No. 5 and No. 20), and two second-round picks, the Seahawks will have plenty of draft capital to invest heavily in their front seven. With Jordyn Brooks facing a lengthy recovery from an ACL tear and Cody Barton a free agent, linebacker depth will be needed. Defensive line upgrades are a must as well. Bryan Mone is also facing a significant recovery from an ACL tear, too, at defensive tackle. Poona Ford is also a free agent.
"We are going to have to become more dynamic up front. We have to," Carroll said. "We've kind of been in the same mode. We have to get more production out of the guys. They have to be more of a factor. We need to make the position really competitive, if we can. We will see what we can do.
"We have to rush the passer better. We have to be more of a factor when they are doubling us, we have to split double teams, and all of those things. Our guys busted their tails to do it, but we need to make sure that we are more of a factor. It's not factoring in enough for us to be really effective like we want to be, so we have to find ways to do that. That will come."
Carroll said that he's not making any changes to the coaching staff moving forward. Associate head coach (defense) Sean Desai is interviewing with the Cleveland Browns for their defensive coordinator job. But beyond Desai's possible departure, Carroll is bringing the group back.
"We are staying with our guys. We're solid," Carroll said.
The coaches are staying. The scheme is staying. Personnel changes are inevitable after the season the Seahawks just had on defense and that appears to be the biggest focal point for the team moving forward, though tweaks to the philosophy appear to be coming too.
"We had a lot of, just kind of the inconsistency errors that come from, unfortunately, not understanding well enough how to be on it play after play, after play, after play," Carroll said. "The league is so good that if you make an error or make a mistake, they capitalize. They made more than we can handle this year.
"So it came out not being effective and consistent on the line of scrimmage. That's the whole front group, but that's also the secondary, they are a part of it too now. I'm not sticking in on anybody other than we just need more time together. We need to get the scheme sharp, we need to get our players the maturity that will help them make more good decisions consistently. We can be way better."