Pete Carroll happy, but not satisfied by Seahawks making playoffs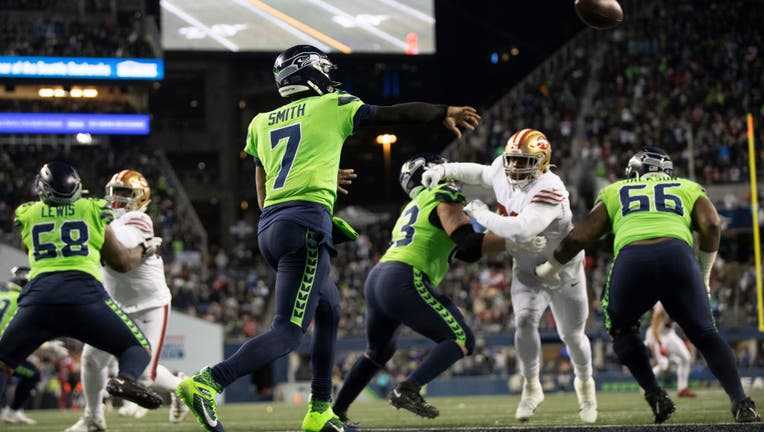 article
RENTON, Wash. - For the 10th time in 13 seasons under head coach Pete Carroll and general manager John Schneider, the Seattle Seahawks are in the playoffs.
But if you think that means that Carroll is satisfied with this season for the Seahawks, think again.
"I think it's been really frustrating," Carroll said. "We were close enough to win two or three more games anyway. And it would have been a whole lot different last night if we would have done that. One game would have made a difference."
Before the season began, Carroll implored that he believed this Seahawks team could do a lot this year. Amidst collective eye-rolls nationally about the outlook for the season ahead, Carroll remained steadfast in his confidence. But going 9-8 and earning the last playoff spot in the NFC isn't the goal for Carroll. He wants more. He wants to win a championship.
"As much as the outlook from the outside was different than what ours is, we expect to do more. It's good to have a winning record. But "let's go out and have a winning record" -- that's not my goal. That's not what I'm reaching out for," Carroll said.
"We're fortunate that we got it done under the circumstances and all that. We'll take it. But we had higher expectations. That's why I couldn't go along with all the talk about rebuilding and all that stuff. It just doesn't jibe with me. I don't know why you would ever make that concession ever. I don't get it. Just go for it. And so we did. And fortunately we were able to hang in there did enough good things and had a chance to keep moving."
Don't get him wrong, Carroll is thrilled that Seattle is continuing to play while 18 of their peers saw their seasons end this weekend. He celebrated the Detroit Lions and their win over the Green Bay Packers on Sunday night that got the Seahawks into the postseason.
"We love the Lions," Carroll said. "Coach (Dan) Campbell did a great job with his crew. They played a fantastic football game to get the win to give us the chance. We want to try to do something with it."
The bottom line is the Seahawks don't feel like they've succeeded just because they've made the playoffs. They're out for more.
"We knew what was at stake," quarterback Geno Smith said after Sunday's win. "You know, we don't want the season to end. I feel like everybody in the locker room, I feel like our coaches, everybody in the building, you know, we're just coming together at the right time. We're enjoying one another and going to work and enjoying your teammates, and the locker room is so fun that I don't think guys want the season to end right now."
The Seahawks haven't missed the playoffs in consecutive years during the Carroll-Schneider era. The last time Seattle missed the postseason in back-to-back seasons were in 2008 (4-12, Mike Holmgren) and 2009 (5-11, Jim Mora).
It's something Carroll takes pride in. During his first year as head coach of the New York Jets, he won his first game on the road against the Buffalo Bills. Carroll took note of the success of Bills head coach Marv Levy and the team's four straight trips to the Super Bowl in the early 1990's and how he internalized that as representing true success.
"I looked back up on the wall, the Marv Levy years were up there, four in a row," Carroll said. "That's what winning is, is you keep coming back and keep proving who you are, no matter what the challenges are, you can keep finding a way to be successful. That's success to me. That's what you're looking for."
That chance with as Jets head coach lasted just the one season before he was let go. He didn't get the chance to prove he could be a success over the long haul in New York. Nor in New England when he was fired after three seasons despite a winning record with the Patriots from 1997-99.
For Carroll, this season is just another example of proving people wrong.
"In general, I like proving people wrong. Particularly people that fire me. And that's an ongoing process," Carroll said with a laugh.
Carroll knows the 49ers will be a difficult opponent to crack this weekend. They've won 10 straight games to finish the regular season and have two wins over the Seahawks this year. 
"Unfortunately, we're playing the Niners and they're loaded," Carroll said. "And they're loaded and healthy and on a roll and about as hot as you can possibly get. And doing it in really commanding fashion, too, with the young quarterback who is doing so well.
"Playing the Niners, a team like this that is so freaking loaded in every direction, and they've got everything, I'm sure they have huge vision of where they're going and all that. You have to beat teams like that. You have to. If you want to win you have to beat teams like that. You have to beat championship teams. And so that's the challenge."
Injury Updates:
– Cornerback Tariq Woolen missed three defensive snaps for the Seahawks late in the second quarter after turning his ankle while covering Rams wide receiver Van Jefferson along the Seattle sideline.
Woolen returned to action at the two-minute warning and played the rest of the game.
Defensive end Shelby Harris and running back DeeJay Dallas also were forced out of the game for a period of time before returning to action.
"Bumps and bruises kind of thing," Carroll said of the three. "And so there's hope they can make it through, but we've got to wait and see. Tariq had a couple of things he was banged on. And we saw Shelby got hit on the thigh or something like that. And so did DeeJay. Just got to wait and see. I can't tell you."
– Strong safety Ryan Neal has missed the last three games for Seattle due to a knee injury that has led to split playing time from Johnathan Abram and Teez Tabor. Carroll said Neal has a chance to return to action this week against the 49ers.
"Fired up when I talked to him today," Carroll said. "He's making progress. It's going to be a race to see what happens. But he was pretty positive. He's a pretty upbeat, positive guy. Got to take that in. I was really happy for him because he felt like there was a hope he could make it back."
– Right guard Phil Haynes was inactive against the Rams due to a high-ankle sprain suffered against the New York Jets. Haynes was questionable to play and ultimately held out with Gabe Jackson playing all 70 offensive snaps for Seattle. The two had been splitting reps most of the season at the spot. Haynes also has a chance to return this week.
Seahawks hold 5th pick in NFL Draft:
With the win by the Denver Broncos over the Los Angeles Chargers on Sunday, the Seahawks will receive the No. 5 overall pick in the NFL Draft from Denver as part of their trade package for Russell Wilson from last March.
While the Seahawks got the results they needed to earn a playoff spot, they didn't get the best help on Sunday for help with their draft pick. Losses by the Arizona Cardinals (to the 49ers) and the Indianapolis Colts (to the Houston Texans) contributed to drop the Broncos' pick sliding to fifth overall.
Seattle's own draft pick will be dependent upon the outcome of their playoff run. If the Seahawks lose to the 49ers this weekend, they will have the 20th pick.
2023 Opponents:
With the regular season completed, the Seahawks know who their opponents will be for next season.
Fourteen games of the 17-game schedule are predetermined before the prior year begins. The Seahawks were always set to play their NFC West divisional rivals twice (six games), the AFC North and NFC East.
The remaining three games were set based on divisional standings. Seattle, who finished in second in the NFC West, will have the second place teams from the NFC South (Carolina Panthers), NFC North (Detroit Lions) and AFC South (Tennessee Titans).
So here are the 17 opponents for next year for Seattle:
Home: Arizona Cardinals, Los Angeles Rams, San Francisco 49ers, Philadelphia Eagles, Washington Commanders, Cleveland Browns, Pittsburgh Steelers, Carolina Panthers.
Away: Arizona Cardinals, Los Angeles Rams, San Francisco 49ers, Dallas Cowboys, New York Giants, Baltimore Ravens, Cincinnati Bengals, Detroit Lions, Tennessee Titans.