Oliver Bjorkstrand overtime goal gives Kraken 5-4 win over Red Wings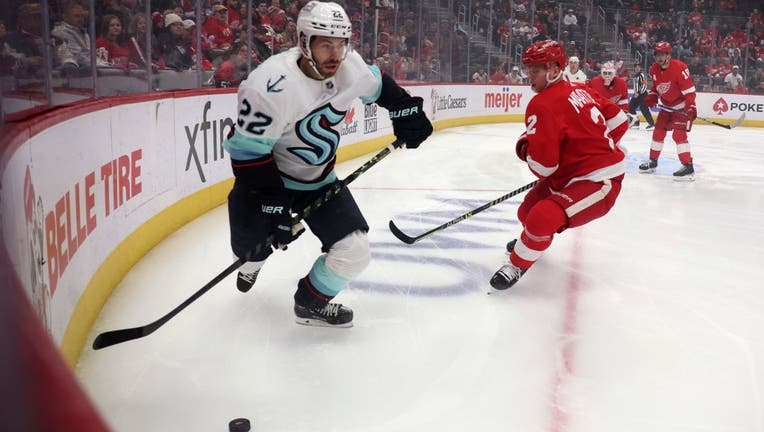 article
Oliver Bjorkstrand scored twice, including the game-winner in overtime, and the Seattle Kraken escaped with a 5-4 win over the Detroit Red Wings on Thursday night.
Jared McCann also had a pair of goals and Philipp Grubauer made 16 saves on 17 shots in a relief appearance to help carry Seattle to the win.
Red Wings defenseman Moritz Seider was called for a slashing penalty against Jaden Schwartz with just over three minutes left in the extra period to give Seattle a power play chance. With just five seconds left in the penalty, Bjorkstrand's shot from the top of the left circle beat goaltender Ville Husso to give the Kraken a critical victory.
"It's huge." Bjorkstrand said. "Sometimes you just got to find a way and this is one of those nights where we found a way. You can look at the standings. It's close. So we can't really afford to lose many games. So these games are huge."
The Kraken allowed the Red Wings to hang around in a game that Seattle felt firmly in control of much of the night. Martin Jones allowed three goals on 12 shots before being lifted early in the second period. 
McCann's first goal of the night opened the scoring and set a new career-high in the process. McCann beat Husso from a tight angle from the right circle to put the Kraken on top just 72 seconds into the game. It was McCann's 28th goal of the season and surpassed the 27 he scored last year for a new career-high.
Detroit answered back less than two minutes later as Ben Chiarot was able to beat Jones inside the left post in transition to bring the game level. It was goal Jones would likely want back as it came unscreened from the outside and slipped inside the near post.
Bjorkstrand then put Seattle back on top with his first tally of the evening. A rebound try from Bjorkstrand was collected by Alex Wennberg and fed back to Bjorkstrand in front of the net to beat Husso and make it a 2-1 Kraken lead. Then right as a Seattle power play was ending from an interference call against Seider, McCann ripped his second goal of the night, and 29th of the season, by Husso to give Seattle a 3-1 advantage.
But late in the period with a penalty pending against Eeli Tolvanen and an extra attacker on for Detroit, Seider ripped a point shot that was grazed by the stick blade of Adam Erne in front of the net that beat Jones to trim the deficit. Then three minutes into the second period, Jonatan Berggren scored and chased Jones from the game. Jones slid wide out of the net tracking Filip Zadina and wasn't in position to handle a pass to a trailing Berggren as his night came to an early close.
"There's a lot in the first half of the game to really like. We had them back on their heels. They didn't have a whole lot of life and we fed that a little bit with a couple of the turnovers, with the goals that we gave up," head coach Dave Hakstol said. 
Another power play chance for Seattle led to another goal to retake the lead. Again with a penalty expiring, Matty Beniers hit the near post against Husso. Beniers collected his own rebound, fed Jordan Eberle and he delivered a perfect pass through the goal crease to Jaden Schwartz on the back door to make it a 4-3 Kraken lead.
But another Seattle error allowed an answer. A backhand clearance try from Wennberg landed directly on the stick of Jake Walman at the blue line. He maneuvered around a sliding Schwartz and snapped a wrist shot by a screened Grubauer to tie the game yet again at 4-4 with 5:02 left in the second period.
Grubauer made some critical saves in relief for Seattle. A paddle save on Joe Velano made be his best of the season so far and it kept the game level through a scoreless third period.
"We were able to push back, answer, and settle things down over the last 20-plus minutes of the hockey game," Hakstol said. "Use the time and find a way and that's exactly what we did. That makes it a good road win. There's a lot of things in there that we could critique and we want to better at. A lot of that comes back to our puck play but we were able to find a way through."
Seider's penalty on Schwartz gave Seattle a prime opportunity to get the victory. With the 4-on-3 advantage in overtime, Schwartz created a screen on Husso as Bjorkstrand worked toward the net and allowed him to find an opening on the far side of the net to send the Kraken on to Columbus victorious.
"[Bjorkstrand] making a really good play with his head up," Hakstol said. "The screen in front of Husso by Schwartz is what allows that to happen, but real smart play for Ollie to have his eyes up and see that is happening and see that opening on the far side."
Husso made 32 saves on 37 shots for Detroit.
Bjorkstrand gets to play in Columbus for the first time since being traded to Seattle on Friday as the Kraken face the Blue Jackets on a back-to-back.
The victory allows the Kraken to keep pace in the Pacific Division and remain percentage points ahead of the Edmonton Oilers for the third playoff spot in the division. As of the time this story was posted (7:45 p.m. PT), the eight teams in playoff position in the Western Conference were separated by just six points in the standings. Seattle remains four points back of the Vegas Golden Knights for the best mark in the division and conference.
With Grubauer playing nearly 40 minutes tonight and likely to start against the Colorado Avalanche on Sunday, Jones will likely be back in net for Seattle in Columbus. If Jones has another shaky outing, eyes may start to turn toward Chris Driedger as he works back from a knee injury with AHL Coachella Valley.