Ohio State cancels football series with Washington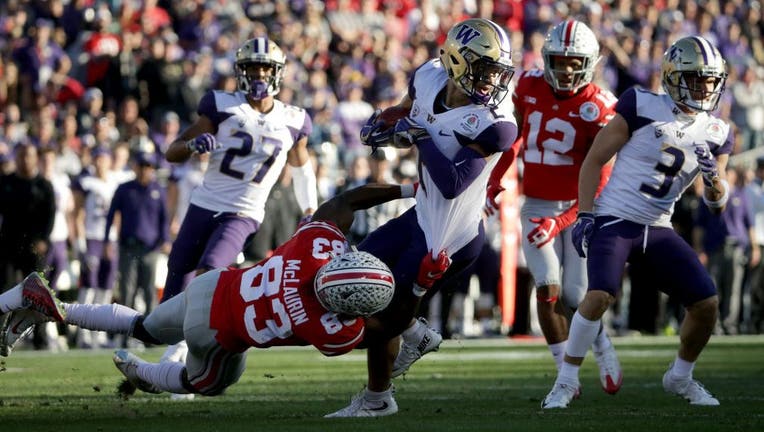 article
Ohio State has canceled a home-and-home series with the Washington Huskies for games previously scheduled to be played over the 2024 and 2025 seasons.
"We are very disappointed that our student-athletes, staff and Husky Nation won't get to experience these two games with Ohio State," Washington director of athletics Jennifer Cohen said in a statement. "Everyone has had these dates circled for a number of years and we were looking forward to these opportunities to compete against the Buckeyes. We are in the process of finding new opponents for the 2024 and 2025 seasons and will provide an update as soon as we have one."
The series with the Buckeyes had been scheduled since 2017 with Ohio State set to travel to Seattle in 2024 with the Huskies returning the trip to Columbus in 2025.
Instead, the Buckeyes have nixed the series entirely less than two years before the series was scheduled to kickoff.
"We initiated the cancelation," Ohio State athletic director Gene Smith said in a statement. "I have the utmost respect for the University of Washington and for director of athletics Jennifer Cohen, and this was a very difficult call to make."
Ohio State is using the open date in their schedule to add another home game to their slate. As a consequence of canceling the series, Ohio State will owe the University of Washington a $500,000 cancelation penalty.
While not stated directly in Ohio State's announcement of the decision, the Buckeyes likely would have been looking to avoid multiple West Coast trips in the same season. USC and UCLA are set to leave the Pac-12 to join the Big Ten beginning in 2024 and the Buckeyes theoretically could have had two trips west.
Washington currently has games scheduled with Weber State and Eastern Michigan as non-conference opponents in 2024. Colorado State and UC Davis follow in 2025.