NFL names Seahawks' Quandre Diggs as NFC Defensive Player of the Week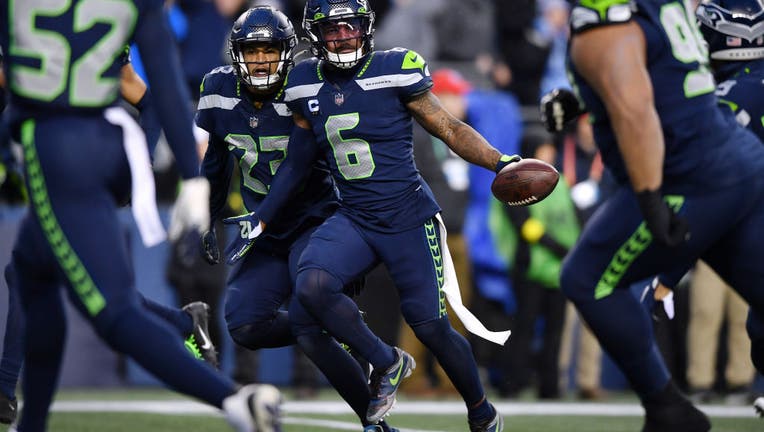 article
The NFL named Seattle Seahawks' safety Quandre Diggs NFC Defensive Player of the Week.
Diggs had four tackles and one interception in Sunday's 19-16 overtime win over the LA Rams.
Diggs had a huge interception that prevented Rams' receiver Van Jefferson from putting LA in scoring position for a shot at a game-winning field goal.
RELATED: How to watch Seahawks vs. 49ers live: Super Wild Card Weekend on FOX
According to Seahawks.com, Diggs joked after the game saying he may have said a few bad words when first noticing how open Jefferson was.
"Oh man, I felt like I was 25 again running and jumping in the air," Diggs said. "For me it was just one of those plays, they drew it up perfect, they got us in the coverage that they wanted us in, and I was able to just go out and make a play. That's probably my favorite interception ever, because just the atmosphere, everything that went along with this game, this interception, it was dope. All I saw was the ball, and I was like, 'I'm going to go get it,' and I was able to go get it and I caught it."
The Rams were held to only 123 passing yards and QB Baker Mayfield completed just 13 of 26 passes with no touchdowns.
RELATED: Pete Carroll happy, but not satisfied by Seahawks making playoffs
Diggs also had an interception in week 17 against the Jets.
The Seahawks will be the No. 7 seed in the NFC playoffs and play at San Francisco against the 49ers Saturday, Jan. 14 at 1:30pm on FOX.
Coverage starts with Good Day Seattle at 7:00 a.m., followed by FOX 13 Game Day Live at 9:30 a.m.