Miro Heiskanen's OT goal sinks Kraken in 4-3 loss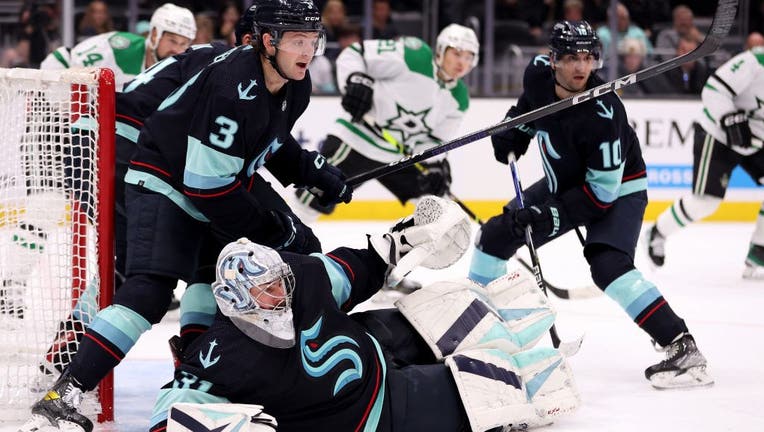 article
SEATTLE - Miro Heiskanen scored the game-winning goal with 1:34 left in overtime as the Seattle Kraken were unable to hold a late lead in a 4-3 loss to the Dallas Stars on Saturday night.
While the Kraken controlled play for much of the opening three minutes of overtime, the Stars capitalized on their best chance. Heiskanen finished a saucer pass from Max Domi to beat Philipp Grubauer and earn the additional point in standings.
Seattle had appeared set to steal away the victory themselves minutes earlier. After trailing 2-1 through two periods, Oliver Bjorkstrand scored a power play goal with 3:25 left to play to out Seattle up 3-2. 
But the lead didn't hold as Joe Pavelski managed to tie it up with just 1:10 left to play with an extra skater on as the Kraken were caught scrambling in front of their net. Grubauer lost his stick and all five Seattle skaters were desperately trying to block the front of the net to no avail.
The two teams will square off again on Monday night in Seattle for an encore performance between the playoff bound squads.
"It's a competitive game out there," defenseman Vince Dunn said. "I thought we did a pretty good job for the most part. A really disappointing result, again, when we're up close to the end there. So we'll learn from it. We'll look at it. We'll find a way to break them down. We have them again very soon here. So Just forget it. It's an important point that we got, and we'll move on."
It's the first loss in overtime for the Kraken since a 3-2 loss to the Winnipeg Jets on November 13. They had been 7-0 in their last seven games to go to the extra period with the only losses coming in a trio of shootouts.
"We've had reasonable success in overtime. We're disappointed that we didn't get the extra point tonight but that's the way it is tonight," head coach Dave Hakstol said.
After a scoreless first period, Roope Hintz gave Dallas the first lead of the night. A hard rebound off the stick of Grubauer bounced directly to Esa Lindell, who fed Hintz for a clean look on net as Grubauer couldn't recover for the 1-0 lead.
Just under three minutes later, the Kraken managed a response. Jordan Eberle and Matty Beniers each caught a piece of a Vince Dunn shot for a deflection over the shoulder of Dallas goaltender Jake Oettinger to tie the game at 1-1 for Eberle's 15th goal of the season.
Mason Marchment put Dallas back out front minutes later. Ty Dellandrea won a face-off in the Kraken zone and Ryan Suter fired the puck from the blue line five feet wide of the net. However, Marchment managed to deflect the puck on net behind Grubauer to make it 2-1 Dallas.
Seattle couldn't convert on a four-minute power play chance after Dellandrea caught Adam Larsson with a high-stick just over five minutes into the third period. The tying goal had to come from an even strength goal as Ryan Donato whacked a loose puck from a Daniel Sprong shot through Oettinger's legs to level the game with 9:57 left to play.
A late Stars penalty allowed the Kraken to then break through and grab the lead.
Stars standout Jason Robertson tripped Dunn behind the Kraken net after Dallas was unable to convert a 2-on-1 rush attempt. Hintz tried to drop a pass back to the trailing Robertson only for it to be broken up and end up behind the net where Robertson tripped Dunn.
Strong puck movement on the power play led to Alex Wennberg finding Bjorkstrand in front of the net for a clean look that beat Oettinger to put Seattle ahead.
"We definitely wanted to get in front of him when we're shooting," Dunn said. "[Donato]'s goal there, it's a great battle out front for him. Those are important goals that we need to score, second chances. That's what we talked a lot about is getting in front of their goalie. 
"Matty is going to the net and deflecting it. Another tough one for him to see. And elite play from Wennberg to find [Bjorkstrand] there on the power play. So, we gave ourselves really good opportunities to score. We would obviously like to have a few more and close that one out."
Dunn got the secondary assist on Bjorkstrand's goal for his 41st helper of the season.
Oettinger headed to the bench with two minutes left to play as Dallas got the extra attacker on the ice. Grubauer lost his stick due to a pile up in front of the net and wasn't able to recover it. Heiskanen to Hintz to Pavelski broke down the Seattle defense and Pavelski scored from the side of the net to send the game to overtime.
"We had the pressure that we wanted. We weren't able to finish the play," Hakstol said. "They got it out of the pressure and they made the play. We had that play pressed on the half wall and, you know, we came up a little bit short getting it out of the zone."
The overtime point allowed the Kraken to grab a one-point advantage over the Edmonton Oilers to maintain third place in the Pacific Division. The Oilers lost 7-3 to the Toronto Maple Leafs earlier on Saturday night. They are 10 points clear of the Calgary Flames and Nashville Predators in the race for a playoff spot. One of those two teams would need to unseat Seattle to keep them out of the postseason.