Matty Beniers named to NHL All-Star Game for Kraken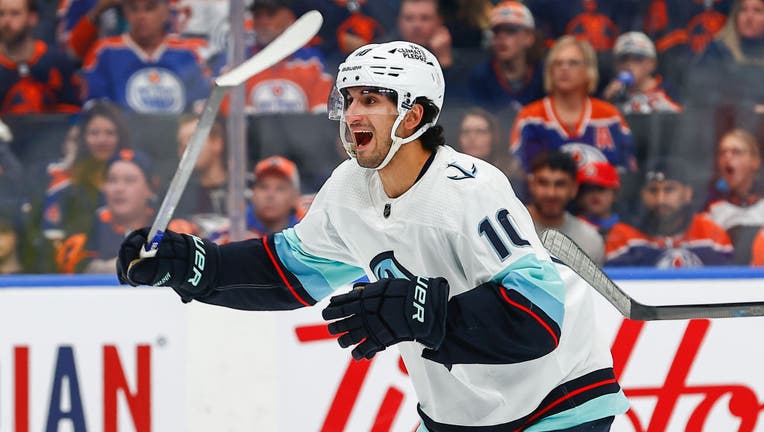 article
Rookie center Matty Beniers has been selected to represent the Seattle Kraken in the 2023 NHL All-Star Game.
Beniers leads all rookies in the NHL with 28 points on 13 goals and 15 assists in 37 games played this season.
Beniers was one of 32 players named to the squad Thursday night by the NHL with one representative from each team being selected. An additional 12 players will be named to the squad through a fan vote over the next two weeks.
"Honestly, I thought I was in a little trouble when Ron [Francis] and Coach [Hakstol] pulled me aside," Beniers said, via Bob Condor of the Kraken's website. "I was star-struck when they told me. I was super excited. My parents were fired up and immediately saying they're going down to Florida [All-Star weekend is Feb. 3 and 4 in Sunrise, home of the NHL Panthers]. It's obviously a huge honor. I definitely had a little extra hop during practice that day."
Beniers scored his 13th goal of the season in Thursday night's 5-1 victory over the Toronto Maple Leafs. He is tied with Jordan Eberle for second on the team in points behind Andre Burakovsky's team-leading 29. He's second in goals behind only the 18 on Jared McCann.
Beniers is among the leading candidates for the Calder Trophy, given annually to the NHL's best rookie. Vegas Golden Knights goaltender Logan Thompson – who was named the Pacific Division's goaltender for the All-Star Game –  and Carolina Hurricanes goaltender Pyotr Kochetkov are the other rookies in the race at this point in the season.
"We're proud of Matty being named to the NHL All-Star Game," Fancis said. "It's a testament to his hard work and dedication. We're looking forward to watching him represent the Kraken at one of the League's premier events."
Jordan Eberle represented the Kraken as the team's initial All-Star selection last season.