Marshawn Lynch suspended for 1 game for shoving official; reports say he's appealed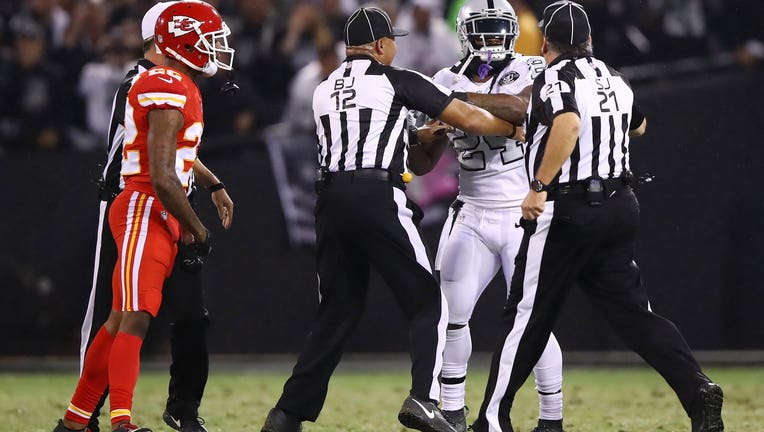 article


NEW YORK — The NFL announced Friday it is suspending Oakland Raiders running back Marshawn Lynch for one game without pay for unsportsmanlike conduct for shoving an official Thursday night when he ran onto the field during a scuffle against the Kansas City Chiefs.

It all started when Oakland quarterback Derek Carr was hit late on a run by Kansas City's Marcus Peters midway through the second quarter. Raiders offensive linemen Kelechi Osemele and Donald Penn immediately confronted Peters.

Lynch, who is close friends with his fellow Oakland native Peters, then sprinted onto the field from the bench to join the fray. Line judge Julian Mapp tried to break up the fight but Lynch pushed him and grabbed his jersey.

Peters was called for a personal foul for the late hit. Lynch got a personal foul and was ejected for making contact with the official.

In the letter to Lynch on Friday, NFL Vice President of Football Operations Jon Runyan wrote:

"You made deliberate physical contact with one of our game officials as he was diffusing an active confrontation between players. You were disqualified for your inappropriate and unsportsmanlike actions. Your conduct included pushing the game official and grabbing his jersey. You were not directly involved in the active confrontation that the game official was trying to diffuse, nor were you a participant in the play that initiated the confrontation. You were the only player from either team who ran from the sideline to midfield to insert himself into a situation in which he was not directly involved."

Lynch will be able to return to the Raiders' active roster on Monday, Oct. 30, following the team's Oct. 29 game against the Buffalo Bills.

The suspension can be appealed within three business days. And some reports say Lynch appealed almost immediately.




"I was disappointed he ran out because I knew we had a 15-yard penalty and we'd be in good shape," coach Jack Del Rio said immediately after the game. "I told him you can't leave the bench like that. That was about it. Next thing I knew, he was being tossed. The referee told me he had actually put his hands on him."

Peters was called for a personal foul for the late hit. Lynch got a personal foul and was ejected for making contact with the official. Lynch will likely face a hefty fine, too.

"I don't have any problem with Marcus coming in and hitting me. He knows that. I told him, 'I got no issue. Just play ball,'" Carr said after the game. "Obviously, Marshawn came out and did his thing. You never want a guy to get kicked out. That stinks. But just from knowing him, I know that he was out there just taking care of us."

Lynch finished the game with two carries for 9 yards.

The Raiders rallied to win 31-30 on a touchdown pass by Carr on the final play and Lynch was in the locker room after the game congratulating his teammates.

Lynch came out of retirement this season and was traded from Seattle to the Raiders. Lynch said he wanted to make a comeback so he could give something back to his hometown of Oakland before the Raiders move to Las Vegas in 2020.

Lynch has rushed for 266 yards and two touchdowns in seven games.