Mariners' trade for Haniger and Segura looks good, but is it among their best?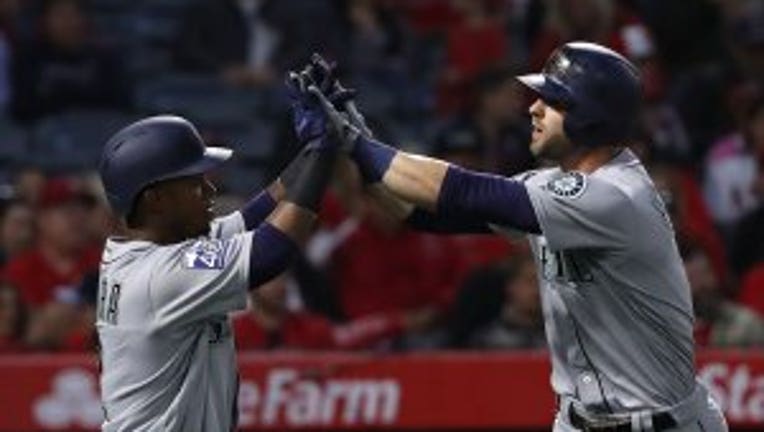 SEATTLE - The Mariners' trade for Jean Segura and Mitch Haniger looks better every day.

With both players set to play for the American League in tonight's All Star Game in Washington, D.C., the 2016 trade by general manager Jerry Dipoto could go down as one of the best in team history.

Seattle sent budding fireballer Taijuan Walker and shortstop Ketel Marte to Arizona for Haniger, Segura and pitcher Zac Curtis.

Walker had a decent season last year for the Diamondbacks before suffering a season-ending injury this season. Marte has been solid for Arizona as well, but neither has put up All Star numbers.

"In a lot of ways, had Taijuan Walker not gotten hurt, it's a trade that benefited both teams," Seattle Times reporter Ryan Divish said recently.

The numbers agree with his assessment.

It's only been a season-and-a-half so far, but looking at Baseball Reference WAR, Segura has totaled 6.2 in Seattle and Haniger 6.5 for a combined WAR of 12.7. Meanwhile, Marte (2.4) and Walker (3.0) have shown their worth in Arizona but Seattle still holds a +7.3 WAR advantage.

There's more to trades than WAR, of course, but it is a useful statistic to measure performance. With all four players still under team control for years to come, the winner of this trade will have to wait to officially be determined.

In the meantime, however, let's take a look at how some of the franchise's best deals over the years stack up.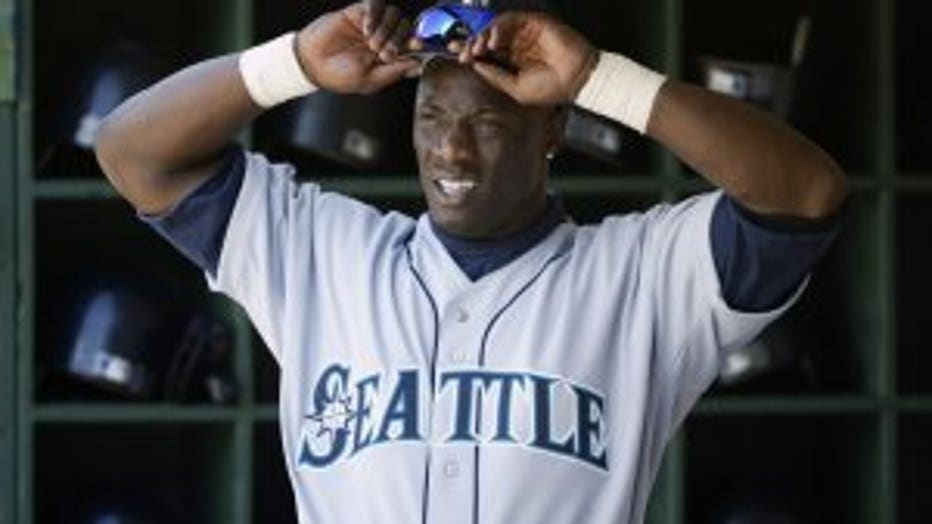 Mike Cameron was an All Star in 2001 with the Mariners and he won two Gold Gloves in Seattle. (Photo by Jed Jacobsohn/Getty Images)


Meeting Griffey's Demand

Ken Griffey Jr. to the Reds for Mike Cameron, Brett Tomko, Jake Meyer and Antonio Perez in 2000

There's no replacing a legend, especially when you have little to no leverage.

That's the position the Mariners found themselves in after the 1999 season, when the future first-ballot Hall of Famer not only demanded to be traded, but limited the teams to which the Mariners could negotiate with to just four.

The fact Seattle GM Pat Gillick was able to find an All Star replacement in center fielder Cameron and a serviceable starting pitcher in Tomko was somewhat remarkable.

Meyer never made it to the big leagues and Perez never played for the Mariners, but if you factor in Griffey's injury-plagued tenure with the Reds, this deal looks even more impressive after the years have gone by.

WAR with M's/Reds - Cameron (18.4) and Tomko (-0.2) vs. Griffey (12.8) = +5.4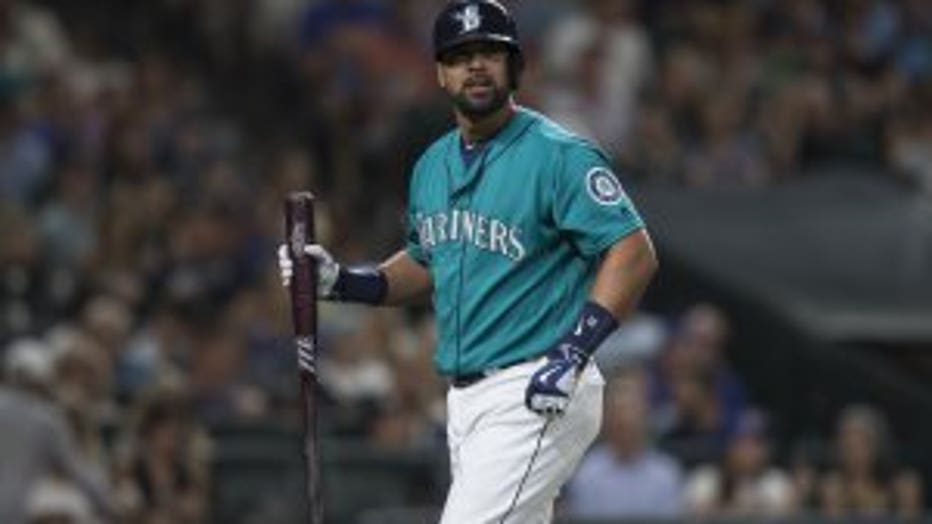 Franklin Gutierrez won a Gold Glove in 2010 with the Mariners. (Photo by Stephen Brashear/Getty Images)


Trader Jack's Big Deal

Sean Green, J.J. Putz, Jeremy Reed and Luis Valbuena for Franklin Gutierrez, Jason Vargas, Endy Chavez, Mike Carp, Ezequiel Carrera, Maikel Cleto and Aaron Heilman in 2008

One of general manager Jack Zduriencik's first moves was a three-team deal with the Mets and Indians that involved a total of 12 players. The key ingredients for the Mariners were speedy center fielder Gutierrez, veteran outfielder Chavez, the hard-hitting prospect Carp and soft-tossing Vargas.

Putz had been an All Star with the Mariners in 2007 but he took a step back in 2008 and fell apart with the Mets in '09. Reed came to Seattle with a lot of hype, but he never lived up to it.

The deal helped propel the 2009 Mariners to an 85-77 record, with Gutierrez setting the table in the lineup and chasing down fly balls in the outfield.

WAR with M's/Mets and Indians - Gutierrez (12.5), Vargas (6.8), Carp (1.2) and Chavez (-0.2) vs. Green (-0.2), Putz (-0.4), Reed (-0.7) and Valbuena (0.7) = +20.9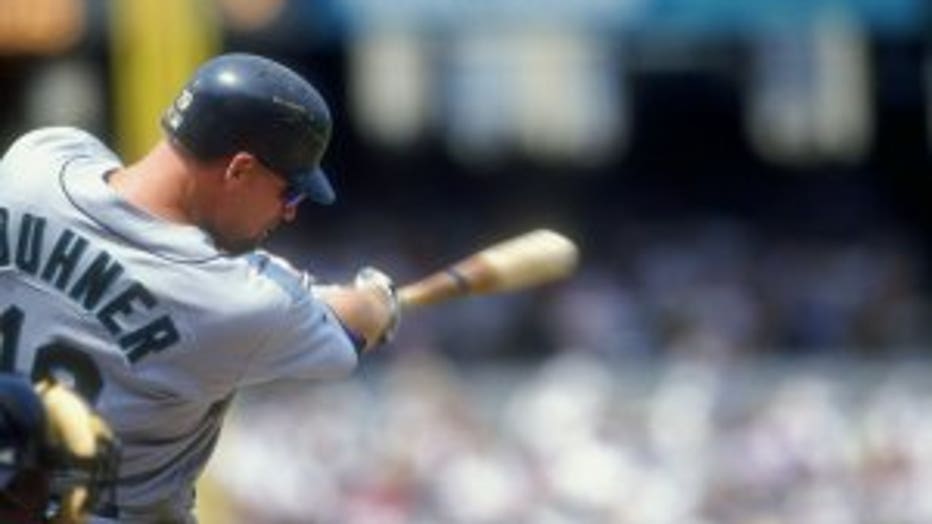 After hitting three homers with the Yankees, Jay Buhner hit another 307 with the Mariners. (Doug Pensinger /Allsport)


Stealing from Steinbrenner

Ken Phelps for Jay Buhner, Rick Balabon and Troy Evers in 1988

Balabon and Evers never made it to the majors and Buhner had played in just 32 games for New York when the Mariners acquired him.

So sending the reliable Phelps to the Bronx didn't appear to be as glaringly one-sided when it happened as it turned out to be by the time Frank Costanza was berating the Yankees iconic owner about it years later on "Seinfeld."

Buhner played 14 seasons in Seattle and hit 307 of his 310 career homers with the Mariners.

Phelps, on the other hand, who had hit 105 homers in the previous six seasons, went on to hit 17 home runs in two shortened seasons with the Yankees.

WAR with M's/Yankees - Buhner (23.1) vs. Phelps (1.0) = +22.1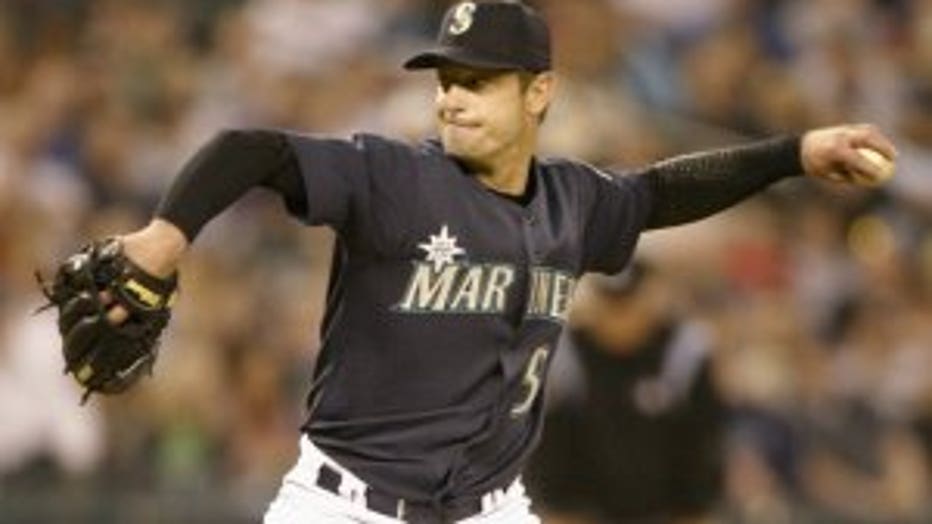 Jamie Moyer won 145 games with the Mariners over 11 seasons. (Photo by Otto Greule Jr/Getty Images)


The Soft-Tosser

Darren Bragg for Jamie Moyer in 1996

Moyer was 33 years old and joining his sixth major league team when the Mariners acquired him for the fearless young outfielder Bragg. It was a deadline deal to try to bolster Seattle's rotation for a run at the playoffs.

Seattle didn't make the postseason that year, but Moyer became a staple in the rotation, winning 145 games over 11 seasons.

Bragg wasn't horrible with Boston. He played better-than-average defense over three seasons while hitting 20 homers and stealing 21 bases.

WAR with M's/Red Sox - Moyer (34.3) vs. Bragg (6.2) = +28.1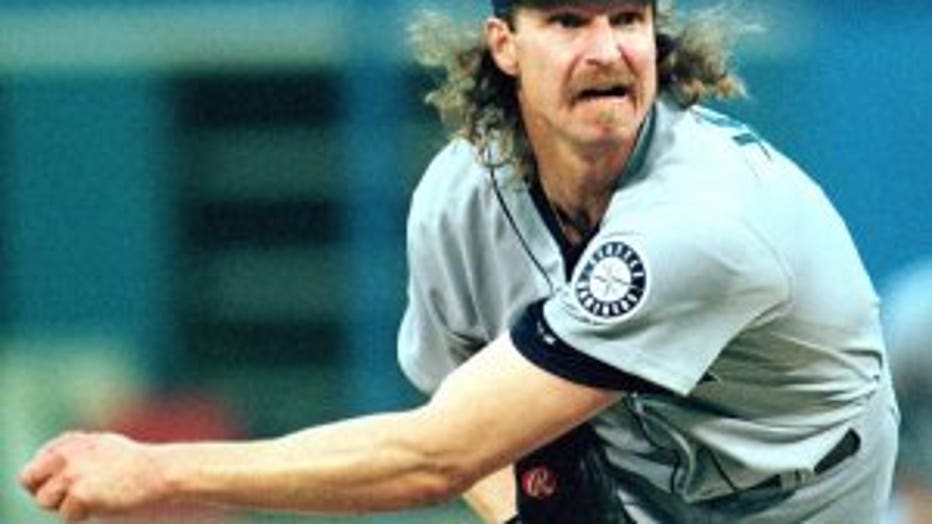 Randy Johnson won a Cy Young in 1995, leading the Mariners to their first playoff appearance. (DANIEL LIPPITT/AFP/Getty Images)


Randy Coming and Going

Mark Langston and Mike Campbell for Gene Harris, Brian Holman and Randy Johnson in 1989

Johnson to Houston for Freddy Garcia, Carlos Guillen and John Halama in 1998

The Mariners basically stole the scraggly and raw power pitcher from the Expos for veteran Langston, who only pitched one season in Montreal. Campbell never even played for the Expos. Add in the acquisition of Holman and the deal is easily, at least by WAR standards, the best in franchise history.

But the Mariners did OK when the Big Unit wanted out as well.

With Johnson struggling through the 1998 season, sullen and complaining of a bad back, Seattle was able to find three positive players who all contributed to the team's early 2000s success.

Johnson was 10-1 down the stretch with Houston, carrying them to the playoffs, but he bolted in the offseason for hometown Arizona.

The Big Unit went on to win a World Series and four Cy Young Awards with the Diamondbacks, sure, but he was never going to re-sign with the Mariners.

WAR with M's/Expos - Johnson (39.2) Holman (8.0) and Harris (-1.6) vs. Langston (4.9) = +40.7

WAR with M's/Astros - Garcia (18.7), Guillen (9.1) and Halama (5.4) vs. Johnson (4.3) = +28.9

More Good, Bad and Ugly

Another great deal for the Mariners sent Brett Boone and Erik Hanson to the Reds for Dan Wilson.

Unfortunately, that deal also brought Bobby Ayala to Seattle. So, while it actually delivered a +7.4 WAR, most Mariners fans probably don't want to talk about it.

Seattle has also made some bad trades over the years, no doubt.

Every time Adam Jones returns to Safeco Field it is a bitter reminder to many fans of the time general manager Bill Bavasi traded Jones, Chris Tillman, George Sherrill and two others for the brittle lefty Erik Bedard.

Then there was that time Woody Woodward traded both Derek Lowe and Jason Varitek to Boston for closer Heathcliff Slocumb. But we'll leave the discussion of those deals for another day.

For now, Mariners fans can watch tonight's All Star game and enjoy the fact two of the team's four representatives are in town thanks to a crafty deal by the team's young GM.

"I think it's Jerry Dipoto's best trade," Divish said.

Someday, it may prove to be the Mariners' best as well. But not yet.