Mariners OF Taylor Trammell to have surgery for broken hand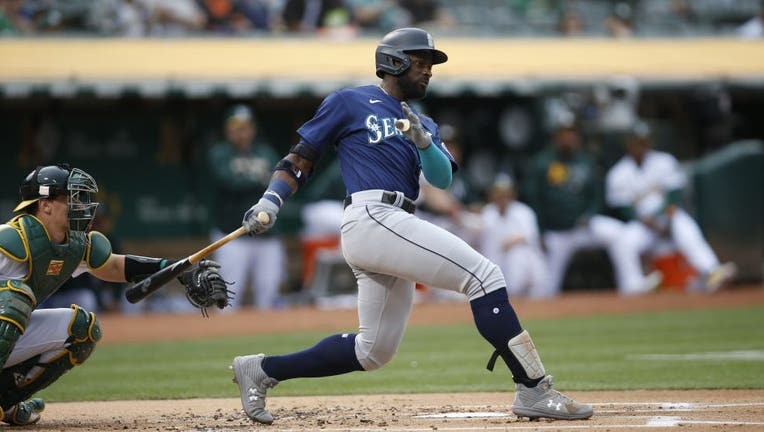 article
Outfielder Taylor Trammell will miss six-to-seven weeks for the Seattle Mariners due to a broken hamate bone in his right hand that requires surgery.
Trammell, 25, was hit by a pitch on the hand during a recent workout. The hamate bone is located low on the pinky side of the hand near the wrist.
"It happened late in his offseason training," Mariners president of baseball operations Jerry Dipoto said, via Ryan Divish of The Seattle Times. "He got hit in the hand. He came in and just saw the doctor in the last 48 hours. He's going to be delayed a while. It's not a long term concern, but it is a short-term reality."
Trammell has played in 94 career games for the Mariners over the last two seasons. He has a career .174 batting average with 16 doubles, 12 home runs, 28 RBI, 30 walks and 108 strikeouts.
"I feel terrible for Taylor," Dipoto said. "He had an awesome offseason and worked his tail off. His swing did look different. He has a real skill-set that even if Taylor Trammell never gets any better — he can play outfield defense, he is an above-average runner and he can go out there and hit right-handed pitching, which gives him a now role on a Major League club."
Trammell may have been facing an uphill climb to a roster spot anyway, but the injury ends any competition before it could get underway. Trammell was set to compete with Jarred Kelenic for the left-handed at-bats for the expected platoon in left field with free agent addition A.J. Pollock.
Kelenic and Pollock are now expected to be the team's options in left field for Opening Day with Kelenic playing against right-handed pitching and Pollock against lefties. Dipoto did mention Cade Marlowe as an option to take a look at as well, though Marlowe is 24 years old and has still never played above Double-A.
Trammell can play all three outfield spots for Seattle and gives them a solid depth option at the least. Hamstring injuries forced him to miss significant time with the Mariners and Tacoma Rainiers last year.