Lodeiro gives Seattle Sounders 2-1 win over Colorado in West finals


SEATTLE (AP) — Nicolas Lodeiro scored on a penalty kick in the 61st minute and the Seattle Sounders beat the Colorado Rapids 2-1 on Tuesday night in the first-leg of the MLS Western Conference finals.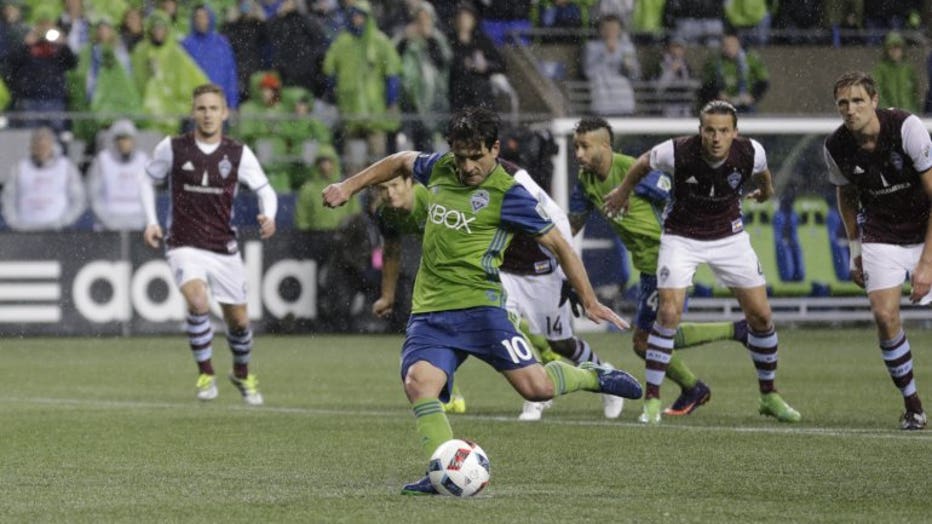 Nicolas Lodeiro #10 of the Seattle Sounders scores a goal on a penalty kick during the second half of a match in the first leg of the Western Conference Finals against the Colorado Rapids at CenturyLink Field on November 22, 2016 in Seattle, Washingt


Seattle will take an important one-goal advantage into the second match of the two-game series on Sunday in Colorado. But the Rapids picked up an important road goal which could serve as the tiebreaker if the aggregate-goal series finishes tied. A win or a tie by Seattle on Sunday would put the Sounders in the MLS Cup final for the first time.

Lodeiro caused issues all over the field for Colorado before drawing the penalty 15 minutes into the second half. A deflected ball rolled to Lodeiro in the penalty area and he was taken down by Marc Burch. Lodeiro sent goalkeeper Zac MacMuth the wrong direction and scored his fourth goal of the playoffs.