Late goal from Jake DeBrusk sinks Kraken in 6-5 loss to Bruins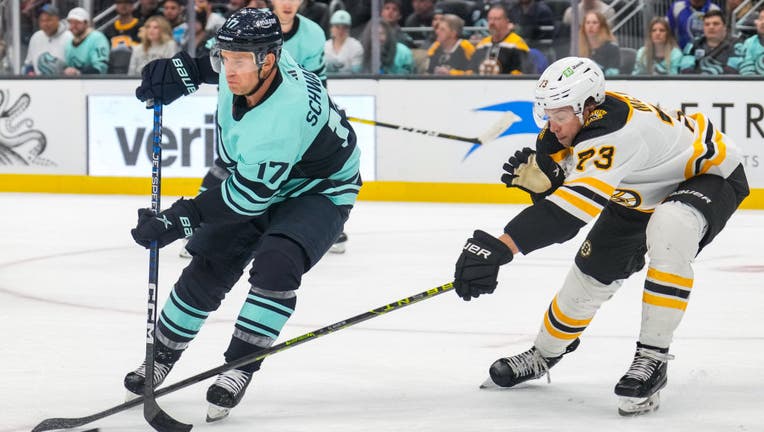 article
SEATTLE - Jake DeBrusk tipped a puck high over the shoulder of Philipp Grubauer with 1:37 left to play as the Seattle Kraken lost 6-5 to the Boston Bruins in a wild contest that felt like a playoff appetizer on Thursday night.
Jaden Schwartz gave the Kraken a 5-4 lead with 4:10 left to play as he redirected a Will Borgen pass over the stick shoulder of Jeremy Swayman to put Seattle on the brink of season sweep of the NHL's best team. Instead, the Bruins answered right back just 29 seconds later as Brandon Carlo was left open on the backdoor to redirect a Hampus Lindholm pass behind Grubuaer to pull even once again.
DeBrusk's deflection just over two minutes later delivered the crushing blow for Seattle's hopes.
"Compete level was outstanding all the way through the game," head coach Dave Hakstol said. "I mean there was a lot of intensity in the game, there was pace. A lot of back and forth, especially during the second period and then late in the hockey game.
"We put ourselves in the position with the 4-on-4 goal (Schwartz) to go ahead late in the hockey game. That's the one that was a little bit too easy. We didn't make them work for (Carlo's goal). That's the big momentum swing. Give them credit. They made the play."
The Kraken were happy with their effort and compete level in the contest. They matched Boston's physicality and speed. They answered back in moments when the Bruins seized some momentum to keep the game in the balance. Boston has had an incredible start to the year with just eight regulation losses in 57 games played.
"It was a fun game to be part of. A lot of hitting," Yanni Gourde said. It just felt like every little battle (was) huge. Every little play (was) important. And yeah, I thought it was a fun game to be part of."
Matty Beniers – a Hingham, Mass. native – quickly gave the Kraken an early lead, scoring on the first shot of the game for Seattle just 40 seconds in. Jared McCann maneuvered around Charlie McAvoy at the Seattle blue line and fed a pass to Beniers to start a 3-on-1 break. Beniers snapped a wrist shot by the glove side of Swayman to jump out in front.
"I think it was just a little taste of what playoffs is gonna be, I think," said Beniers, who reached 19 goals for the season. "I haven't played in the playoffs but I know a lot of guys here have and that's what it's gonna be like further down the road and from the games here on out. That's just the reality of it and I thought we did a good job with it. We battled back and we just couldn't get it done."
Swayman came up with several big saves for Boston as the Kraken continued to pressure. Adam Larsson, Oliver Bjorkstrand and McCann peppered shots on the Bruins net in quick succession without being able to add to their total.
Instead, Boston created an extended scoring chance in the Seattle zone that led to a tying goal. David Pastrnak collected a rebound of his own shot, fed Pavel Zacha in front of the net, who found David Krejci wide open to beat Philipp Grubauer on the backside to level the game at 1-1.
Vince Dunn put Seattle on top early in the second period as a point shot off a face-off win deflected off the calf of Mark Grzelcyk and by Swayman. David Pastrnak then leveled the game with a highlight effort for his 42nd goal of the season for Boston. Pastrnak crossed over to his backhand to turn the corner on Adam Larsson, then went back to the forehand and roofed a shot over Grubauer to tie the game at 2-2 just 66 seconds after Dunn's goal.
Brad Marchand had an open net after a rebound deflected directly to his stick to give the Bruins their first lead of the night at 3-2. Then it was Seattle's turn for a quick answer. Morgan Geekie and Ryan Donato won a puck battle in neutral ice to gain possession and found a trailing Jamie Oleksiak to make it a 3-3 game just 58 seconds later.
The goal was Oleksiak's seventh of the season, which is a new career-high. He had six with the Dallas Stars in 2020-21. But after the game, he was lamenting the missed coverage of Carlo on the tying goal.
"I think we did everything we could to win," Oleksiak said. "I think the boys had a lot of battle but kind of gave up some Grade A chances at bad times and I cost us. So I think we could learn a lot from this game."
Jesper Froden had the secondary assist on Oleksiak's goal, which is his first career NHL assist in his first game with Seattle. He had a goal last year for the Boston Bruins in seven games played.
Patrice Bergeron converted a short-handed goal off a pass from Brad Marchand after a Seattle giveaway at their own blue line from Dunn as Boston retook the lead at 4-3. Then before the power play was done, Yanni Gourde tried to pass across the crease to Jordan Eberle only to have it deflect off a defensive stick of McAvoy and over Swayman's shoulder to bring the game level yet again.
Marchand and Bjorkstrand picked up matching cross-check penalties with just under six minutes left to send the game to 4-on-4 where Schwartz put Seattle back out front before the Boston comeback.
"Kind of pretty frustrating at the end there. Right?" Oleksiak said. You know, obviously not the result we wanted so that kind of put a bittersweet tone on it. But I think, you know, looking back on the game the next couple of days we can really take a lot of good things away."
The Kraken now fall out into a Wild Card spot and out of the top three spots in the Pacific Division with the loss. Meanwhile, a Toronto Maple Leafs team that is fourth in the league with 78 points comes into Seattle on Sunday fresh off the trade additions of Ryan O'Reilly and Noel Acciari from the St. Louis Blues. If the Kraken can't get points out of the game with Toronto this weekend, they're really going to look back and regret missed opportunities against a poor San Jose Sharks team and a game ripe for the picking against Boston.
"We're going to be disappointed by this outcome. I'm not disappointed in the effort," Hakstol said. "We have to clean up some detail. You know, when you're in that spot and in that position, especially late in the game when you fight that hard to put yourself in position to win a hockey game, you're going to feel pretty disappointed with the outcome the way that it turned out. So we've got to take that upon ourselves and make sure that we push that outcome to the right side of it, especially here at home. These home games are important, and we weren't able to do that tonight."