Kyle Lewis back in the lineup, and in the outfield, for Mariners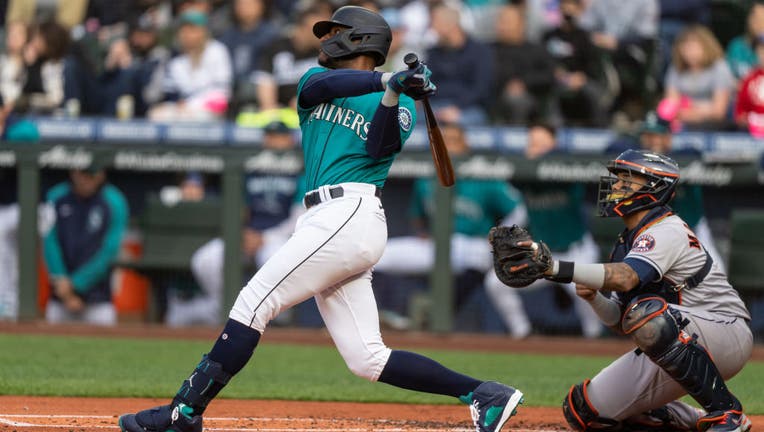 SEATTLE - The Seattle Mariners activated Kyle Lewis from the 7-day injured list on Friday and he will play right field in the team's series opener against the Houston Astros.
Lewis has been on the injured list since May 29 when he was hit in the jaw by a pitch from Astros starter José Urquidy. Coincidentally, Urquidy is the starter for the Astros in Friday night's series opener in Seattle.
Lewis played in just four games for Seattle prior to getting injured against Houston. Lewis began the season on the injured list as he worked his way back from ongoing knee issues. He appeared only at designated hitter in his four games for the Mariners, batting .267 with two home runs and three RBI with a strikeout in 15 at-bats.
"Kyle is back with us in the lineup. He won't play every day. I think the plan is to continue to build him up, just endurance-wise and what not. He's out in right field tonight. Big day game tomorrow. Probably won't see him there tomorrow. It's kind of monitor it day-to-day," manager Scott Servais said.
During his recent rehab stint with Tacoma Rainiers, Lewis did get work in the outfield ahead of his return to the Mariners roster. Servais said Lewis won't be an everyday option in the outfield as they work to manage his workload.
"We'll just have to wait and see how it goes," Servais said. "Starting out, maybe a couple days a week, two or three times a week, starting out and see how he's going, see how his body's response body's responding. And he'll let us know."
The Mariners optioned Justin Upton and he elected to take free agency.
Upton, 34, appeared in 17 games with the Mariners this season, batting .125 with a double, a home run, 3 RBI, and 6 walks. He was signed as a Major League Free Agent on May 21.
"Justin Upton added a lot to our team that did not show up in the box score, or the stat line. He joined our team and at a point when we were struggling," Servais said. "And bringing Upton in, what Carlos Santana has done, you're bringing the veteran guys in to kind of help our guys along and talking the game, you know, and kind of changing the tone of conversations in the middle of the game, in pregame meetings and having a presence in our clubhouse where younger players ... could go to them and ask them questions. It was super valuable, really valuable."