Kraken's Matty Beniers to miss All-Star Game due to injury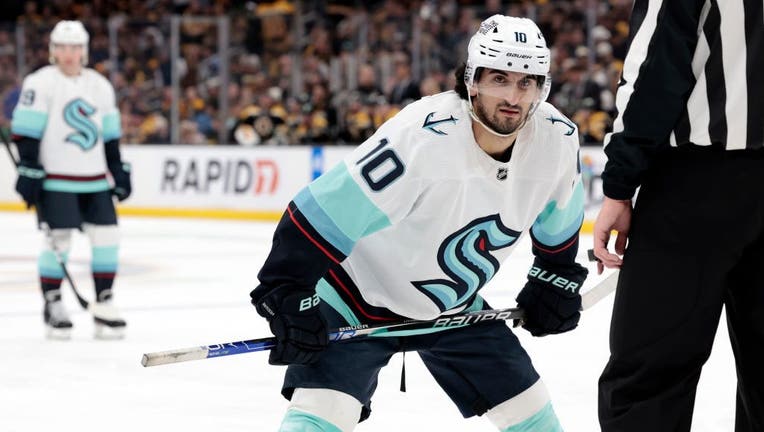 article
Seattle Kraken rookie Matty Beniers will miss this week's NHL All-Star Game due to an injury sustained last week against the Vancouver Canucks.
Beniers has played in 47 games this season for the Kraken in his first full season with the team. He leads all rookies in goals (17) and points (36) and is considered the front-runner for the Calder Trophy, which is given to the NHL's rookie of the year.
Beniers being unable to participate leaves the Kraken without an All-Star. Chandler Stephenson of the Vegas Golden Knights was named as Beniers' replacement. Jordan Eberle represented the team at the All-Star game last season.
"There were some additional steps that needed to be taken before he could be cleared to play in the game," Kraken general manager Ron Francis said, via Geoff Baker of The Seattle Times. "He's in the process of going through those, but he wouldn't have been cleared in the time that the league requires."
Vancouver defenseman Tyler Myers blindsided Beniers from behind just over five minutes into the second period in Wednesday's 6-1 win over the Canucks. Beniers was looking at teammate Jamie Oleksiak, who controlled the puck near the blue line when Myers blasted him. Beniers appeared to have his head bounce on the ice as Myers' check drew an interference penalty.
"I thought the hit on Matty was garbage. Didn't like it at all," Hakstol said of Myers in an interview with 93.3 KJR-FM last week.
Beniers played the remainder of the second period but was unavailable in the third period. He was then unable to play in either of the team's last two games against the Calgary Flames and Columbus Blue Jackets ahead of the All-Star break.
Head coach Dave Hakstol didn't have an update Saturday night on whether Beniers will be available to them when the team returns to action on the road against the New York Islanders on February 7. However, he said after the game that none of their injuries are thought to be long-term.
"We've got some guys that are obviously nicked up, guys that are out of the lineup. Right now we don't feel like there's anything that's too long term. So this seven days is well-timed," Hakstol said.