Kraken win third straight in 4-2 victory over Blue Jackets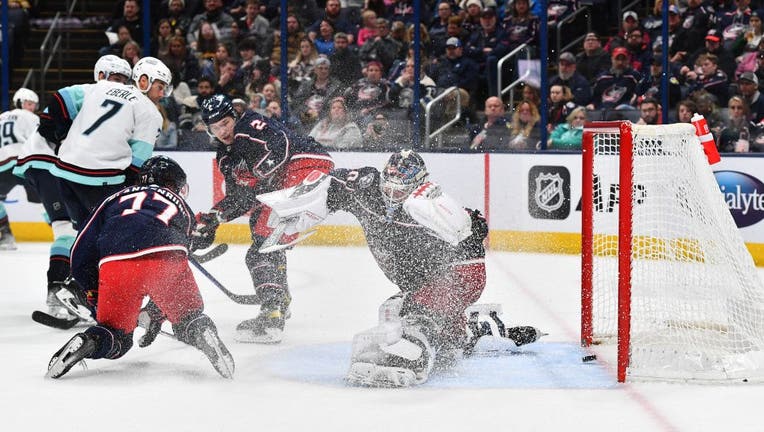 article
Alex Wennberg had the game-winning goal against his former team and Jared McCann became the first player to reach 30 goals in a season for the Seattle Kraken in a 4-2 victory over the Columbus Blue Jackets on Friday night.
The victory marked a third straight win for the Kraken after a rocky stretch coming out of the All-Star break.
"Really consistent effort," head coach Dave Hakstol said. 
Wennberg tucked a shot between the legs of Blue Jackets goaltender Elvis Merzlikins for a power play goal with 12:48 left to play to put the Kraken up for good. McCann won a face-off to start the man advantage with the puck cycling around to Wennberg right in front of the net for the go-ahead tally.
"It's really nice to get that goal," Wennberg said. "The last time I scored was against Columbus as well. For me to come and play your old team and have that success to score goals (is nice). But right now it doesn't really matter who scores, we got to win these games. It's a back-to-back and it's a huge game to step and get this win we'll take it and move on."
Philipp Grubauer made 21 saves on 23 shots in net for Seattle for his second victory in about 30 hours after replacing Martin Jones in net in last night's 5-4 win over the Detroit Red Wings as well. Jordan Eberle scored a goal as well to hit 50 points on the season. It's the first time in five years and sixth time in his career he's reached that mark.
Consecutive penalties for the Kraken led to the opening goal for the Blue Jackets. Right after killing off a Justin Schultz hooking penalty, the Kraken were caught with too many men on the ice for another trip to the penalty box. 
Patrik Laine beat  Grubauer for a power play goal from the left circle to give Columbus the 1-0 lead. The Kraken had killed off their last 22 straight penalties over nine games without allowing a power play goal before Laine's second period snipe.
"That was an elite shot on his part," Hakstol said of Laine's goal.
A Columbus penalty would allow the Kraken to level the score again shortly afterward. With Tim Berni in the box for an interference call, McCann snapped a wrist shot by Merzlikins to even the game at 1-1. Vince Dunn kept play in the offensive zone and Oliver Bjorkstand – playing his first game in Columbus since being traded for Seattle from the Blue Jackets last summer – found McCann for the tying score.
"It's awesome. It's great," McCann said of reaching the 30-goal plateau. "At the same time, we're still trying to accomplish something as a team. We have a great group of guys in here and I'm happy that things stayed the way they were."
Bjorkstrand was ruled out due to a lower body injury that happened during the third period of play. Hakstol didn't have an update on Bjorkstrand's status after the contest. With the trade deadline coming earlier in the day, the Kraken won't have the ability to seek outside help should Bjorkstrand be out any sizable amount of time.
Just 48 seconds after McCann's goal, Eberle gave Seattle the lead. Eberle corralled a McCann shot that rebounded off Merzlikins and slid the puck between Merzlikins' legs backhanded to put Seattle out in front.
"He followed that play to the net and was able to slide one in there. So it was a good to see and obviously a smart player makes that play," McCann said.
Adam Boqvist evened the game up for Columbus after Seattle lost a defensive zone face-off. An Erik Gudbranson slap shot deflected off Morgan Geekie directly to Boqvist, who quickly fired and beat Grubauer's glove.
Boone Jenner tripped McCann to setup another power play effort for Seattle. McCann won the draw and Wennberg's finish put Seattle on top for good.
Johnny Gaudreau had two great chances to tie the game in the closing minutes. Gaudreau hit the post with the Blue Jackets keeping the puck moving in the offensive zone. The puck came back to Gaudreau on Grubauer's right flank, but a pass got caught in Gaudreau's skate just long enough for Grubauer to make a save
Jaden Schwartz broke up a pass and it kicked to Brandon Tanev for an empty net goal to pad the final margin for Seattle.
"Liked our third period," Hakstol said. "We came out and we were on our toes in the third period. Could have easily stretched the lead in the first part of that period. That didn't happen. We responded well and we were able to close out the game."