Kraken notebook: Marchand fined for Bjorkstrand trip, Driedger clears waivers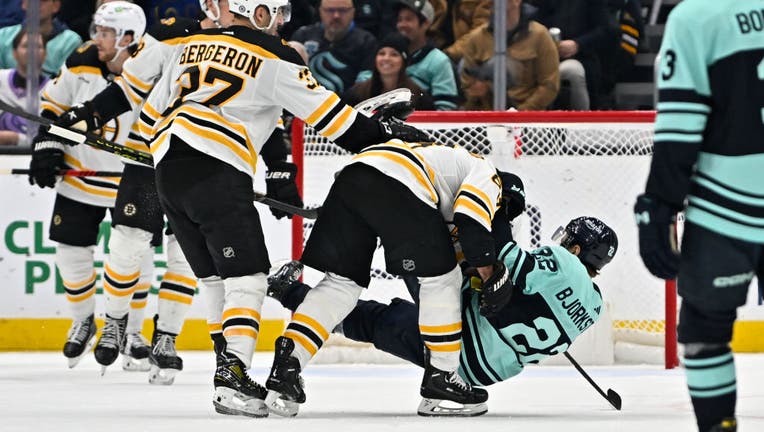 article
The NHL fined Boston Bruins forward Brad Marchand a league maximum $5,000 for tripping Seattle Kraken forward Oliver Bjorkstrand in the third period of Thursday night's 6-5 Bruins victory in Seattle.
After a stoppage of play with 5:38 left to play, Marchand turned around and stuffed his stick blade in the arm of Bjorkstrand. As Bjorkstrand wheeled around to confront Marchard, the Bruins forward cross-checked Bjorkstrand in the chest, which Bjorkstrad reciprocated. Bjorkstrand began to grapple with Marchand, who used his right leg to kick out Bjorkstrand's legs from behind and slammed him to the ice.
Bjorkstrand jumped up and tried to tackle Marchand but officials and teammates worked to separate the brewing fight.
Marchand and Bjorkstrand were both sent to the penalty box for matching cross-checking calls.
The money goes to the NHL Players' Emergency Assistance Fund.
Chris Driedger clears waivers, sent to AHL Coachella Valley:
Goaltender Chris Driedger cleared waivers on Friday and was assigned to the Coachella Valley Firebirds of the AHL to continue his rehabilitation from a torn ACL.
Driedger, 28, hasn't played in a game for the Kraken this season after being injured in the Gold Medal Game of the IIHF World Championships for Team Canada last June. Driedger has been practiced with the team in recent weeks and appears set to return to game action. He'll get that chance with the Firebirds.
"That's part of the process, a step in the process that (Driedger) is at," head coach Dave Hakstol said Thursday. "He's worked really hard through his rehab here. He's done everything that he can do without getting into games."
Driedger was selected by Seattle in the expansion draft in 2021 after posting a 14-6-3 record with a .927 save percentage in 23 games played for the Florida Panthers in 2020-21. But like Philipp Grubauer did as well, Driedger struggled during the Kraken's inaugural season. He finished the year with a 9-14-1 record with a .899 save percentage in 27 games played.
Driedger is under contract through next season and carries a salary cap number of $3.5 million. It would have required a leap of faith for a team to claim his off waivers given he hasn't played in eight months.
The move also gives Seattle $1.125 million in salary cap relief ahead of the trade deadline coming up next Friday at 12 p.m PT.
Jesper Froden likely to get more opportunities:
Kraken forward Jesper Froden had an assist in his Seattle debut in Thursday night's loss to the Boston Bruins.
Froden was called up from Coachella Valley on Wednesday and was inserted in the lineup in place of Daniel Sprong, who seemingly has fallen somewhat out of favor with the coaching staff at the moment. Froden was paired with Jaden Schwartz and Alex Wennberg and played just shy of 11 minutes in his first action with the Kraken.
"I thought he played a good hockey game tonight," head coach Dave Hakstol said. "You see his intelligence, his competitiveness. He saw the ice. I thought competitively he met the challenge. He stepped right in. For me, he did a good job tonight."
The secondary assist on Jamie Oleksiak's goal in the second period was the first of Froden's NHL career. In seven career games played for the Boston Bruins last season, Froden scored one goal. However, he had yet to tally an assist.
Froden, 28, was tied for second in the American Hockey League with 25 goals this season for the Firebirds when he was called up. His 47 points rank second on the Firebirds behind the 48 points of Max McCormick.
"He did a nice job and showed us his intelligence and his competitiveness for the first night out," Hakstol said.
Froden did have a giveaway in the second period that led to a partial breakaway chance for David Pastrnak, but Vince Dunn headed off the chance to negate the threat. Nevertheless, Hakstol's positive comments make it likely Froden will get more opportunities to play as the team tries to bolster their offensive prospects with André Burakovsky out injured.