Kraken make no additions at NHL trade deadline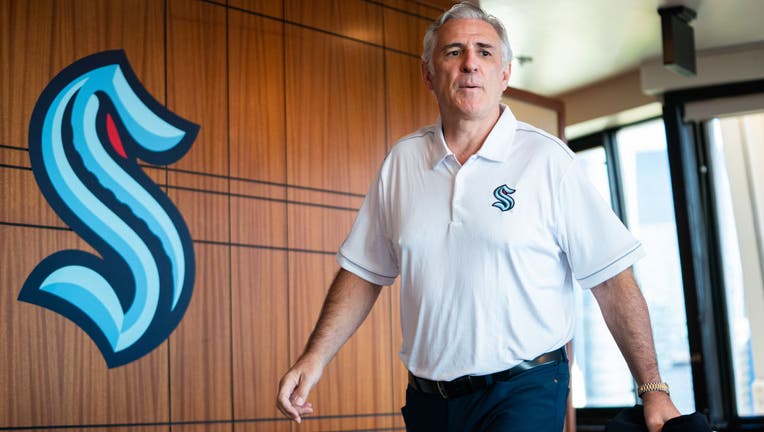 article
The Seattle Kraken made no changes to their roster ahead of the NHL's trade deadline on Friday as general manager Ron Francis reiterated that they like the group they have.
"We like our team," general manager Ron Francis said. "It's been a good team all year. They've shown they can win and compete against the best in the league. So we're comfortable with our group."
The Kraken theoretically could have been seeking a center to help them with face-offs. Seattle ranks 31st in the NHL in the dot at just 45.5 percent on the season. All four Kraken centers – Yanni Gourde (49.3), Morgan Geekie (49.1), Alex Wennberg (45.5) and Matty Beniers (43.3) – are all sub-50 percent on face-offs this season. But adding a center likely would have come with moving Gourde to a spot on the wing.
Additionally, defensemen Carson Soucy (unrestricted) and Will Borgen (restricted) are on expiring contracts and could have been moved out for pieces that could help beyond this season. Geekie is also on an expiring deal as a restricted free agent and could have faced the same discussions, especially coming off a two-goal performance against the St. Louis Blues.
But adding a piece or moving one out would have brought adjustments to the lineup that may or may not have paid off.
"You bring somebody else in from the outside, especially in a rental position, it changes the dynamics of your locker room," Francis said. "Who gets bumped down the roster or changes position in the roster and how does that affect your team chemistry. 
"I've said numerous times this team, to the best of my knowledge and my information, likes each other. They believe in what we have and our ability to win and compete each and every night. They don't have any concern as to who's scoring the goal, who is blocking the shot. I mean, they're just excited for each other and the bottom line is they want to win. So you know they've put themselves in this opportunity to have a chance and I think they've earned the right to continue to do that."
The Kraken were the only team among the nine teams from the Western Conference that are legitimately in the playoff race not to make an addition. Francis said it can be hard to stay patient when teams around you are being active.
"I think it's easy to overpay for players at this point in the season," Francis said. "You know your emotions get involved and you want to do that. I've always said kind of the two most dangerous days are trade deadline day and free agency day."
Francis said they did explore options both as rental options and guys who are under contract beyond this season. However, nothing landed at the level they'd be comfortable with.
"At the end of the day we believe in the group we had and didn't think there were prices that we were willing to pay at this point to change that chemistry that we have in our locker room currently," Francis said. 
The biggest "addition" the Kraken will make is getting André Burakovsky back from injured reserve. Burakovsky has been out since February 7 when he sustained a lower body injury in a 4-0 loss to the New York Islanders. Francis said that Burakovsky was expected to get back on the ice for the first time since the injury on Friday.
"[Burakovsky] is training hard in the gym and I believe -- a little busy today so I didn't get confirmation -- but I believe he was getting on the ice today so that would be his first day back on the ice," Francis said.
Additionally, Chris Driedger could factor into the goaltending discussion down the stretch as he continues to work back into game shape with the Coachella Valley Firebirds in the AHL. He's played in two games for the Firebirds and made 51 saves on 56 shots for a .911 save percentage.
"He's played two games there already and he'll get to play a lot more hockey games down there. And honestly just kind of watch and see how he progresses and then we'll make decisions from there," Francis said.
Dreidger could become an option to return to the Kraken if Martin Jones' recent struggles in net continue over the new few weeks.
But beyond the returns of Burakovsky or Driedger, the Kraken roster is set for the stretch drive. Francis believes the group has earned the chance to get the team across the finish line and into the postseason.
"We think that they've earned this opportunity with their body of work to this point and I've got complete faith in them," Francis said. "We always want to make the playoffs. They're not working hard not to make the playoffs so they want to make it as well and I've got faith in them they can do this."