Kraken call up Jesper Froden from AHL Coachella Valley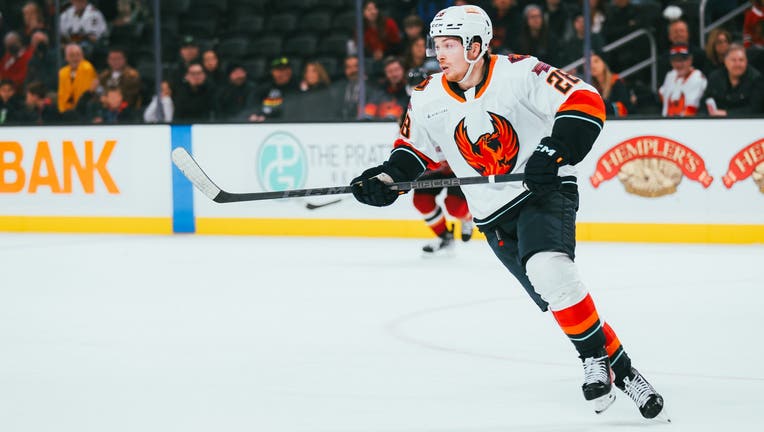 article
SEATTLE - The Seattle Kraken called up forward Jesper Froden from the Coachella Valley Firebirds on Wednesday.
Froden, 28, is tied for second in the American Hockey League with 25 goals this season for the Firebirds. His 47 points rank second on the Firebirds behind the 48 points of Max McCormick.
Froden fills an open roster spot for the Kraken and will provide some needed forward depth with André Burakovsky still sidelined indefinitely with a lower body injury.
"He's earned his way to an opportunity here," head coach Dave Hakstol said after practice. "He's second in scoring in the league one behind the leader. More importantly, he's been really competitive and consistent in his role down there. So he's a guy that's earned his way here."
Froden, a native of Stockholm, Sweden, has played in seven career NHL games, all coming with the Boston Bruins last season. He scored one goal against the Ottawa Senators in April. The Bruins are in town to face the Kraken on Thursday night.
"I'm a two-way player," Froden said of his game. "My strength is probably my shot and my skating ability. A pretty fast forward and have a pretty good shot."
The Kraken have been without a spare forward on the roster since John Hayden was reassigned to the Firebirds last week. With Jaden Schwartz continuing his typical maintenance program of not taking part in most practices, Froden can at least be a placeholder in practice.
Additionally, Froden gives the team a different option to turn to if they want to shake up the lineup. Daniel Sprong has been a healthy scratch for three games since the All-Star break and Hakstol noted last week his desire for a certain type of play from his depth forwards.
"Well the fourth line's got to do a job for us and the mentality has to be right," Hakstol said after the win over the Philadelphia Flyers. "We've talked a lot about our fourth line scoring. We don't need scoring out of our fourth line. I want a mentality of 200-feet hockey, not giving anything up defensively, and I think we can do better there to be honest with you."