Kolten Wong focused on improving defensive play with Mariners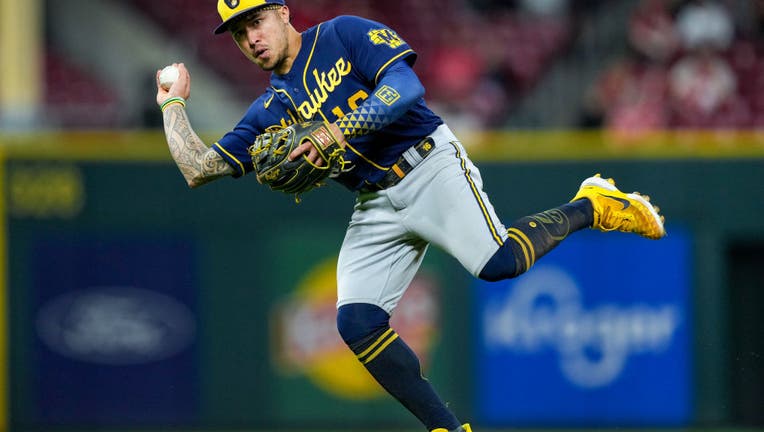 article
SEATTLE - Second baseman Kolten Wong is intent on bouncing back from a disappointing defensive season in his first year with the Seattle Mariners.
A former two-time Gold Glove winner during his time with the St. Louis Cardinals, Wong's 2022 campaign was one of the worst of his career defensively. For just the second time in his career, Wong had negative runs saved, per FieldingBible.com. Wong had -1 run saved last season with the Milwaukee Brewers.
"I feel like defensively it was a really down year for me," Wong said last week. "You know, I'm always gonna kind of go to my flaws before I go to the successes. So I felt like that was something that I've been working hard on this year."
Wong previously led the league with 17 runs saved while with the Cardinals in 2019 as he earned his first of two consecutive Gold Glove awards. He had solid seasons of five and six runs saved in 2020 and 2021 before having his struggles last year.
Wong ranked outside the top 20 among second basemen to have played at least 300 innings defensively at the position last season.
"I think he owned it at the end of the season," geneal manager Justin Hollander said of Wong. "He didn't have his kind of year, particularly with his hands, that matched his own expectations he set for himself. He brought it up to me on the phone. He's prepared to be much better defensively next year. He's always been an outstanding defender. We think the range is still plus, his arm is still well above average for the position and obviously we have a very good infield coach in Perry Hill as well.
Wong said he was excited to work with Hill, who has received praise from J.P. Crawford and Eugenio Suárez for helping them improve their defensive games.
"I was able to work with (José) Oquendo in St. Louis who really was the person who helped me get the first two gold gloves," Wong said. "I'm excited to get with Perry now as I feel like those are two of the best infield coaches in the game and to have those two under my belt is pretty cool."
Wong also said he believes that the elimination of the defensive shift will actually benefit him moving forward.
"I feel like not having the shift is definitely going to make it better for me," Wong said. "I felt like I was put in some situations last year where I just wasn't comfortable, you know, and got some weird hops. So I'm excited now with no shifts.
"I'm a guy that I like to use my feet. … "Just understanding what foot is important to catch the baseball and sometimes when you're put in those weird positions you're kind of put in a standstill. There's a lot of balls last year where it was hit to me in such a weird position and I wasn't able to kind of like really work around it and get through and I think that's why I was kind of getting caught in bad hops and I had some bad things happen last year. … I think this year it's going to give me the ability to use my athleticism and get to the ball how I want to get to it, the way that I know that I can get to it, corral it and still make a good throw." 
Wong hit. 251 with 15 home runs, 24 doubles, four triples and 47 RBI last season for the Brewers with 46 walks and 88 strikeouts. His .770 OPS (on-base-plus-slugging percentage) ranked fourth among all second basemen in baseball last season to have played at least 100 games.
In 1102 career games across 10 seasons with the St. Louis Cardinals and Brewers, Wong has a .261 batting average with 180 doubles, 31 triples, 82 home runs, 378 RBI, 310 walks and 117 stolen bases.
Wong is especially proficient offensively against right-handed pitching. He hit .277 with an .845 on-base-plus-slugging percentage last season. Meanwhile, Wong had just one extra base hit in 96 plate appearances against left-handers last year.
"It's high contact," Hollander said of Wong's bat. "It's well above average versus right-handed pitching and pairing with Dylan Moore and some of the other players we have on the club. It really provides us real production in a position that we have struggled with over the last couple years. We haven't gotten a lot of production out of the second base spot and we think this is a meaningful upgrade for us in a lot of ways both offensively and defensively."
Moore will often make starts at second base against lefties with Wong starting against righties. Wong is hopeful that the elimination of the shift will show the value of good defensive second basemen, which may have lessened in the shift era.
"I feel like second base has kind of been, I guess, a position that people always overlooked and they don't realize how hard it is to play but now that there's no shifts, you know, you're really going to see the true second basemen out there," Wong said.