Jared McCann scores 31st goal of season, Kraken beat Ducks 5-2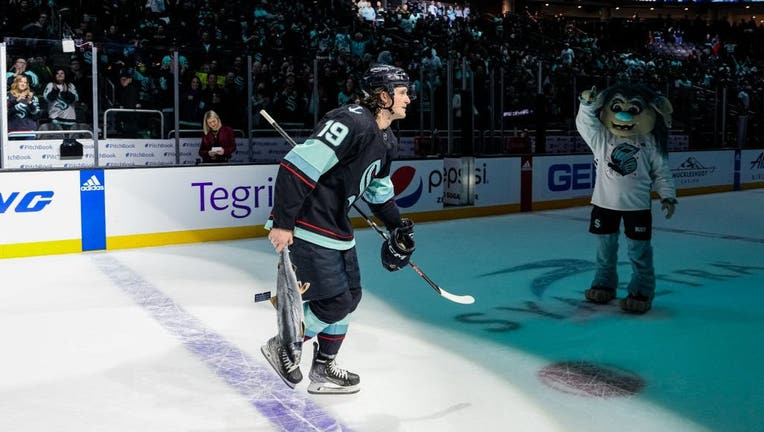 article
SEATTLE - Jared McCann scored his 31st goal of the season and added an assist as the Seattle Kraken rolled to a 5-2 victory over the Anaheim Ducks on Tuesday night.
McCann has five goals in his last five games for the Kraken as he remains on pace for a possible 40-goal season. McCann now has 100 career points in his two seasons played in Seattle.
"I'm very lucky to be able to play with two great line mates in [Jordan Eberle] and Matty [Beniers]. And obviously Matty is a special player. Ebs has been dishing me a lot since I've been here. So I'm just trying to capitalize on those," McCann said.
Philipp Grubauer made 20 saves on 22 shots in earning a fourth straight victory in net for the Kraken.
"[Graubuer] has gone on a great run for us and he's got some great confidence," forward Brandon Tanev said. "We're playing great in front of him and he's had some really big saves for us, you know, on the road trip and now back at home."
With the victory, the Kraken pull within two points of the Vegas Golden Knights and Los Angeles Kings for the top spot in the Pacific Division and Western Conference. The top six teams in the West are separated by just four points with just under 20 games left to play.
"We're trying to stay ahead of Calgary. We're trying to get in a better position for the playoffs and we need to be focused every single night. That's just the way it is," McCann said.
"We're going to have to you know play well every single night. Obviously we're going to be playing some divisional games here soon too and those are going to matter a lot more." 
Jamie Oleksiak gave the Kraken the early lead with his ninth goal of the season. Oleksiak worked to the front of the net and finished a pass from Jordan Eberle that left goaltender John Gibson frozen.
Later in the period, Adam Larsson grabbed a deflected pass from Beniers and set the puck up for McCann as he ripped the puck over Gibson's shoulder for a 2-0 Seattle lead.
Just 35 seconds into the second period, Ducks star Trevor Zegras delivered a highlight-reel goal to get Anaheim on the board. Zegras took a pass from Ryan Strome and went between his legs before flipping the puck high over the stick shoulder of Grubauer for his 21st goal of the season.
"He's got a lot of confidence, obviously, and he's a good young player. And he's going to be a good player for a long time here in this league," McCann said of Zegras.
Daniel Sprong restored the two-goal advantage for Seattle and found the net for the first time since January 17. His shot handcuffed Gibson and deflected off the wrist of his glove over the Anaheim goaltender and into the net for Sprong's 16th goal of the season.
With Max Jones in the box for a high-stick on Jordan Eberle, Eeli Tolvanen ripped a power play goal from the right circle to make it a 4-1 game. McCann fed Tolvanen on a cross ice pass and Tolvanen scored his 11th goal in 30 games with Seattle since joining the team off waivers in December.
"I'm very surprised that we got him to be honest with you," McCann said. "I've watched him play even when he was with Nashville and the games when I was on different teams and, you know, he's a deadly shooter. He can create something out of nothing. And you know, we're very, very lucky to have him."
With about eight minutes left to play, Ducks forward Maxime Comtois caught Dunn with a shoulder/elbow to the head that dropped the Kraken defenseman in the Seattle zone. The referees didn't call a penalty and play continues with Dunn on the ice. He eventually managed to get up and retreat to the bench but became angry at the missed call.
From the bench as he nose was bleeding, Dunn yelled expletives at the official on the ice and took his stick and slammed it against the glass in anger. That led to an unsportsmanlike conduct penalty on Dunn that sent him to the penalty box, which Dunn was even more displeased with.
"He was pissed off and I get why," Hakstol said. "It was a little bit late. He held his cool getting off the ice and then he snapped on the bench. But his teammates had his back there and got the job done. And that's it. We'll move on. He's been a heck of a competitor for us all year long."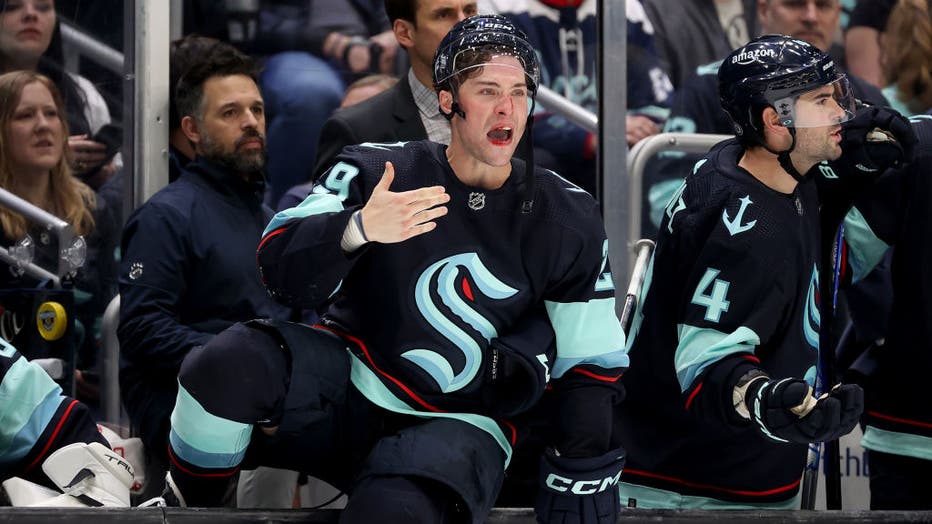 SEATTLE, WASHINGTON - MARCH 07: Vince Dunn #29 of the Seattle Kraken reacts toward the referee after he was checked against the Anaheim Ducks during the third period at Climate Pledge Arena on March 07, 2023 in Seattle, Washington. (Photo by Steph Ch
After a minute of play, the officials pulled Dunn from the penalty box and sent him to the locker room for the rest of the night, presumably for a concussion check. Hakstol said he had no reason for concern about Dunn's status after the game.
"I'd love to comment but that's not my job to say that," Tanev said of the incident. "The refs didn't make a call and that's he way it goes sometimes. So we'll just leave it at that."
Comtois then got on the score sheet with a goal with 1:27 left to play. Jakob Silfverberg maneuvered around a prone Will Borgen and found Comtois on Grubauer's doorstep to cut the Seattle lead to 4-2.
But Jaden Schwartz would add an empty net goal for the Kraken with Gibson on the bench to put the game away for good. 
"Coming off the road, a couple of late nights on the road trip. You know, you might predict that we're going to have to grind this one out a little bit and we did that," Hakstol said. "We had some timely plays. We scored some timely goals. The penalty kill did a real good job. Power play got one at the right time, and our goaltender was good all night long."