Is this the last time we'll see Jim Harbaugh at CenturyLink Field?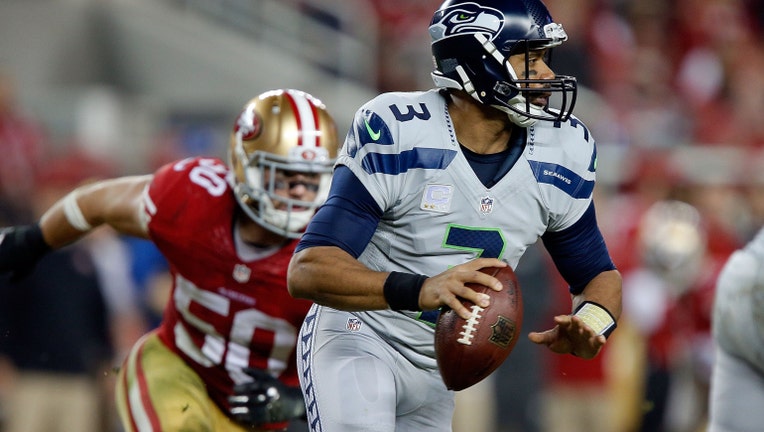 article


SEATTLE -- Prior to the season, this weekend's game against the 49ers had a red circle around it. Important, important, the note said. Big challenge, HUGE test.

Now, one has to wonder if the game has lost some luster with the 49ers' recent struggles. One also has to wonder if this could be the last matchup between Pete Carroll's Seahawks and the Jim Harbaugh-era 49ers.

The 49ers -- still always dangerous, don't get us wrong -- have struggled. Two weeks ago on Thanksgiving, they looked inept against the Hawks in a 19-3 loss that saw Colin Kaepernick go 16-for-29 with 121 yards passing. A week later, the 49ers laid an egg against the 1-11 Oakland Raiders, losing 13-24.

Some pundits say Kaepernick's struggles go deep. And some notable rumors are abound that Harbaugh will be out at the end of the season, regardless of the team's record.

Tensions between Harbaugh and 49ers CEO Jed York have long been known, and they seemed confirmed with a pointed tweet after the 49ers loss to the Hawks on Thanksgiving day.




And the Raiders -- the very team that Harbaugh lost to last week -- seem to be making a well-known push to get Harbaugh, perhaps through a trade.

So what does this mean for the Hawks?

As fun as it is to see the 49ers struggle and suffer inner-turmoil, it's a little disappointing, too. Going into this game, many 12s say there isn't quite that feeling of desperation, of tenacity. Yes. The Niners can still beat the Hawks. Yes. Kaepernick can turn it around and take it to the Hawks on their home turf. But it seems less likely than ever before.

So if this is the last time Carroll's Seahawks and Harbaugh's 49ers match up, enjoy it 12s. Because a rivalry that brought you last year's "The Tip" doesn't come around too often. The distaste. The name calling. The buying billboards in the other city. It's FUN to hate the 49ers.

And it will be less fun -- just a little -- if Harbaugh isn't around.

5 Things to Watch for in Sunday's 49ers vs. Seahawks Game at 1:25 p.m. on Q13 FOX 

5. The Crowd at CenturyLink Field -- There's been talk of CenturyLink being a tad quiet this year. Hardly noticable, just not quite as crazy, some say. But against the 49ers, the crowd is sure to bring the ruckus. If you're headed to the game, bring your earplugs.

4. The 49ers Offensive Line -- The 49ers have had seven different offensive line combinations this season, and the line has allowed an astonishing amount of sacks. Will the Hawks be able to break through?

3. Richard Sherman -- Playing the hated 49ers always brings out the best in Richard. Can he follow up on his two-interception game from Thanksgiving?

2. Down, but not out -- The 49ers are playing for their playoff lives. If they have will, they will fight. Nothing breeds strength like desperation.

1. Colin Kaepernick -- Coming off two of the worst games in his professional career, Kaepernick has something to prove. What better proving ground than keeping up with the Seahawks defense and legendary secondary at CenturyLink Field?

Seahawks Gameday follows the game at 5:00 p.m. on Q13 FOX