How to watch Seahawks vs. 49ers live: Super Wild Card Weekend on FOX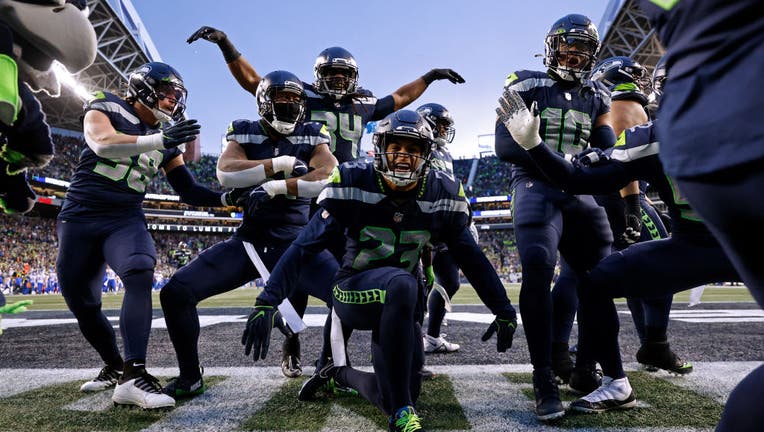 article
The Seattle Seahawks will be the No. 7 seed in the NFC playoffs and play at San Francisco against the 49ers. Here are the dates, times and broadcast schedule - how to watch and stream games NFL Wild Card Weekend.
The Seahawks are in the NFL playoffs after beating the Los Angeles Rams 19-16 in overtime and the Detroit Lions beating the Green Bay Packers.
Jason Myers kicked a 32-yard field goal midway through overtime to give Seattle the victory over the Rams. Hours later, Seattle qualified for the postseason after the Lions beat the Packers in Green Bay.
You can watch the Seahawks vs. 49ers game Saturday, Jan. 14 at 1:30pm PT on FOX 13.
Wild Card Weekend Schedule
Saturday
Seattle Seahawks at San Francisco 49ers, 1:30 p.m. PT, FOX
Los Angeles Chargers at Jacksonville Jaguars, 5:15 p.m. PT, NBC
Sunday
Miami Dolphins at Buffalo Bills, 10 a.m. PT, CBS
New York Giants at Minnesota Vikings, 1:30 p.m. PT, FOX
Baltimore Ravens at Cincinnati Bengals, 5:15 p.m. PT, NBC
Monday
Dallas Cowboys at Tampa Bay Buccaneers, 5:15 p.m. PT, ESPN/ABC
More Seahawks Coverage
The Associated Press contributed to this report.