Geno Smith on contract extension: "I wanted to stay here"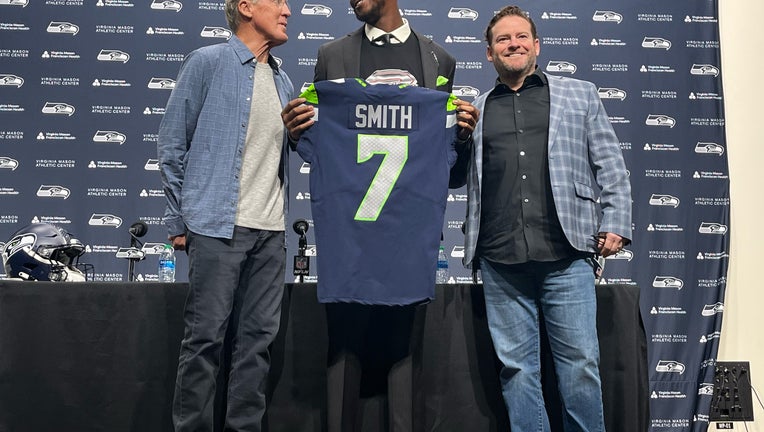 article
RENTON, Wash. - Geno Smith has found his NFL home with the Seattle Seahawks.
After a seven-year odyssey as a backup quarterback, Smith soared in his first year as a starter with the Seahawks in 2022. The Pro Bowl campaign led Smith to a three-year contract extension reportedly worth up to $105 million with incentives included that he signed on Thursday morning.
"I found this place, you know, and it kind of changed me," Smith said. "Coach [Pete] Carroll being so uplifting, so inspiring. He just forced me to believe more in myself. And that in tune kind of brought us here today. And so that entire journey, the 10 years that it took for me to just to get to this point means a lot, you know."
Smith led the NFL with a 69.8 completion percentage last season with 4,282 yards, 30 touchdowns and 11 interceptions. He was fifth in the league in passer rating at 100.9, one of just six quarterbacks to start at least 10 games to have a 100-plus rating.
Smith would have become an unrestricted free agent on Wednesday if he hadn't reached a deal to remain with the Seahawks. The team could have used the franchise (or transition) tag on Smith as well, but the agreement with Smith came on the eve of the deadline for tag usage.
"I wanted to stay here," Smith said. "I was hoping we could get something done quickly. I didn't want to have to test the free agent market. Obviously if I had to then I had to, but I think everyone did a great job at making this work and now it's about having it pay off in the future."
Smith met with general manager John Schneider during exit meetings at the end of last season and had conversations about the discussions ahead. Schneider left that conversation confident that the two sides would find common ground for a new contract.
"Everything we're doing here is to try to maximize your value, but we're also trying to put together a consistent championship caliber team and so there's a balance that goes into that," Schneider said. "And you know I have to give (agent) Chafie [Fields] and Kevin [Kjracovic] a ton of credit for being creative, being open-minded, understanding what we all wanted to accomplish and that was maximizing Geno's earning potential and recognizing everything that he's done and where he can go. As well as trying to help him be a championship quarterback."
Smith started for two seasons with the New York Jets after being a second round pick in the 2013 NFL Draft. He completed 20-of-25 passes for 358 yards and three touchdowns in his final start of the 2014 season and was poised for a potential breakout year in 2015. 
Instead, Smith had his jaw broken by a teammate in a locker room dispute and the quarterback duties fell to Ryan Fitzpatrick instead. After two years as a backup with the Jets, he spent one year as a backup for the New York Giants to Eli Manning, one year as the backup to Philip Rivers with the Los Angeles Chargers, and then came to Seattle as the backup to Russell Wilson in 2019.
"I had no doubts, honestly," Smith said of whether he questioned if he'd get another chance. "I mean, I just kept working, man. And I would always tell myself 'hey, man, if I never got the opportunity, at least I worked for it. At least I put everything I had and I can leave this game with no regrets.' And so I think, you know, God kind of shined down on me. He's kind of saw me working and gave me opportunity."
Smith re-signed with Seattle on a one-year deal last year after Wilson was traded to the Denver Broncos. He won the starting job from Drew Lock and had a breakout campaign that earned NFL Comeback Player of the Year honors.
"Obviously, you know, the contract is fulfilling, but I just love playing football and so having another opportunity to go out there with my guys, my teammates, with these coaches, this organization is all I can ask for."
Smith said that he felt that contract showed him the respect he felt he was deserved after the season he put together in 2022.
"I've always felt respected in this organization. I think they do a great job," Smith said. "Coach Carroll does a great job at relating to all the players, you know, not just the star players or the guys drafted. Every single player on the roster he has a relationship with and he respects and they respect him. And so I've always felt that and now I'm just happy to kind of get this past us."
Per Mike Garafolo of the NFL Network, Smith's deal carries a base value of $25 million per season with $40 million fully guaranteed at signing. He will receive $28 million in the first year of the deal with a total of $30 million various incentives.
Smith made a total of $3.5 million in incentives alone on his last one-year deal with the Seahawks due to incentives tied to playing time, playoffs, performance and Pro Bowl benchmarks.
"It's just a way for both parties to make it work," Smith said of the contract. "It allows the team room and space to do what they need to do, but it also gives me an opportunity to be one of the top 10 paid quarterbacks, which is something that I believe I am. And so with all those things, I think it worked out pretty great."
The Seahawks have said that they remain open to selecting a quarterback in the upcoming NFL Draft as well.
"Because they don't grow on trees," Schneider said at the NFL Combine. "It's very hard. It's probably the hardest position to acquire a talent, a guy that everybody feels very confident in."
If the team is to add a quarterback in the draft, Smith said he'd have no problem mentoring that player onto the team and competing with him into the future.
"I love to compete so I'll compete with anybody, but I'm also going to help them out as much as I can, the same as we did with Drew [Lock]," Smith said. "And our QB room is so tight-knit and we're all so connected that we act as one. And so whether it's a young guy or someone else, I want to help that player just like any other player on our team, be the best that he can be, you know. Because that's my job as a leader and that's who I am at heart. You know, I'm never going to withhold information. I'm always going to try and help guys get better. And so that's what I want to do and if that happens then that's the guy I'll be."
Smith said that he believes he can be even better next season. He'll have a full year of reps under his belt within Shane Waldron's offense. The two will have a better feel for the strengths of each other and a better play designing and play calling rapport as well. Additionally, incoming quarterbacks coach Greg Olson has been a boon to quarterback performance in previous stops in his NFL career.
"That's the most rewarding part is that I was able to go through that and then be able to say, hey, even with all that I was still able to get better and still becoming a better player. And to get to this point, it's just, you know, incredibly fulfilling," Smith said.
"I hate when people kind of look at my story and say, you know, 'you went from this to that.' Man, I was in the league with the best players for 10 years, among some of the best coaches and getting paid good money and I've always done well by it. And so, I've always appreciated just the opportunity. You know, I know how valuable that is. And so, for me, the validation comes from my teammates, my coaches, and just being around this building and being in this organization."
Notes:
The Sehawks released veteran guard Gabe Jackson and linebacker Ben Burr-Kirven on Thursday.
Jackson played the last two seasons for Seattle after being acquired from the Las Vegas Raiders for a fifth-round draft pick. Jackson, 31, played in 31 games for the Seahawks and split time at right guard with Phil Haynes for most of last season.
Seattle re-signed Haynes to a one-year, $4 million deal two weeks ago, That move seemingly spelled the impending end for Jackson's tenure with the team.
The release of Jackson will save the Seahawks $6.5 million against the salary cap for next season. He was set to cost the team over $11 million in cap space for the 2023 season.
Meanwhile, Burr-Kirven missed all of last season with continued recovery from an ACL injury sustained in the 2021 preseason. A former fifth-round draft pick, Burr-Kirven was injured converting a kickoff against the Denver Broncos in August. He was never able to get healthy enough to get back into action for Seattle. He spent last year on injured reserve after clearing waivers.