Geno Smith: Contract talks "looking very good" with Seahawks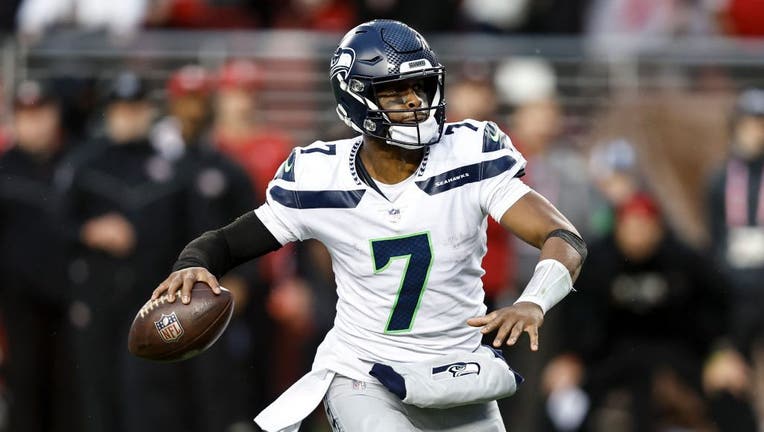 article
Quarterback Geno Smith expressed optimism about the state of his contract negotiations with the Seattle Seahawks in a pair of interviews from the Pro Bowl in Las Vegas on Friday.
At the end of the season, both Smith and Seahawks head coach Pete Carroll had expressed their desires for Smith to return as the team's quarterback next season. In an interview with Amber Theoharis and Kirk Morrison on Sirius XM NFL Radio, Smith said discussions are ongoing and positive.
"We've had talks and we're in the process of getting all that settled right now," Smith said. "It's looking very good. We think we can get some things done, but obviously those things take time. This is the process that I hate about the NFL because I just want to play football, but it's a business as well, so we've got to take care of business and then we'll get back to the football."
Smith led the NFL with a 69.8 completion percentage with 4,282 yards, 30 touchdowns and 11 interceptions. He was fifth in the league in passer rating at 100.9, one of just six quarterbacks to start at least 10 games to have a 100-plus rating. He was named to the Pro Bowl for the first time in his career and won the Comeback Player of the Year and Most Improved Player of the Year awards given out by the Professional Football Writers of America.
"We got our guy and we need to hopefully work things out so he's with us and all that," Carroll said last month. "There's business to be done there, of course, but there's no lid on what we can do. The sky's the limit. And that along with returning him with his leadership factor that he had, you know, He's a big deal to us and so just couldn't be more tickled by the way the whole thing turned out and how he handled it and really as we look to the future, he's a big part of why we're looking to the future so promisingly."
Smith also said he wanted to remain in Seattle following the team's Wild Card loss to the San Francisco 49ers.  
"I want to finish my career in Seattle. I want to be here," Smith said. "The town, the city, the team. Coach Carroll, the organization, they all embraced me. You know, I was a guy who probably could have been out of the league. They embraced me and I want to repay them for that.
"That means a lot to me. I've got a lot of loyalty in me. And, you know, I want to repay those guys for doing that."
In an interview with former NFL players Ryan Clark, Fred Taylor and Channing Crowder on The Pivot Podcast, Smith similarly stated his desire to remain in Seattle. He also added what he's looking for out of a new deal with the Seahawks.
"I love Seattle," Smith said. "We have a great relationship and I think we'll work things out. When it comes to contracts, I think every player just wants to get paid his worth. And it's funny because a great friend of mine tells me, no matter what check they write, it'll never be your worth because your worth isn't in money, it isn't in monetary things. So you just want to be respected. Your contract just wants to say, we respect you, we understand what you bring to the table, we understand what caliber of player you are, and we appreciate you. That's really all it comes down to."