Félix 'King' Hernández to be inducted to Mariners Hall of Fame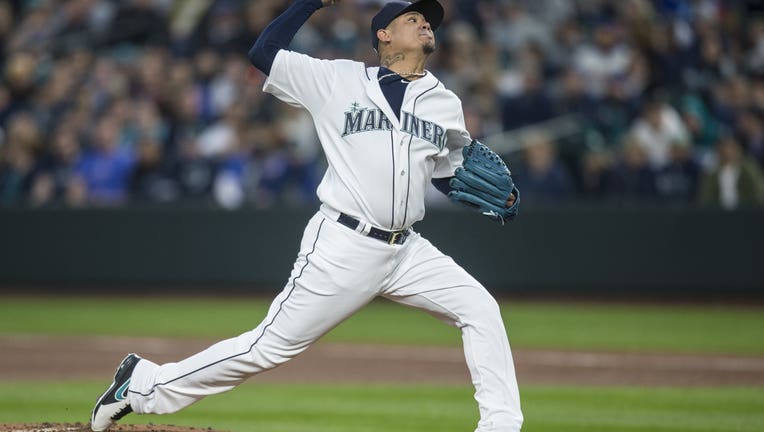 article
SEATTLE - Former Seattle Mariners pitcher Félix Hernández will be inducted into the team's Hall of Fame.
The organization announced on Wednesday Hernández, who was nicknamed "King Félix," will become the 11th member of the Mariners Hall of Fame. 
In his 15-year baseball career, Hernández was a six-time All Star, the 2010 Cy Young Award winner, became the 4th-youngest pitcher to reach 2,000 strikeouts and holds a record of 91–65 with a 3.25 ERA, while striking out 1,348 and walking only 388 over 1,422.2 innings in 211 starts at T-Mobile Park.
A perfect game in Major League Baseball is the rarest of baseball feats, and Hernández threw last perfect game on Aug. 15, 2012. The Mariners beat the Tampa Bay Rays 1-0.
"Fans were captivated by Félix from his first start in 2005 until his final pitch in 2019 with every game of his career in a Mariner uniform. He cemented his place in Mariners history with our only perfect game on August 15, 2012 - a day our fans will never forget. Félix provided thousands of unforgettable memories throughout his 418 starts, including winning the 2010 Cy Young Award and his improbable 2008 grand slam home run to beat the Mets. His induction into the Mariners Hall of Fame in August - 10 years after his perfect game - symbolizes Félix's permanent place in the Mariners family and our history," said John Stanton, Seattle Mariners Chairman and Managing Partner.
The team also announced there will be a pregame induction ceremony before the Mariners game against the Baltimore Orioles on Aug. 12 at T-Mobile Park. The event will be part of a weekend-long celebration from Aug. 11-13. 
Current members of the Mariners Hall of Fame are Alvin Davis, Dave Niehaus, Jay Buhner, Edgar Martinez, Randy Johnson, Dan Wilson, Ken Griffey Jr., Lou Piniella, Jamie Moyer and Ichiro Suzuki.