Eeli Tolvanen thriving with Kraken after being cast out in Nashville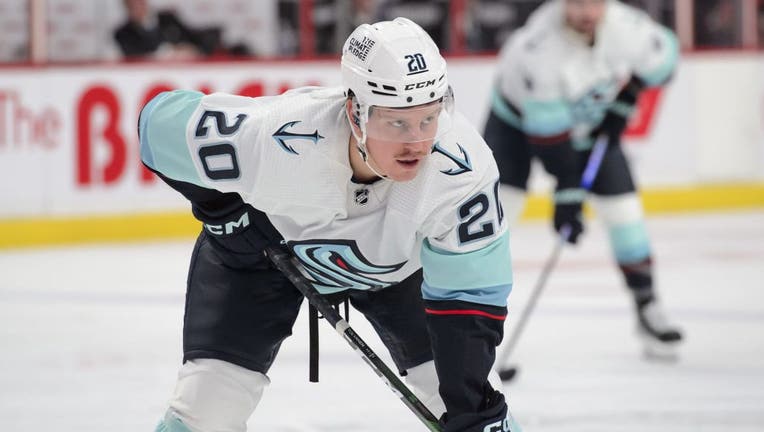 article
A change of scenery from Nashville to Seattle has seemingly unlocked the potential of Kraken left winger Eeli Tolvanen.
Tolvanen has scored eight goals with two assists in 15 games with the Kraken after joining the team off waivers in December. He's become a staple on the team's power play units and has found a home on a productive third line with Yanni Gourde at center and Oliver Bjorkstrand on the right wing.
"He's just a good hockey player," head coach Dave Hakstol said.
That Tolvanen even found his way to Seattle is somewhat of a shock. Tolvanen was always highly regarded for having a lethal shot that led to his first-round pedigree. He was the 30th overall pick of the Nashville Predators in 2017 and had a promising debut season for the team in 2020-21. Tolvanen scored 22 points with 11 goals and 11 assists in 40 games played and finished 14th in Calder Trophy voting.
Just two years later, the Predators placed him on waivers after making him a healthy scratch for seven straight games.
Even then it was still a long shot he'd end up in Seattle. Because of the Kraken's early season success, 22 teams sat in front of them in the waiver order. A young offensive threat that was still just 23 years old would certainly have a number of suitors, right?
Instead, Tolvanen slid all the way to Seattle and has seamlessly fit in with his new squad.
"You get the bounces when you play the right way," Tolvanen said.
After joining the Kraken on December 12, Tolvanen didn't get a chance to play until the start of the new year. He used the two weeks with the team to get up to speed with his new teammates and wait for the opportunity to come.
"I feel like those two weeks we're really important for me just getting back to the game shape and skating a lot, and you know, (to) get comfortable around the guys and coaching staff and the whole organization," Tolvanen said. "I felt like that was probably the biggest key for my success too, not jumping in right away and not being uncomfortable on the ice, but just getting comfortable and thinking slowly."
Once he did get in the lineup, Tolvanen took off. He scored power play goals in two of his first three games in Seattle, matching what he'd scored in 13 games in Nashville this year. He had five goals and two assists as part of the Kraken's eight-game winning streak that vaulted them to the top of the Pacific Division. 
"He plays hard," Bjorkstrand said. "That's why we have success on the line. We're all on the same page. We compete. We're a good checking line. I feel like he probably has the reputation of being a skill guy and so on, but at the same time he works his butt off and plays hard. So it's fun to watch."
The Predators had been hoping to slip Tolvanen through waivers to get him to their minor league team in the American Hockey League – the Milwaukee Admirals. The immediate success Tolvanen found in Seattle led Predators general manager David Poile to comment on why the team had made the decisions they'd made with their former first-round pick.
"This could be a mistake on our part," Poile said on Robby & Rexrode on 102.5 The Game in Nashville. "That's on me if he turns out to be really successful, But we felt we tried him in a lot of different areas, different places. We were really hoping that we'd get him through waivers so that he could play in Milwaukee a little bit and then bring him back up. 
"We had to make some decisions. We were not going anywhere. He's doing well. Great for him. We've been doing better, not necessarily because of him but because we made a decision to go another direction with different types of players. Time will tell how that works out."
In an interview with Jacob Stoller of The Hockey News, Tolvanen said he didn't often know what his role was supposed to be in Nashville.
"Sometimes, they wanted me to be the checker, then one night, they wanted me to be the goalscorer," Tolvanen said. "So it kind of messed with my head." 
That hasn't been the case in Seattle. His offensive game has been allowed to shine with a consistent third line role and spot on the right wing on the power play. That spot allows his hard one-timer shot to play to its full potential.
"A hell of a lot of impact," center Alex Wennberg said of Tolvanen. "I mean, obviously that line has just been really playing well. And he's also scoring big goals."
But it isn't just his offensive acumen that has made an impression. Tolvanen has shown capable of playing well on the defensive end and has is willing to step into shooting lanes to block shots.
"He does way more than score," Hakstol said. "He's a guy that you see his hockey sense, he's got some defensive DNA to him. He understands the game, where to be. He's one of those guys that he finds the shooting lane defensively, he's got a good stick. He's got some toughness to him, like he's not a guy that just tries to block the shot, he actually blocks shots. He gets there and he does it."
But the offensive game is still the star. Tolvanen's eight goals in January are tied for eight most in the NHL over that span. He's scored goals in three straight games for the Kraken as the team hit the All-Star break in first place in the division and percentage points behind the Dallas Stars for the best record in the Western Conference.
"You see what he can do offensively in terms of shooting the puck," Hakstol said. "Tonight (against the Columbus Blue Jackets) that was a goalscorer's goal. But you know, he's also comfortable in small spaces, tight spaces offensively and that's helped that line be very effective."
For Tolvanen, the new environment has allowed him the comfort level and opportunity that he struggled to find in Nashville.
"I feel like we just play really well together," Tolvanen said. "You know, we know where we're going and we just like to keep it simple."