Doug Baldwin, Dion Jordan will miss some time with injuries, Carroll says
RENTON, Wash. - Less than a week into training camp, Pete Carroll delivered his first bad news of the preseason.

Pro Bowl wide receiver Doug Baldwin and promising defensive end Dion Jordan are both out for the time being with injuries, Carroll said after practice Tuesday at the Virginia Mason Athletic Center.

Baldwin's injury appears to be the least serious; Carroll said he's out for now with a knee problem.

"We're working on taking care of a little bit of a sore knee coming into camp," Carroll said. "So, we're just going to give him a good break here to get started. We're just going to take our time and be patient with it.

"We're going to give him a couple weeks here before we bring him back out to make sure that we ramped him back up properly. He came into camp a little bit off, and so we just want to make sure we take care of him. We know exactly what's going on, and we're doing some special treatments to make sure that we take care of him. We want to bring him back into shape so we can really get him ready for the long haul."

Baldwin is coming off a season in which he started all 16 games, catching 75 passes for 991 yards and eight touchdowns.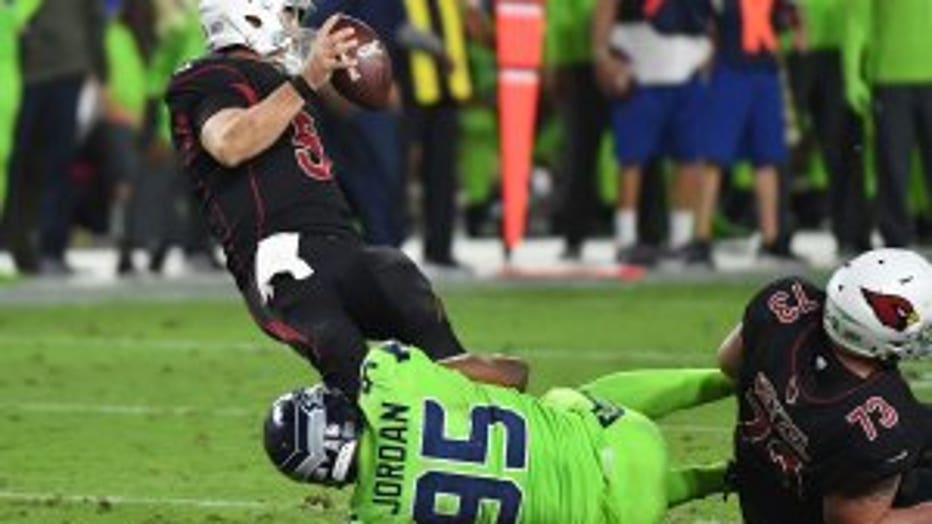 GLENDALE, AZ - NOVEMBER 09: Quarterback Drew Stanton #5 of the Arizona Cardinals is sacked by defensive end Dion Jordan #95 of the Seattle Seahawks in the second half at University of Phoenix Stadium on November 9, 2017 in Glendale, Arizona. The Seat


Jordan, on the other hand, played just five games last season in his return to the NFL after missing 15 months for violating the NFL's performance-enhancing substance policy. The Seahawks have high hopes for him after he picked up four sacks and 10 tackles in those games.

The NFL Network's Tom Pelissero said Jordan had a "stress reaction" in his shin and that he'll be held out at least another week or two. Jordan had knee surgery in June, but the team reportedly expected him back from that in 6-8 weeks.




"He's gonna be a while," Carroll said. "The word is, it's gonna be a while. He's got a little bit of healing to do."

With Cliff Avril and Michael Bennett no longer shoring up the ends of the defensive line, the Seahawks were counting on Jordan to help generate a pass rush.

"That was a position we were really hoping he was gonna be a factor in," Carroll said. "What we're seeing now is a combination of guys. Frank isn't getting all the work yet, but we know Frank can be a really good edge rusher."

More from Carroll:

Has the team communicated with Earl Thomas? "No."

On kicker Sebastian Janikowski: "He's pounding the ball. He knocked one, I think it went off the goalpost today, from 50-something. The ball was two-thirds of the way up the goalpost. His leg is strong as ever. He's working really hard, he feels good. It's a great competition."